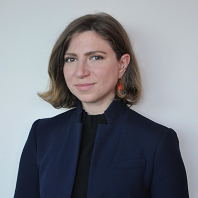 Evgenia Valuy
Lead, Evaluation and Learning
Evgenia Valuy is an Evaluation and Learning Lead with IIE's REL Team. Ms. Valuy specializes in mixed methods research and participatory evaluations of international education fellowship and leadership development programs. In her role as Evaluation and Learning Lead, Ms. Valuy manages evaluations for several clients, including the U.S. Department of State, National Science Foundation, Cargill Foundation, and Public Health Institute. Ms. Valuy provides technical consulting services to help foundations, non-profits, and corporate clients strategize their programmatic approaches, plan for program evaluation, and build their staff capacity in using, managing, and conducting M&E.
Ms. Valuy oversees monitoring and evaluation (M&E) capacity building and development of learning strategy at IIE to improve M&E processes and ensure the use of M&E findings for program improvement. She has delivered workshops and presentations on M&E at a wide variety of industry meetings and conferences, including Salzburg Global Seminar, American Evaluation Association Conference, Comparative International Education Society Conference, and IIE Summit in addition to internal trainings at IIE.
She holds a master's degree in International Education from New York University. She serves on the Board of the New York Consortium of Evaluators, a local affiliate of the American Evaluation Association, and the Girls Empowered by Travel non-profit.