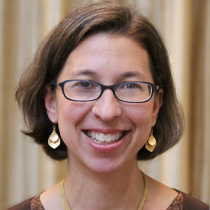 Leah Mason is Research Lead on IIE's Research, Evaluation, and Learning (REL) Team. Dr. Mason leads a portfolio of multiyear research initiatives, including IIE's Project Atlas, Global Workforce Pathways, and the Global Education Research Report series. She has more than 20 years of experience as a researcher and program administrator in international education and higher education. Dr. Mason works closely with IIE program and external clients, including the Carnegie Corporation of New York, the AIFS Foundation, U.S. Department of Education, and U.S. Agency for International Development.
Dr. Mason specializes in qualitative research focused on the intersection of student mobility and career readiness. She is co-Principal Investigator of the Global Workforce Pathways Project funded by the U.S. Department of Education, the first large-scale study of the skills, attributes, and professional pathways of Title VI National Resource Center graduates. In 2021, Dr. Mason published The Rise of Remote Global Internships: Promising Practices and the Implications for Career Readiness.
Dr. Mason has a keen interest in U.S. study abroad, elevating the experiences and voices of niche groups within study abroad, such as graduate student researchers, first-generation college students, and language learners. She is an accomplished author, including: Supporting Pathways for First-Generation Students to Study Abroad, Who's Counting? Understanding the Landscape of Graduate Learning Overseas, and The Boren Awards: A Report of Oral Language Proficiency Gains During Academic Study Abroad: A Cumulative Report Over 15 Years and 53 Languages. She has presented her research globally at conferences, in panel discussions, and through invited talks.
Prior to her role as Research Lead, Dr. Mason led educational exchange programming at IIE, including the Fulbright Distinguished Awards in Teaching Programs, Project Global Officer and the Language Training Center Program, and worked at the National Capital Language Resource Center and the National Center for Restructuring Education, Schools, and Teaching. Dr. Mason also teaches at Georgetown University and is a 2022-2023 Education Policy Fellow at the Institute of Educational Leadership.
She holds a Doctor of Education and Master of Education in International Educational Development from Teachers College, Columbia University.