About the Co-Chairs
Chef and humanitarian José Andrés; global human rights and pro-democracy activist Garry Kasparov; social entrepreneur and KIND Snacks Founder Daniel Lubetzky; and Retired U.S. Army Lieutenant Colonel Alexander Vindman all proudly made the United States home after emigrating or seeking asylum. Through their various streams of foreign policy, humanitarian, and peace-building work, they have experienced first-hand the global interconnectivity of democracy and the critical role of citizens in upholding democratic values like those the Ukrainian people are bravely defending.
José Andrés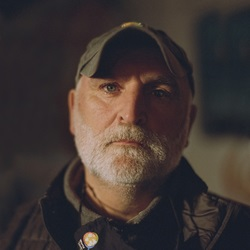 Named one of Time Magazine's "100 Most Influential People" in both 2012 and 2018, and awarded "Outstanding Chef" and "Humanitarian of the Year" by the James Beard Foundation, José Andrés is an internationally-recognized humanitarian, culinary innovator, New York Times bestselling author, and educator.
In 2010, Andrés founded World Central Kitchen, a non-profit which uses the power of food to nourish communities and strengthen economies in times of crisis and beyond. Andrés' work has earned awards and distinctions including the 2017 Lifetime Achievement Award from the International Association of Culinary Professionals and the 2015 National Humanities Medal from President Barack Obama. Andrés was awarded the Princesa de Asturias Foundation's 2021 Concordia Prize for his humanitarian work. As a naturalized citizen originally from Spain, Andrés has been a tireless advocate for immigration reform.
---
Garry Kasparov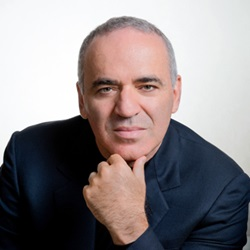 Garry Kasparov is the chairman and founder of the Renew Democracy Initiative (RDI). He is widely considered the greatest chess-player of all time. His famous matches against the IBM supercomputer Deep Blue in 1996-97 were key to bringing artificial intelligence and chess into the mainstream. Today he is a prominent human rights activist as well as an author and speaker on politics, human rights, decision-making, and artificial intelligence. He is the author of the 2015 book: Winter is Coming: Why Vladimir Putin and the Enemies of the Free World Must be Stopped.
---
Daniel Lubetzky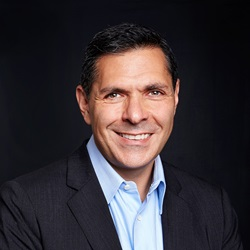 Daniel Lubetzky is a social entrepreneur working to build bridges between people and increase appreciation for our shared humanity. The son of a Holocaust survivor, he has made it his life's work to help prevent what happened to his father from happening again. While best known as the founder of KIND Snacks, Daniel's foray into food was the unexpected outcome of his work to use business to bring neighbors in Middle Eastern conflict regions together. He conceived of civic initiatives OneVoice, Empatico, and Starts With Us to foster empathy and empower individuals to practice daily habits that move our culture away from extreme, divisive, and hateful positions.
Daniel is a member of the Anti-Defamation League's Inaugural Board of Directors. He has received awards from The King Center, World Economic Forum, Skoll Foundation, Conscious Capitalism, Hispanic Heritage Foundation, and Horatio Alger Association. Daniel was named a Presidential Ambassador for Global Entrepreneurship by President Obama. He is the author of The New York Times bestseller Do the KIND Thing.
---
Colonel Alexander Vindman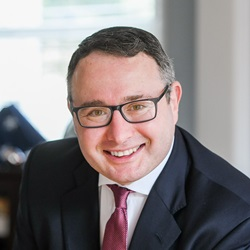 Alexander Vindman, a retired U.S. Army Lieutenant Colonel, was most recently the director for Eastern Europe, the Caucasus, and Russia on the White House's National Security Council. Previously, he served as the Political-Military Affairs Officer for Russia for the Chairman of the Joint Chiefs of Staff and as an attaché at the U.S. Embassy in Moscow, Russia. While on the Joint Staff, he co-authored the National Military Strategy Russia Annex and was the principal author for the Global Campaign for Russia. He is currently a doctoral student and senior fellow for the Foreign Policy Institute at the Johns Hopkins School of Advanced International Studies (SAIS), Pritzker Military Fellow at the Lawfare Institute, executive board member for the Renew Democracy Initiative, senior advisor for VoteVets, and the author of the New York Times bestselling memoir, Here, Right Matters.