Cohort II Profiles
The Global Democracy Ambassador Scholarship's second phase is supporting 10 Ukrainian students pursuing their undergraduate degrees in the United States. See below for their bios, in their own words.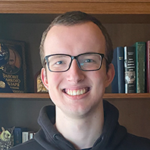 Name: Mykola Bondarenko
Field of Study: Political Science
Home University: Taras Shevchenko National University of Kyiv
Host University in the U.S.: Michigan State University
Mykola Bondarenko was born in the town of Berezan, Kyiv region. In 2008, he started studying at Berezan Secondary School №1. During his school years, he was engaged in swimming, drawing, and choreography and participated in olympiads in humanities and technical sciences multiple times.

In 2019, Mykola graduated from school and entered the Political Science specialty at Taras Shevchenko National University of Kyiv. From 2020 to 2021, he held the position of General Secretary of the International Association for Political Science Students in Ukraine and is a former member of the Scientific Society of the Faculty of Philosophy (2019-2021). Mykola is a founder of the scientific and educational project APOLITICO (2020) and co-founder of the university academic resource Politea (2020).

Mykola devotes his free time to industries of literature, basketball, ping-pong, and chess. In the future, he plans to сarry on his active part in scientific and social fields, continuing to develop already established projects and bring to life several new ones. He believes that he will be able to influence the westernization of Ukrainian political practice, maintaining the public turn movement in Ukraine.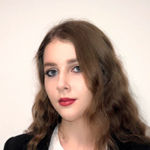 Name: Anna Kovalchuk
Field of Study: International Economic Relations
Home University: Odesa National Mechnikov University
Host University in the U.S.: University of Arkansas
Anna Kovalchuk is a third-year student of the Faculty of International Economic Relations of the Odesa National Mechnikov University. Anna has experience of volunteering in various events and initiatives; she is a member of the Student Council of Mechnikov ONU. Anna also participated in the Erasmus+ exchange project. Anna is engaged in music and plays the piano. She is fluent in English and German. Her organizational competencies can be illustrated in communication, problem-solving, integrity, teamwork, and personal leadership.

Anna strongly believes that young people, by uniting and creating global alliances, can support democracy long before they get the right to vote in elections. Participating in the EU project Study Days, she worked on a mini project "Indicate the fake". Today, manipulation and propaganda are widespread. The objective of the project was to provide peers with practical tools for recognizing fakes, manipulations, and propaganda.

Anna wants to develop her knowledge and professionalism to become a person, who can help her country to achieve the highest levels of its development, working in the international relations sphere.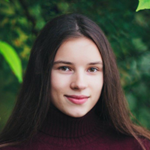 Name: Svitlana Kukharuk
Field of Study: Law
Home University: National University of Ostroh Academy
Host University in the U.S.: University of Connecticut
Svitlana Kukharuk is a third-year law student at the National University of Ostroh Academy. She is from Rivne, a city located in the northwest of Ukraine.

Svitlana is interested in human rights. In particular, she is concerned about gender-based violence during the war. In the summer of 2022, Svitlana did an internship at Ukrainian Women Lawyers Association "JurFem", during which she helped to organize educational events on gender-based violence during the war. For the second year in a row, she coordinates the Docudays UA Travelling International Human Rights Documentary Film Festival in the Rivne region. Besides, Svitlana has been a European Solidarity Corps volunteer in the NGO Service Civil International in Poland for six months. She coordinated a work camp to integrate Ukrainian refugee children.

Svitlana believes that gained knowledge will help her to take part in bringing Russians responsible for committing the war crimes in Ukraine to justice, as she will learn how to use strategic litigation and universal jurisdictions to advance accountability for war crimes committed during the Russian invasion of Ukraine.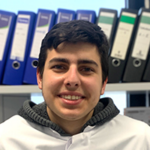 Name: Andrii Liutyi
Field of Study: Medicine
Home University: Sumy State University
Host University in the U.S.: Bellevue College, WA
Andrii is third-year medical student at Sumy State University. He comes from town Sumy in North-East of Ukraine.

Andrii was already a participant of academical exchange program from Erasmus+ in Essen, Germany. During it he was working as a researcher in immunological laboratory. Not only is he a young scientist, he also constantly takes 1st place in annual university grade rating among students of his year of study.

When Andrii has free time, he likes to spend time with his friends travelling or just casually playing computer games. Other than that, he is fond of literature and music. Soon enough he hopes to start collecting swords.

After the end of this scholarship he wants to come back to Ukraine and finish his studies, while also continuing participating in all kinds of mobility programs. With the knowledge and connections he will acquire, Andrii hopes to found his own lab in Ukraine in grow it into an international company. And with gaining influence and respect, he expect to change Ukrainian science system, starting this movement first as a civil initiative and then hopefully being able to join the government and improve system from inside.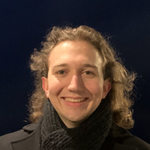 Name: Roman Lysenko
Field of Study: Public Administration
Home University: National University of Kyiv-Mohyla Academy
Host University in the U.S.: Florida State University
Roman Lysenko is a second-year student at the National University of Kyiv-Mohyla Academy majoring in Public Administration. He is originally from Kyiv.

Roman has achieved several notable accomplishments during his academic and professional career. For example, he has been an organizer of an event, which had gathered 300 change-driven students in an educational outdoors setting for 5 days. He has also participated in an Erasmus + International Credit Mobility to the Tampere University in Finland. Currently, he is on his second exchange at the University of Toronto. In addition, he has been intensively involved in Model United Nations movement in Ukraine and has been a participant of over 30+ MUNs.

Outside of his academic and professional pursuits, Roman enjoys playing tabletop games with his friends in his free time.

In the future, Roman is interested in pursuing a career in either governmental or non-governmental sector. He believes this career path has the potential to make a positive impact on Ukraine.
Name: Yevheniia Mikhnovska
Field of Study: Political Science
Home University: National University of Kyiv-Mohyla Academy
Host University in the U.S.: Florida State University
Yevheniia is a second-year student at National University "Kyiv-Mohyla Academy" majoring in Political Science. She was born in Kyiv but raised in the central city – of Kropyvnytskyi, Ukraine. She is an alumna of the Ukrainian Leadership Academy and a Young European Ambassador. This November, being an exchange student at the University of Toronto, Yevheniia co-organized a cultural project, "Ukrainian Week" in Toronto. She was a financial manager and raised CA$ 16,000 for Ukrainian Armed Forces. Also, in 2022 Yevheniia volunteered at the Ukrainian House at the World Economic Forum in Davos.

Yevheniia's academic interests span political violence, globalization and neoliberal reforms. She wants to study political journalism and work for the Ukrainian government, developing the educational system and strengthening the position of Ukraine in global foreign affairs. Yevheniia enjoys reading, researching, hiking, running, playing piano, contemporary art, Latin dances and volunteering.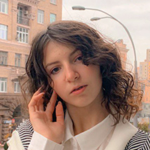 Name: Anastasiia Mishanchuk
Field of Study: Law
Home University: Yaroslav Mudryi National Law University
Host University in the U.S.: Michigan State University
As a junior majoring in Law at Yaroslav Mudryi National Law University, Anastasiia is most interested in the international aspect of legal regulation and in the future plans to connect her life with diplomacy and international communications.

Anastasiia witnessed the crack of the full-scale invasion in Kharkiv and was forced to return to her hometown of Khmilnyk in central Ukraine. Her home region is famous for its rich recreational potential, namely its healing radon water, which attracts tens of thousands of tourists every year.

Even before obtaining a degree in international relations, Anastasiia began her path to a diplomatic career by joining the Public Diplomacy Platform NGO. This became possible thanks to her successful completion of the "School of Young Diplomats" at the Kharkiv City Council. For almost a year now, she has been a project manager and creative director of the PR department. Starting from February 24, Anastasiia began moderating the "UA Students Union" telegram channel, which united 6 thousand students and whose goal was to break the enemy informationally. As part of the struggle, Anastasiia gathered a team of 40 translators from different parts of Ukraine to create offers for the sale of Ukrainian books abroad as part of the initiative of the first lady of Ukraine, Olena Zelenska.

In May 2022, understanding the problem of mental instability of Ukrainians, Anastasiia launched the Mentally.UA media project. Its purpose was to develop psychological literacy, help with the stress of war and provide skills for self-stabilization in critical conditions.

Being a great supporter of the values of freedom and democracy, in the summer of 2022, Anastasiia became an activist of the all-Ukrainian libertarian association "Ukrainian Students for Freedom". It is a powerful public organization based on the principles of protection, popularization and lobbying of the doctrines of a free society.

Moreover, she works as an SMM manager and develops in marketing, growing every day as a specialist in the field of brand promotion. Talking about her hobbies, they include dancing, reading, traveling and meditation.

This year, Anastasiia fully realized her desire to become a diplomat in the future, because she saw how much this profession means in the conditions of war. Modern diplomats attract weaponry, humanitarian aid for Ukraine; promote its interests and culture, playing an extremely important role in achieving victory.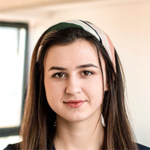 Name: Anna-Andriiana Onysko
Field of Study: Ethics-Politics-Economics
Home University: Ukrainian Catholic University
Host University in the U.S.: TBD
Anna-Andriana Onysko studies at Ukrainian Catholic University, Ethics-Politics-Economics faculty, 3rd year of studying. She is from Lviv, Ukraine. She graduated from Ukrainian Leadership Academy in 2020. Anna-Andriana is an active leader who serves the community. She has years of experience participating in public movements, youth initiatives, and volunteer projects. Creator of a grant-winning volunteering project "Baking for Soldiers" and a youth leadership program. Riding the horse, traveling, and learning new languages are the biggest hobbies of Anna. Now she is seeking opportunities in the social enterprise and DEI areas because this will help Ukraine to become more integrated into the European Union country on her mind. In the future, Anna-Andriana wants to work in government structures or social organizations, because helping society and making Ukraine better is one of her greatest passions.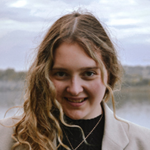 Name: Olha Polishchuk
Field of Study: Journalism
Home University: Ivan Franko National University of Lviv
Host University in the U.S.: University of Connecticut
Olha Polishchuk is an eighteen-year-old student from Khmelnytskyi (Ukraine) currently majoring in journalism at Ivan Franko National University of Lviv (2nd year). A co-founder of the National Assembly of Students of Ukraine and a member of the Board of the charitable foundation "My DONOR".

Olha has written three scientific works in the field of Art, two of which were awarded prizes in the National contest-presentation of scientific research projects in the all-Ukrainian stage. Her main occupation is the cinematography.

When the full-scale invasion started, Olha set a goal – to write and direct a feature historical drama about the Russia-Ukrainian war in order to present Ukrainian culture and history to the world audience at a high level. She strives to contribute to the development of the Western and especially Ukrainian new cinema that is to focus on the Ukrainian issue influencers who might help to rebuild the country after the war.
Name: Anastasiia Starchenko
Field of Study: Journalism
Home University: Taras Shevchenko National University of Kyiv
Host University in the U.S.: University of Maine
Anastasiia Starchenko is a third-year journalism student at the Educational and Scientific Institute of Journalism of Taras Shevchenko National University of Kyiv.

She comes from Volnovakha, Donetsk region. Anastasiia is a volunteer for International Assistance Headquarters for Ukrainians and the cultural, and historical project R.I.D. She also presented her hometown in the Ukrainian Parliament.

Anastasiia is fond of writing, crafts, and design. Her goal is to contribute to the development of Ukraine's media system and spread knowledge about media literacy.
---