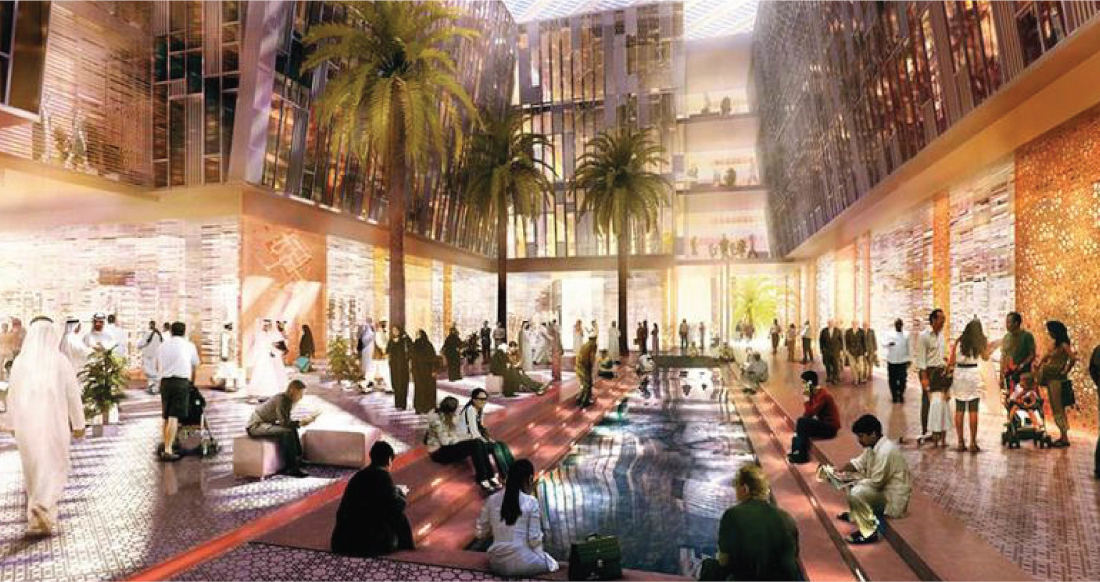 Living in the U.A.E.
Living in Abu Dhabi
MBZUAI is based in Abu Dhabi, the capital of the United Arab Emirates (UAE). The UAE is a young country that crowns its traditions and cultural beliefs with a solid vision towards a prosperous and productive future for all citizens and residents.Studying and working in the UAE means first and foremost working in the very center of the Middle East's economic hub. Abu Dhabi city is ruled by H. H. Sheikh Khalifa bin Zayed Al Nahyan, who is also the President of the UAE.
Abu Dhabi is a modern cosmopolitan city with towering skyscrapers, gleaming beaches, five-star entertainment, resplendent public parks, a budding art scene, and modern health and educational sectors. The city is also one of the most open and progressive communities in the Gulf region, awarded as the safest city in the world for 3 years in a row. For more information about Abu Dhabi, click here.
Language
While Arabic is the official language in the UAE, English is widely spoken, and is primarily used in education and business. Most courses are taught in English. Although there is a high population of international students on campus, universities themselves are deeply rooted in Arab culture so it is important to adhere to behavior expectations and dress code.
Population
Studying in the UAE will enhance your CV and boost your career options whether you decide to stay in the UAE or go back to your home country. There are plenty of networking opportunities because of the large population of expatriates. The UAE population is made up of over 200 nationalities. In a population of 9.89 million, more than 80% of UAE residents are expats, originating from more than 200 countries around the world.
Living expenses
There are two main types of accommodation in Abu Dhabi: university accommodation and private accommodation. Both types of accommodation tend to require a security fund deposit and expenses can range from AED 1,500 to AED 3,000 per month for university accommodation and AED 5,000 per month for privately rented accommodation.
Additional expenses on transport, utilities, food, accommodation, and entertainment may vary between AED 3,000 AED and AED 6,000 per month.
---
Studying in the UAE
The UAE is considered one of the most liberal areas in the Arabian Gulf. With a high literacy rate of 93 per cent and the fact that women account for 70 per cent of university graduates, this academically thriving country will provide a memorable study-abroad experience. It has also set a precedent in the region for political stability, safety and security, which has been recognized internationally. Abu Dhabi is one of the most open and progressive communities in the Gulf region, awarded as the safest city in the world for 3 years in a row.
According to the UNESCO Institute for Statistics, more than 77,000 international students studied in the UAE in 2019.
MBZUAI is located in Masdar City, a pioneer in sustainability and a hub for research and development. It is home to a rapidly growing clean-tech cluster, business free zone and residential neighborhood with restaurants, shops, and public green spaces.
---
Working in the UAE
90% of the workforce is expatriate
No income tax
Demand for digital talents has never been higher
Job market is increasingly becoming tech-driven
Abu Dhabi is an international city, and in most workplaces, you will interact and work with people of different nationalities. UAE is a very comfortable place to work in, it has a well-established infrastructure, strong banking system and a stable political system. UAE is focused on economic diversification in trade, logistics, banking, tourism, real estate and manufacturing and provides opportunities in various industries.
Taxation rate
UAE provides a tax favorable environment for both employees and employers. There is not a federal tax in the UAE – not a corporate tax, not an income tax, not a capital gains or sales tax, and so there is no income withholding. Some businesses, such as petroleum and finance, are taxed – but most corporations are exempt. The only exception is Value Added Tax (VAT) that was introduced in the UAE on 1 January 2018 with a standard rate of 5%.
Diverse culture in the workplace
Being an expat means accepting the fact that one must be open-minded to different culture and races. This means accepting and befriending people from all walks of life because, in Abu Dhabi, you will meet a lot of them and will work with them. To adjust to expat life, you need to welcome new ideas, new cultures and new friendships to thrive and be productive for the organization as well.
Health insurance
Employers are required by law to provide basic health insurance for their employees. This means that the pressure of health insurance is lifted off from the employee's shoulder, especially when an expat is unwell and away from home.
Opportunities for women
The United Arab Emirates is a champion for women empowerment in the region, and it has been pushing for economic growth through the advancement of women. This means quality education opportunities as well as professional growth for women in the workplace.
Business days
Weekdays in Abu Dhabi begin on Sundays and end on Thursdays. This means the weekends are Friday and Saturday. Some workplaces have only one day off, which is Friday while some have both weekends off for Friday and Saturday. It is best to clarify this with the employer before accepting an offer.