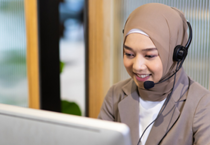 Coming Soon: The TOEFL ITP® Speaking Test
TOEFL ITP at IIE is excited to announce the TOEFL ITP® Speaking Test!
The test will evaluate the skills needed for your students to speak English in everyday situations as well as academic settings.
The test will be available with the digital TOEFL ITP Level 1 or Level 2 tests. Testing time will be approximately 15 minutes and consist of four tasks:
one read-aloud task
two independent speaking tasks
one integrated speaking task.
Scores range from 31 –68 and are mapped to the CEFR (Common European Framework of Reference) levels A2 – C1.
Further information can be found on the TOEFL ITP website, which will include the new Speaking Score Descriptors and a Speaking Test Sample to help familiarize your students with the test.
The Speaking Test will be released very soon. We will let you know as soon as it is available!