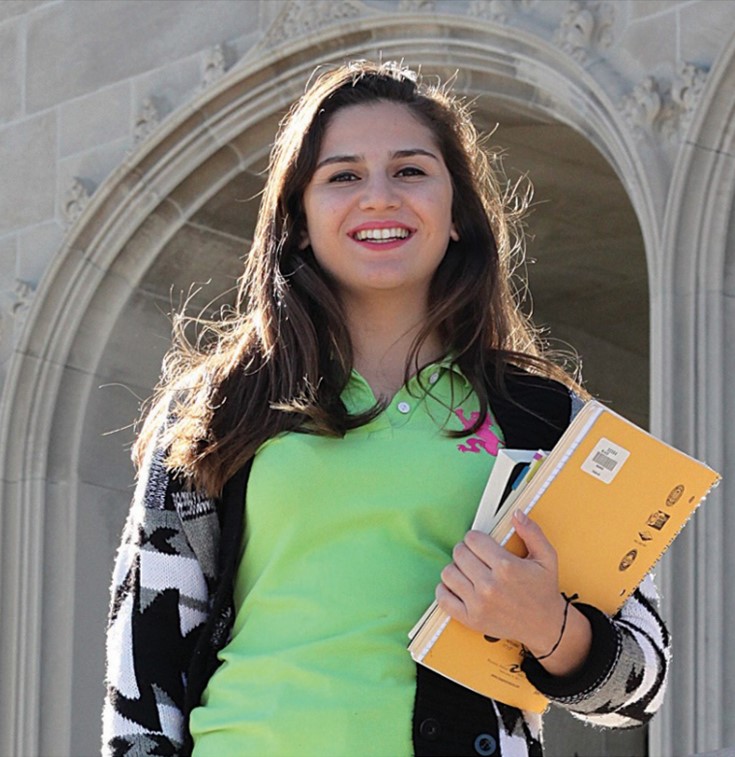 From Damascus to Rhode Island: Salve Regina University rising senior Araz Khajarian shares how she managed to earn a scholarship that would bring her to safety.
Originally from Syria, Araz Khajarian is a recipient of a full-tuition scholarship from Salve Regina University. Salve Regina is part of the IIE Syria Consortium for Higher Education in Crisis, a network of more than 60 colleges, universities and organizations that offer full tuition waivers and other opportunities for qualified Syrian students to continue their education in safety. Opportunities offered by the consortium members are listed on iiepeer.org.
June 20, 2017
In 2014, I was entering my second year of college, and I had begun to feel like I was wasting my time. I had graduated from rote memorization in secondary school to doing the same thing in college, where I was taking strictly business administration courses. I wanted to be intellectually challenged, and called on to form my own ideas.
More importantly, I wanted to be safe. I was living and attending college in Damascus, Syria, where civilians' safety was increasingly at risk. That is when I went from wanting to study abroad to needing to study abroad.
I began to research options until I came across an online scholarship posting from Salve Regina University through Jusoor, a partner organization of the IIE Syria Consortium for Higher Education in Crisis. I knew it would be a perfect fit. I didn't have money or my family's approval at the time, but I submitted my application anyway, nearly missing the deadline because of the challenges of gathering and translating my documents. A Skype interview and a selection round later, I was officially extended an offer. I thought this would be the final step in realizing my dream.
The truth was, however, it was only the beginning of a long road. While I had a full-tuition scholarship, I still needed to fill the funding gap for housing and living expenses. I needed to convince my family that this move was right for me. And finally, I still had to apply for a student visa to the United States.
But before all of that, I had to get all of my transcripts and paperwork from the business school I had been attending in Damascus, which sat in the crosshairs of a war zone. Bullet shells hit the car I rode in, shattering the back window of the car. It was scary. I then went to the U.S. Embassy in Beirut to participate in my visa interview – only to be sent home without a visa. After all of the work to get to that stage to apply for a visa, my application was denied. I remember each and every heavy step I took on my way out of the embassy, but I had only one thought in my head: I will reapply. Shortly thereafter, it paid off, and I officially began my studies at Salve Regina in the fall of 2016.
I was overwhelmed when I initially started at Salve Regina, but with the help of professors, staff members, mentors and new friends, I have figured out my interests and career options in an open environment. Salve's liberal arts curriculum gives me the opportunity to choose from a variety of different courses, and to participate in and lead student organizations and events, like the campus's first TEDx student group and the Model United Nations. I'm now the Lead Organizer of the TEDxSalveReginaU student group, and finally enjoying the kind of academic freedom that gives me the chance to learn outside of the classroom. I've taken on responsibilities that I thought may have been bigger than my abilities, but through my classes and student leadership, I have come to realize that I can do what it takes to achieve my desires, no matter how difficult it may be.
I knew studying in the United States would not make my life easier. I fought so hard for something that was going to make my life harder, more stressful, and much busier. But it also made my life more exciting and meaningful. As I approach my final year at Salve Regina, I am ready to pay it forward by sharing my story and advice with other students. My experience at Salve has unleashed values and ways of thinking that have always been in the back of my mind. As a student at a liberal arts institution, I have come to appreciate the value of empiricism, free inquiry and expression, and different ideas. And it all comes down to education. Education is the most effective way to rebuild a country, and your life, no matter where it leads you.
June 20th is #WorldRefugeeDay. Support IIE's work to protect students, scholars and artists at iie.org/donate.