By Lily Clarke
2016-2017 Fulbright U.S. Student to Nepal
Lily Clarke was a Fulbright U.S. Student researcher in Nepal in 2016-2017, studying ethnomycology (the study of the historical uses and sociological impact of fungi) and community-managed forests. She was raised in Montana, where she attended a one-room schoolhouse before later going to Lewis & Clark University in Portland, Oregon for her undergraduate degree.

"Lily!"
Nabin always said my name with an exclamation mark, an enthusiasm I shared whenever we spoke.
I met Nabin while on my Fulbright Scholarship in Nepal. For four months I lived with a host family in a village along central Nepal's Indian border, studying how wild and cultivated mushrooms support local economies. Nabin had left his mother's home to work at my host family's restaurant in order to fund his grade school education. We were both temporary residents living in a household strange and new to us – Nabin being from an impoverished village, and I from America.
Nabin and I communicated by the language of our movements more than our words. Although I was learning Nepali, the national language, his quick way of speaking did not lend to a nonnative speaker's ability to understand him, and he felt the same about my English. We spoke through smiles and quizzical faces, the motions of our hands and the ways our bodies danced. After a five A.M. run, we shared tea and silence, went about our days, and played badminton in the evening, or soccer, or music. I often found him washing dishes late into the night, singing in his lovely cracked voice.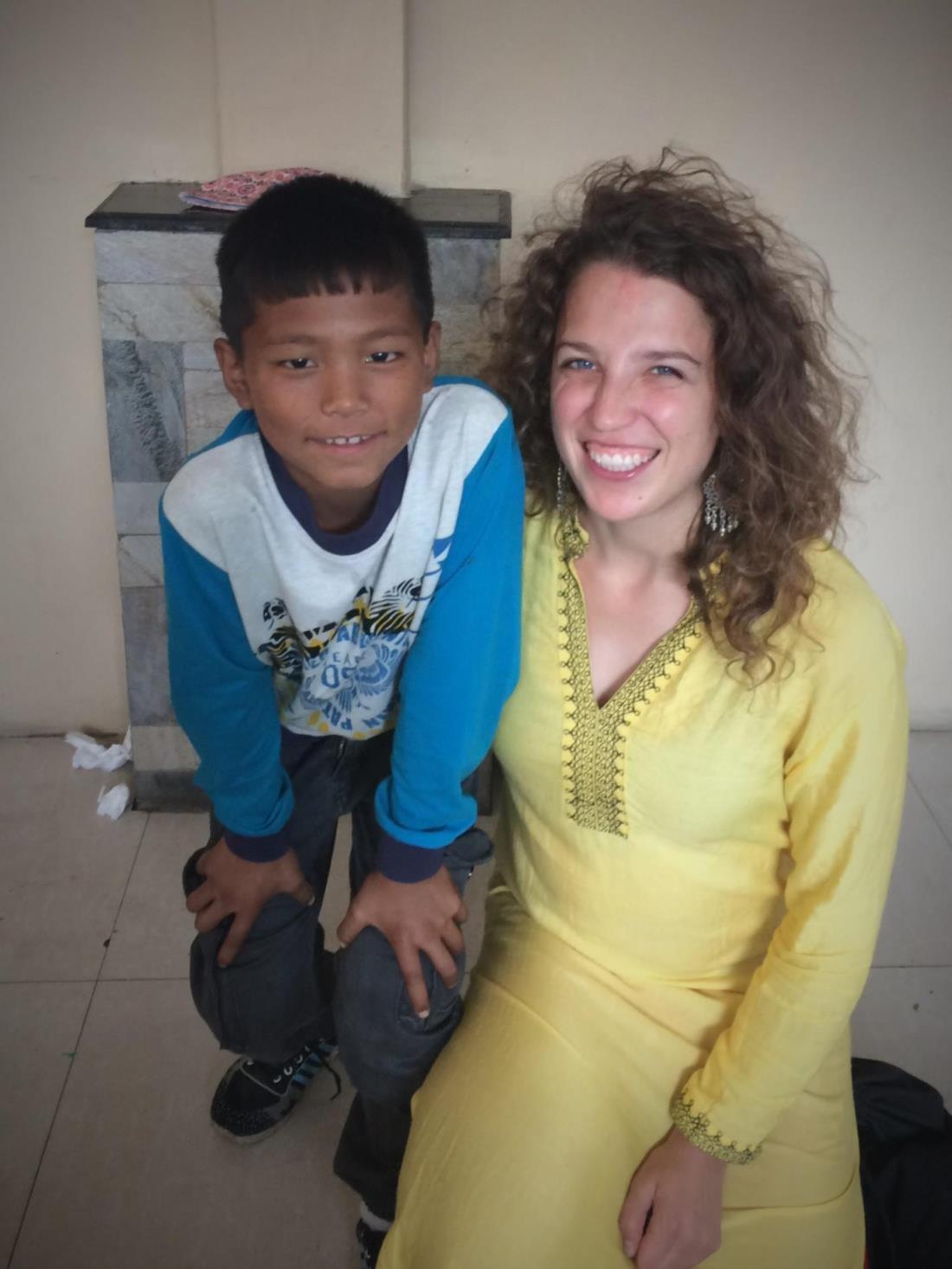 Lily and Nabin at a wedding celebration.
On a typical map, Nepal looks like a small country. Take a rolling pin and squash Mount Everest, Ama Dablam, and their towering siblings within the Himalayan belt of the country, and you will find a surface area about the size of the United States. Over one hundred ethnic groups and languages thrive within the endless creases and folds of Nepal's landscapes. Nabin is Chepang, an ethnic group that is considered the lowest caste in the area I was living in.
The caste system still runs hot in Nepal's Hindu culture, meaning people's social and economic status in society is predetermined by their ethnicity. Nabin's impoverished family could not afford to send him, his younger brother, and younger sister to school, so he worked to pay for his education and bring home tip money to his family. Although my host family did include him in family events, the difference in caste (my host family being significantly higher in status than Nabin) caused dissonance, and Nabin often ate away from the family table.
It was not my place to critique a several thousand-year-old cultural system after living in Nepal for six months. Rather, I did what I could do – become friends and eat with anyone, regardless of their caste. The act of eating is regulated within the caste system, where lower caste members are expected to eat separately from higher caste members.
The depth of my experience in Nepal came through conversations and relationships, which often formed while sharing and preparing food: chopping vegetables with my mothers, sharing tea and biscuits with community members, eating and dancing at weddings with my sisters, and being exposed to the tensions that naturally occur within a system based on segregation. Through forming relationships with people in my communities regardless of their status in the caste system, over time I evolved from being the random foreigner in town to being "Lily".
I hadn't felt homesick during my stay in Nepal until I said goodbye to these communities, those networks of dusty trails my bike traveled daily, and to Nabin. On the bus ride back to Kathmandu I felt determined to return someday, and also a great sadness in knowing I may never see Nabin again. I left for the United States two days later.
Back home in Montana, my mind often wanders to Nabin. How he ran across the street to buy us pink cotton candy, when he shared with me that he wants to travel to America, how he sang to me while drawing colorful mushrooms. I never completely understood all that Nabin said to me. The only words we truly understood from each other, were each other's names.