Following International Education Week celebrations extolling the benefits of exchange worldwide I wanted to highlight my recent visit to Greece with IIE's International Academic Partnership Program (IAPP) and share some key takeaways I had as part of this historic delegation.
IIE's International Academic Partnership Program is a comprehensive program that guides colleges and universities through the development of a strategic plan to increase meaningful, long-lasting academic partnerships with institutions in a particular focus country. IAPP provides institutions with the tools to take partnership building to the next level.
Since IAPP's inception in 2010, IIE has worked with 98 colleges and universities in the U.S. to increase academic partnerships with institutions from 11 countries around the world.
With the world facing so many complex crises at once, the importance of establishing or strengthening collaboration across countries, in all disciplines, has never been more critical.
Our 2022 IAPP – Greece Program was launched in 2019, with the delegation to Greece planned for Spring 2020 but the pandemic derailed our schedule. Over the course of the past two years the momentum continued virtually, and more US institutions joined the program.
Virtual connections are here to stay, and they play a valuable role however, there is no substitute for person-to-person interaction. Human connection is a key element to establish the foundation needed for long-lasting partnerships. Interacting in social settings and having a shared experience builds trust.
The Greek IAPP program was a partnership between IIE, the Greek Ministry of Education and Religious Affairs, the U.S. Embassy in Athens, and the Fulbright Foundation Greece. 30 U.S. universities and colleges represented by 70 university leaders and faculty met with leaders and faculty from the 24 Greek public universities. This was the largest delegation in IAPP history.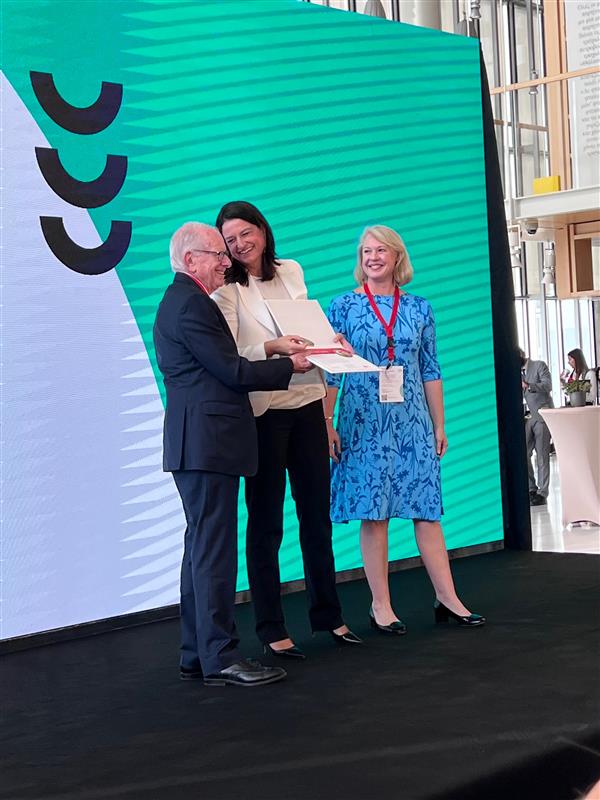 Achieving extraordinary results requires visionary and inspirational leadership. This IAPP was conceived as a result of Greek Minister of Education and Religious Affairs, Niki Kerameus's visits to New York and Washington, and subsequent meetings with US Ambassador to Greece, George Tsunis, and Assistant Secretary Lee Satterfield from the Bureau of Educational and Cultural Affairs at the US Department of State. Prime Minister Kyriakos Mitsotakis welcomed us at the opening ceremony and the final event was a formal reception at the Presidential Palace hosted by President Katerina Sakellaropoulou. The delegation was supported by the hard work of Ministry and Embassy staff as well as our partners at the Fulbright Foundation Greece.
We found tremendous eagerness and excitement to establish partnerships. Numerous agreements and joint projects were born from this trip, even before it had ended. They represented the whole range from research collaboration, faculty and student exchange, development of short-term and semester-long study abroad opportunities for U.S. students, COIL programs, and various forms of curricular collaboration.
Some of these partnerships were one-to-one but there is also great eagerness and excitement to explore consortium agreements between multiple U.S. and Greek institutions. These alliances have the potential to create an opportunity for each institution to engage in multiple projects without having to lead them all. At a time when many institutions have limited resources, this arrangement will allow them to experiment with several projects and scale them more quickly.
The disciplines for which these partnerships were sought were also diverse including engineering, business, health & medicine, social science, environmental sustainability, computer science, agriculture, nutrition, issues of migration, refugees, human rights, diversity – and the combination of Modern Greek Studies and Classics. In addition to these academic, discipline-based projects, interdisciplinary research projects and programs are in discussion to tackle cross-disciplinary challenges, bringing together established areas of research excellence in our two countries.
Throughout our visit, the U.S. delegation was warmly welcomed at every Greek institution. The universities put a tremendous amount of time into each visit, engaging vice rectors and faculty, preparing presentations, tours of facilities, offering delicious food, and even traditional Greek dancing. Often, they made it very hard for us to leave and keep on schedule.
Pharos means lighthouse or a beacon on the journey – and this historic delegation shone a light to enable U.S. and Greek institutions to move forward on their journeys together to create more opportunities for international educational exchange.
Key Takeaways:
Establishing and strengthening collaboration across countries is critical.
Virtual connections are here to stay but there is no substitute for person-to-person interaction.
Achieving extraordinary results requires visionary and inspirational leadership.
There is strength in numbers, consortia arrangements can be a cost-effective way for institutions to achieve their goals.
Partnerships in all disciplines and in all formats are essential to solving the world's complex challenges.
We are grateful for the participation and engagement of these US and Greek institutions:
American Universities (30)
| | | | |
| --- | --- | --- | --- |
| California Polytechnic State University | Lehigh University | University of Alabama | University of Texas – Health Science Center |
| Carnegie Mellon University | Michigan State University | University of California, Berkeley | Wayne State University |
| Columbia University | Ohio Northern University | University of Cincinnati | Widener University |
| George Mason University | Princeton University | University of Delaware | William & Mary |
| Harvard University | Roger Williams University | University of Illinois at Urbana-Champaign | Yale University |
| Indiana University | Rutgers University | University of Kentucky | York College of Pennsylvania |
| Johns Hopkins University | Stockton University | University of South Alabama | |
| Joliet Junior College | Tufts University | University of Southern California, Viterbi School of Engineering | |
Greek Institutions (24)
| | | | |
| --- | --- | --- | --- |
| Agricultural University of Athens | Hellenic Open University | University of Crete | University of Thessaly |
| Aristotle University of Thessaloniki | International Hellenic University | University of Ionnina | University of West Attica |
| Athens School of Fine Arts | Ionian University | University of Macedonia | University of Western Macedonia |
| Athens University of Economics and Business | National and Kapodistrian University of Athens | University of Patras | |
| Democritus University of Thrace | National Technical University of Athens | University of Piraeus | |
| Harokopio University | Panteion University of Social and Political Sciences | University of the Aegean | |
| Hellenic Mediterranean University | Technical University of Crete | University of the Peloponnese | |