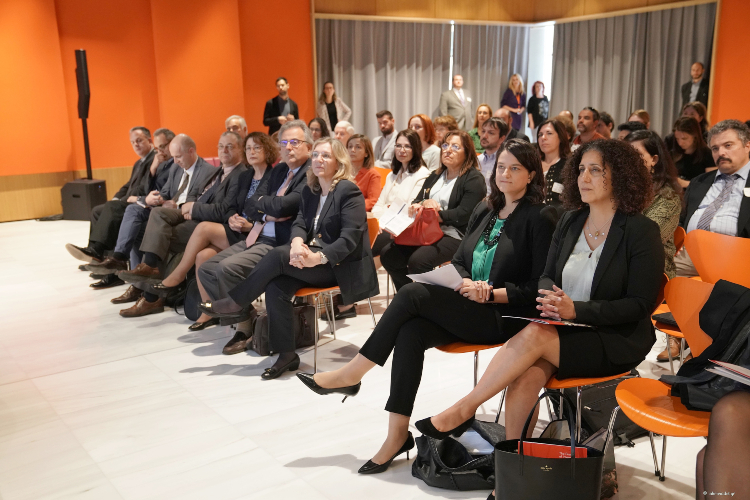 NEW YORK, December 18, 2019 — In January 2020, Fellowships will begin for 38 new newly selected Fellows at higher education institutions across Greece as part of the Greek Diaspora Fellowship Program (GDFP). Fellows will collaborate with host institutions in Greece on projects focusing on research, mentoring and teaching of graduate and undergraduate students and curriculum co-development for a period of 14-90 days.
Examples of projects include:
National Technical University of Athens will host a Fellow from Pennsylvania State University to conduct research on improving seismic safety, resilience and risk predictions.
The University of Crete,Voutes Campus will host a Fellow from Harvard University to collaborate on graduate student teaching and mentoring on state-of-the-art genome editing technology as well as develop genome editing courses for masters-level students.
The University of Thessaly, Volos Campus will host a Fellow from the University of California, San Diego to conduct educational research around social participation of students with special education needs who are based in public schools.
Since 2015, the GDFP has funded 87 fellowships for project across all disciplines. "The celebration of IIE's centenary this year invites us to take the long view," said Stelios Vassilakis, Chief Programs & Strategic Initiatives Officer at the Stavros Niarchos Foundation (SNF), which supports the program. "The Greek diaspora has always played a critical role in the establishment of formal and informal networks of knowledge exchange that have benefitted Greece. By further formalizing and deepening these networks in the wake of the Greek crisis through the GDFP, IIE continues to make international educational exchange an ever-greater force for good in the world."
The program also introduces a number of innovations for the new cycle:
New Countries. As in the program pilot, the GDFP will continue to support diaspora Fellows from Canada and the United States. Now, the program also supports members of the Greek Diaspora from Australia, New Zealand and South Africa.
Alumni Engagement Opportunities. Nine program alumni were selected to return to their original host institutions to build on their successful collaboration from the first two cycles of the GDFP.
Knowledge Production and Workshop Funds. Selected Fellows and Hosts can apply for supplemental funding for resource materials, research and publication costs and to connect with research networks, professional associations, industry and society to advance their projects beyond the host institutions. For example, knowledge production and workshop funds could cover the acquisition of a conductivity/salinity meter for a hydraulic field station or provide funding to hold a day-long graduate research seminar for students to showcase projects.
Prospective Hosts and Fellows can apply for the next funding cycle as well. The application deadline is January 30, 2020. To learn more or to apply, please visit www.iie.org/GreekDaispora or email GreekDiaspora@iie.org.
The GDFP is supported by a grant from the Stavros Niarchos Foundation (SNF) to the Institute of International Education (IIE). The program is administered in collaboration with the Fulbright Foundation in Greece.
About the Stavros Niarchos Foundation (SNF)
The Stavros Niarchos Foundation (SNF) is one of the world's leading private, international philanthropic organizations, making grants in the areas of arts and culture, education, health and sports, and social welfare. SNF funds organizations and projects worldwide that aim to achieve a broad, lasting, and positive impact for society at large and exhibit strong leadership and sound management. The Foundation also supports projects that facilitate the formation of public-private partnerships as an effective means for serving public welfare. Since 1996, the Foundation has committed more than $2.8 billion through more than 4,500 grants to nonprofit organizations in 124 nations around the world.
About the Institute of International Education
(IIE) Established in 1919 with the founding premise that international exchange could make the world a more interconnected place, IIE has championed international education and pioneered new models of collaboration across institutions of higher education with a worldwide reach. Today, IIE proudly supports flagship educational and cultural exchange programs on behalf of the U.S. Departments of State and Defense, in addition to government, corporate and foundation programs. IIE is also proud to assist scholars, students and artists threatened by conflict and unrest in their home countries.
The Fulbright Foundation in Greece
Fulbright is the flagship international educational and cultural exchange program of the United States of America in partnership with more than 160 countries worldwide.
Fulbright Greece operates a dynamic program, the first in Europe and the second globally. It is a non-political, not-for-profit educational exchange organization, established with a treaty between the governments of the Hellenic Republic and the United States of America. Since 1948 more than 5,500 U.S. and Greek citizens, students, scholars, scientists, teachers, artists and professionals, have benefited from educational and cultural exchanges between the two countries while thousands of citizens have received free advising and information about studies in the United States. Today Fulbright Greece serves the academic community and awards scholarships in nearly every discipline, initiates collaborations between academic institutions, provides information about studies in the U.S. and promotes Greece as an international educational destination. For more information visit www.fulbright.gr