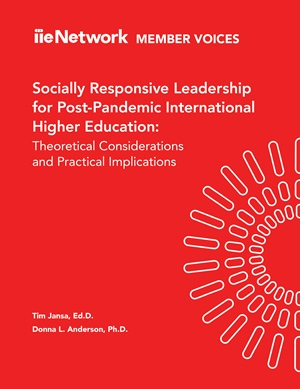 Tim Jansa, Ed.D, and Donna L. Anderson, Ph.D.
The pandemic has exposed the vulnerability of traditional programs to a range of geopolitical forces out of any internationalization leader's control. This realization now forces these leaders to reprioritize their efforts toward meaningful and sustainable on-campus programs and curricular changes in the interest of preparing students for the immense complexities of today's global issues. This paper interrogates and extends traditional concepts of leadership in international higher education and proposes a shift from primarily instrumental strategies toward organizational and curricular changes in the interest of preparing students for the complexities of today's world. It outlines specific leadership dispositions, attributes, and behaviors and proposes guidelines for distributed, transformational, and instructional leadership in hopes that they will allow for better transdisciplinary collaboration and meaningful, holistic student engagement and learning with a focus on more accessible, equitable, and socially responsive practices.
The IIENetwork Member Voices series spotlights the expertise and perspectives of IIENetwork members as we continue to advance the field of international education together. IIE is excited to provide this platform to elevate our members' voices, circulate good practices, and support the creation and sharing of new knowledge. Questions or inquiries about publishing in the IIENetwork Member Voices series, contact membership@iie.org.