November 14, 2017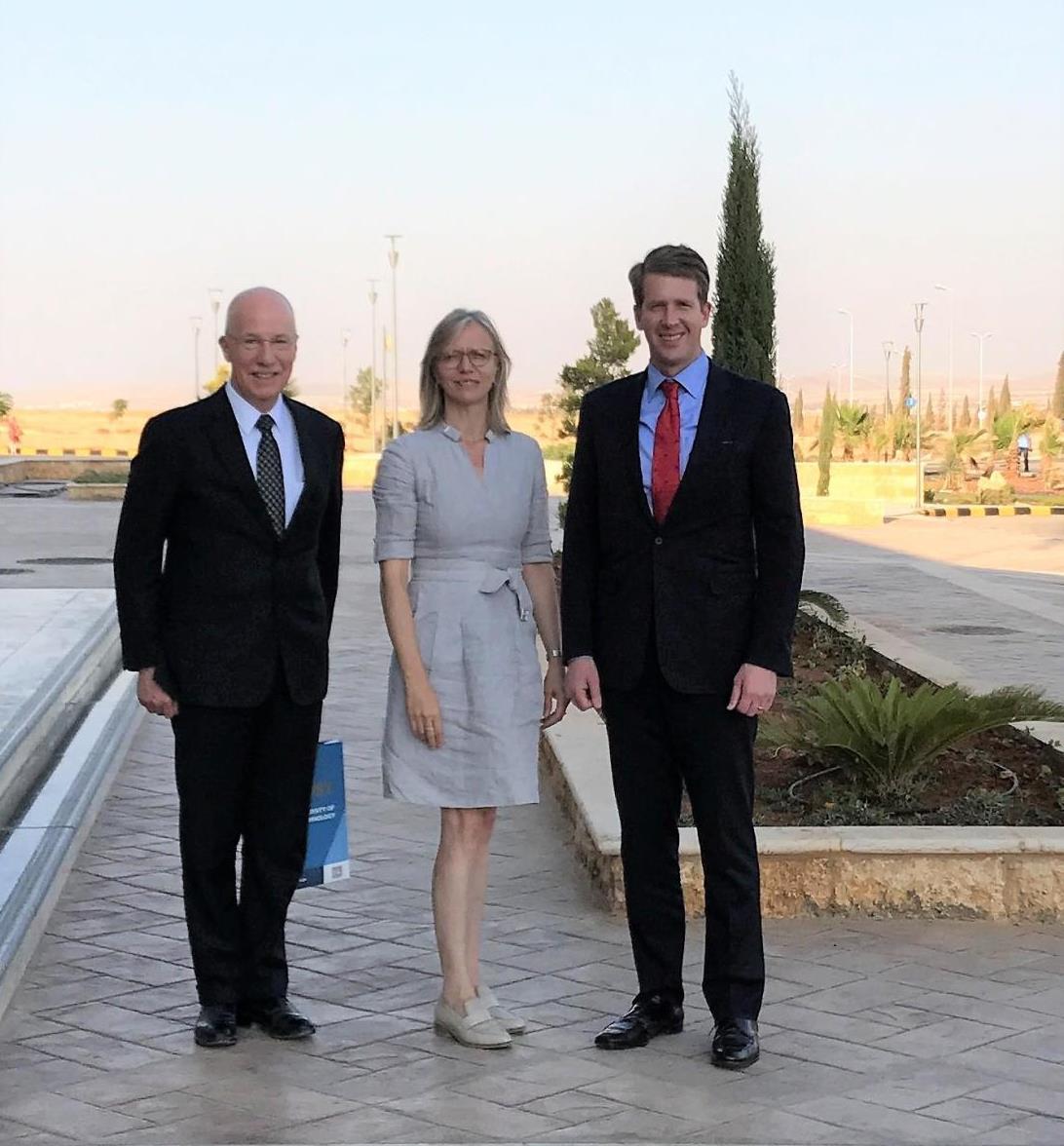 On a clear day — and that's most days — you can see Syria. It lies just over IIE Executive Vice President Maximillian Angerholzer III's shoulder as I took this picture at the entrance to the Jordan University of Science and Technology (JUST). The visit was part of a larger IIE delegation to the Hashemite Kingdom of Jordan from October 23-26 to express our gratitude — and learn from — the nation of around 10 million that has hosted more IIE Scholar Rescue Fund scholars than any country other than the United States.
Since 2002, IIE-SRF has assisted 726 scholars from 58 countries, 116 of whom have been placed in Jordanian institutions. JUST has taken in five IIE-SRF professors so far from Iraq. We had the good fortune to meet the latest arrival during our visit, a Syrian professor in the natural sciences.
Mariët Westermann, member of the Scholar Rescue Committee of the IIE Board, stands in the middle representing the Andrew W. Mellon Foundation, whose grants have helped IIE reconnect displaced Syrian students with their pursuit of higher education and launch the Artist Protection Fund. We also met with Syrian students attending neighboring Yarmouk University through IIE's Camps to Campus scholarship program over lunch. The scholarship is designed to help Syrian refugee students resume and complete their undergraduate degree at Jordanian public universities.
In a region where everything is close and faculty can hear shelling and bombs going off daily, safe haven and the pursuit of normal academic life is often a line of sight undertaking.
JUST is Jordan's MIT, albeit with a faculty and student body even more international than their counterparts at the Cambridge institution. JUST's leadership would welcome the university becoming even more diverse and international. For this region, advancing science means saving lives and national academies. It also means preserving the human foundations upon which one day Syria and other conflict ridden countries and territories can rebuild. Nothing would make the professors and deans with whom we met happier.
Over the right shoulder of our IIE vice chair and IIE-SRF chairman Mark Angelson lies the Sea of Galilee. Being near its shores reminded us all that while there is much of which to be afraid, it is also possible to believe that one day we can witness calmer waters and less harmful winds.
Allan Goodman
President and CEO, Institute of International Education