By Jaye Chen
Executive Vice President, Institute of International Education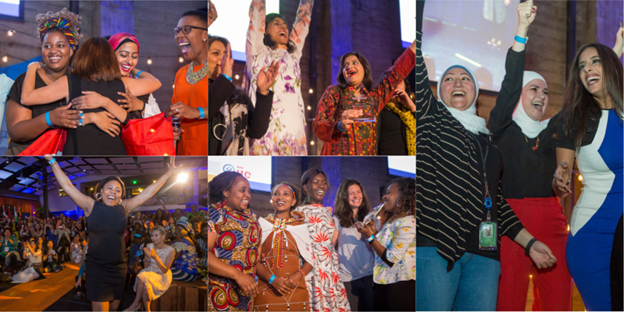 Caption: Clockwise from top left: members of Team South Africa, Team Pakistan 1, Team Jordan, Team Kenya and Team Cameroon as the winners of the seed grant competition were announced during the Community Celebration hosted at Twitter.
Female professors, engineers, CEOs, consultants, and geologists from countries as diverse as Egypt, Kyrgyzstan, and Zimbabwe aren't typically able to meet in person and share their personal visions and professional aspirations. TechWomen makes this possible.
The ambition and determination I witnessed today is an inspiration to our nation's youth. Pleased to have met the Jordanian women who were awarded a seed grant for their winning project at the leading international tech gathering, TechWomen pic.twitter.com/HbTfEnyzCy

— Rania Al Abdullah (@QueenRania) November 13, 2017
For the last seven years, the U.S. Department of State's TechWomen program has helped women in STEM fields from across the globe advance their careers and promote the future of girls and women in their home communities. IIE has managed this professional and cultural exchange program since inception on behalf of the U.S. Department of State's
Bureau of Educational and Cultural Affairs
.
Since 2011, TechWomen has connected more than 500 emerging women leaders in tech from Africa, Central and South Asia, and the Middle East with each other and with mentors at the top tech companies in the San Francisco Bay Area and Silicon Valley.
The 2017 Emerging Leaders selection was the most competitive to date, with 100 participants chosen from nearly 4,000 applicants. In October, I was fortunate to meet with the latest cohort while they were visiting the United States. Their stories and goals continue to inspire me in my work at IIE every day.
We often hear troubling statistics about the dearth of women in science, technology, engineering and math (STEM). According to the U.S. Department of Education, women earn 60% of U.S. college degrees, but only a third of the undergraduate degrees in STEM fields.
More disparities emerge when you take a closer look at specific academic tracks. Women in the United States actually earn more than half the undergraduate degrees in biology, chemistry and math. But in computer science, engineering and physics, they earn less than 20% of degrees awarded at the undergrad level, according to the National Science Foundation. Women are also underrepresented in STEM globally.
While strengthening female engagement in STEM remains an ongoing challenge, studies show that women are leveling the playing field globally in terms of enrolling in higher education. Women now make up the majority of students enrolled in an institution of higher education in 114 countries, while men out-number women in 57 countries, according to a 2017 IIE report.
Yet certain factors do help attract and retain women in STEM fields, as research has shown. Having female mentors, building a sense of community and working in a collaborative environment all have proven effective elements in advancing women's careers in STEM. At IIE, we say it's the human connection.
All three elements were on display when this year's cohort of TechWomen Emerging Leaders traveled to the United States for a five-week visit to San Francisco and Washington, D.C in September and October. From the start, the program built a sense of community across cultures as the Emerging Leaders shared the cultural experiences and heritage of their 20 nations through dance, music, food, and humor.
Each Emerging Leader was matched with one or more mentors at 32 companies in the San Francisco Bay Area, such as Google, Twitter and the Chan Zuckerberg Biohub. They spent 15 days at their mentor's company. Each Emerging Leader came with a unique set of goals and learning objectives, which her mentor helped her work toward. Learn more about their backgrounds and goals here.
At the conclusion of the program, teams developed plans to address a specific socioeconomic issue they identified as relevant to their home communities. Groups presented their impact projects before a panel on Pitch Day, hosted at Microsoft, competing for seed grants to kick-start the implementation of their plan upon return home.
Pitches this year included action plans to address food insecurity among children and entrepreneurship training for girls. Read more about the winning pitches here from teams from Cameroon, Jordan, Kenya, Pakistan and South Africa.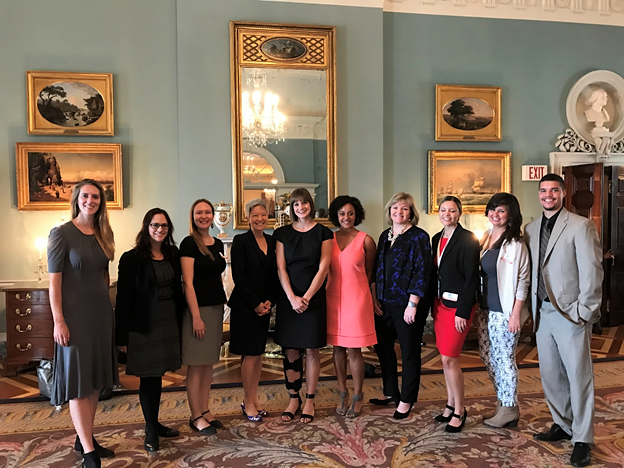 Caption: From left to right in the photo: Cassandra Many (IIE DC), Tami Wolf (IIE DC), Kelty Davis (IIE SF), IIE Vice President Jaye Chen, Jillian Scott (IIE SF), Samera Edwards (IIE SF), Michelle Pickard (IIE Houston), Jennifer Connor (IIE DC), Tasha Overpeck (IIE DC), Mark Myers (IIE DC).
We are grateful to the Bureau of Educational and Cultural Affairs for initiating this innovative program, and for giving IIE the opportunity to manage TechWomen with our shared values and goals. TechWomen could not be so successful without more than 120 committed host companies and 700 mentors who have supported TechWomen since its inception.
On behalf of IIE, I thank each partner company for your invaluable contributions, including the time and care of your mentors and your collective role in expanding our mission impact. This year, 62 Impact Coaches, 179 Professional Mentors, and 43 Cultural Mentors converged to support the TechWomen Emerging Leaders. Just as importantly, the Emerging Leaders were able to provide a lens into their cultures and experiences to the mentors and coaches who volunteered from these U.S. companies.
At IIE, we believe that, when education transcends borders, new opportunities emerge that opens our minds to new ways of engaging. Through our human connection in international educational exchange, we enable individuals to go beyond simply building connections to advancing their careers, strengthening their home communities and solving global problems together.