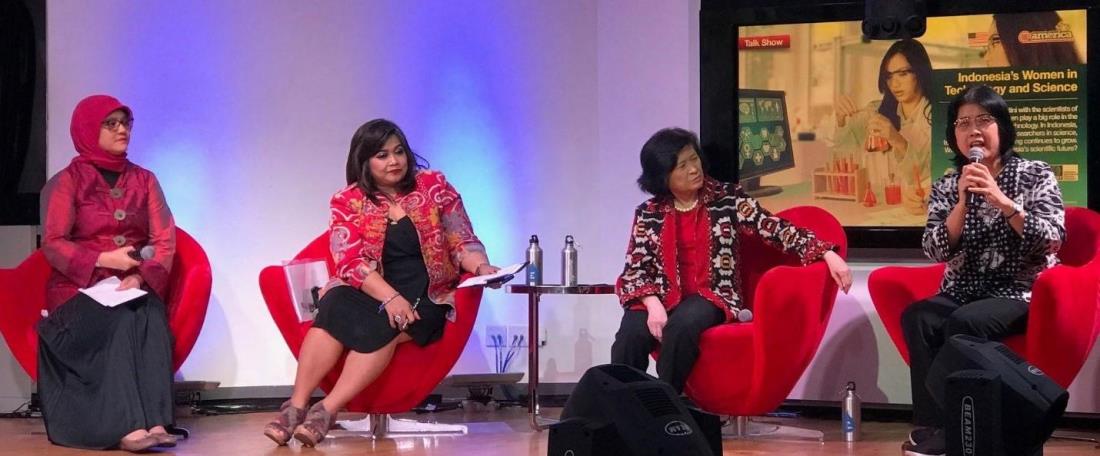 By Angela Makowski, Program Officer, Research Technical Assistance Center (RTAC)
On April 21, communities in Indonesia celebrate Hari Kartini, or Kartini Day, to commemorate Raden Ajeng Kartini, a 19th century Indonesian woman who is known as a pioneer of women's rights and education. Every April, schools and cultural centers celebrate Kartini Day with festivals, ceremonies, and by wearing Kartini's traditional dress, called a Kebaya. It is a day to recognize women's contributions to society and reflect on the advances still needed to provide equal access to opportunity for women.
In partnership with the U.S. Agency for International Development, the IIE-implemented Sustainable Higher Education Research Alliances (SHERA) program is proud to commemorate Kartini Day by reflecting on last year's celebration, showcasing the role of women in shaping the science and technology (S&T) field in Indonesia, and organizing an event this year to highlight the important advances in Indonesia's transportation sector and the role of women in leading these innovations.
The SHERA program is a research collaboration and university partnership program between Indonesia and the U.S. that aims to increase the research capacity of the Indonesian higher education sector and collaboration among Indonesian and U.S. higher education institutions in the fields of science, technology and innovation (ST&I); improve the enabling environment for quality research; and support access to research and professional development opportunities for women. Five Indonesian universities have established and are hosting Centers for Collaborative Research (CCR) within the priority research areas of ST&I and aim to engage women academic researchers in the consortium.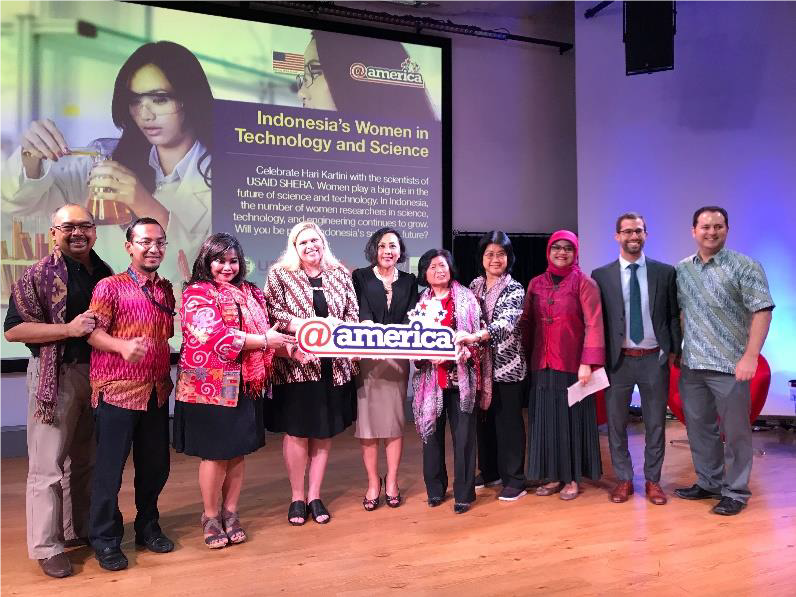 SHERA celebrated Kartini Day 2018 by holding a panel discussion at the U.S. Embassy's cultural center, @america, that focused on SHERA's role in shaping the S&T environment in Indonesia. Two notable women from Indonesia's S&T sector shared stories about their career paths and discussed the important advances women have made in the field.
As each CCR is one year into its research implementation, SHERA is celebrating Kartini Day 2019 by hosting a panel discussion focused on transportation technology and focusing on the advancements in the sector led by two of SHERA's researchers from the National Center for Transportation Technology (NCSTT), SHERA's CCR with a focus on innovative technologies. Annisa Jusuf, an aerospace engineer and expert in transportation safety and Bentang Arief Budiman, a mechanical engineer and expert in mechanical design and analysis and development of advanced lightweight material for the transportation industry, will discuss recent advances the CCR has made towards its goal of developing advanced technologies for the next generation of electric vehicles in Indonesia, including an electric battery and bus infrastructure that will be adopted by Jakarta's public transit system. Ms. Jusuf will discuss how this transportation innovation will benefit the daily lives of the 31 million people living in the greater Jakarta area by reducing the megacity's traffic congestion. Audience members at the event will include students who are taking transportation and engineering classes, researchers, university partners, private sector representatives, and media.
SHERA aims for the research consortium to be composed of at least 30 percent women researchers. Several of the CCRs have already accomplished this goal, while others are striving to engage more women in their research fields. This can be challenging, as it can be difficult to source women with expertise in some of the technical research fields, for example, women who are experts in electric batteries. To overcome this challenge, NCSTT is developing new ways to engage women researchers, including a training program specifically for women engineers. The research consortium is also providing livelihood opportunities for women who live in the communities in which research is being conducted, as women are trained to use the innovative technology resulting from the research. For example, women bus drivers will soon drive the new electric battery powered buses developed by NCSTT. Furthermore, another CCR called SMART CITY that specializes in sustainable energy is training women in the community how to manage and best use more sustainable forms of energy in the home.
SHERA is helping to pave the way to advance opportunities for Indonesian women in academic research. Ms. Pravita Tias, SHERA Communications and Outreach Specialist, shares that in the future, she hopes programming that mandates women participation, much like SHERA, becomes the norm. Though women's civil rights have made great strides, Ms. Tias feels that there is still room for growth, especially on the smaller, remote islands of the archipelago nation, where women often work in the home and have less access to educational opportunities. In commemoration of Kartini Day, SHERA celebrates the advances women have made in ST&I and reflects on the progress still needed to ensure equal access to opportunity for women in Indonesia.
To learn more about the SHERA program, please visit www.shera-research.org/en and follow www.facebook.com/ResearchSHERA/.