by Alicia Procello
President, Avery Dennison Foundation
Vice President, Corporate Social Responsibility, Avery Dennison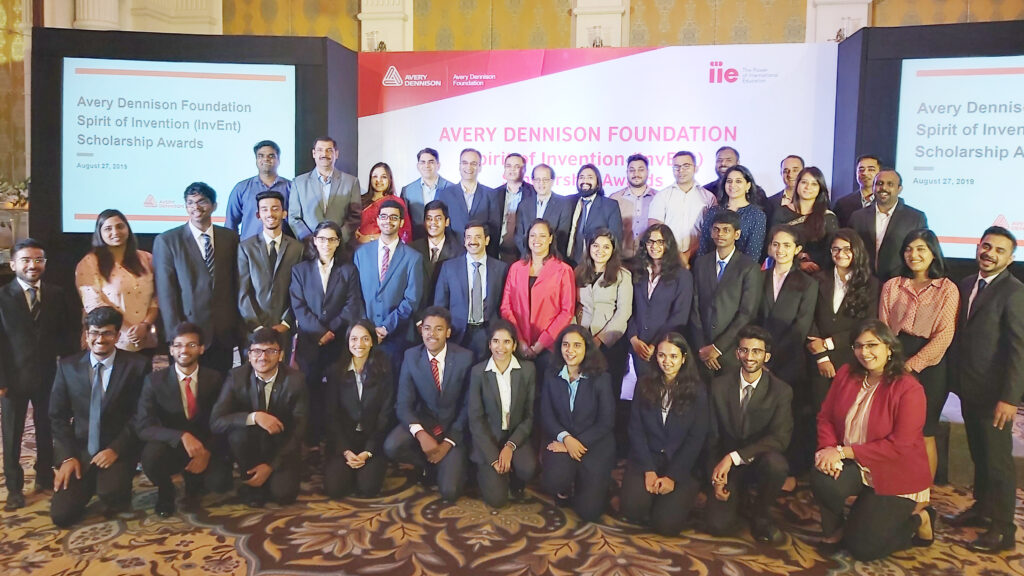 The Avery Dennison Foundation launched the Spirit of Invention Scholarships in 2012 with our partner, the Institute of International Education. The idea behind the program was simple: Each year, we would provide college funds for high-achieving students in their first year of studying science, engineering, or technology in India. Scholars would be chosen through a competitive process. And we would supplement their scholarships with professional mentorship and networking opportunities.
As it turned out, the program worked out even better than we planned. In all, we were honored to support and encourage 105 scholars who have graduated from universities throughout India and have gone on to careers in Robotics, Product Development, Software Engineering, and many other fields in India, Europe, and the U.S.
On August 30 and 31, Avery Dennison team members and others honored the last class of scholars in the Spirit of Invention program, concluding a decade-long initiative whose impact is quantifiable, but, ultimately, immeasurable.
On behalf of the Avery Dennison Foundation Board of Trustees, I wish to express my profound thanks to those that made this year so successful. Working alongside employees who are dedicated to investing in the educational advancement of our scholarship recipients is an example of the deep investment made by our colleagues in India.
The India InvEnt Scholarship Steering Committee spent the past several months engaging our university partners, coordinating student participation, planning the award ceremony, and coordinating employee led workshops. Additional thanks to the many Avery Dennison employees who contributed behind the scenes and attended and/or participated in the ceremony to make it a memorable experience for all.
InvEnt alumni from the past 9 years joined us from all over India, the U.S., and the U.K. They shared their own personal journeys, connected with the current students, and are helping create a virtual alumni network. That same evening, we received a note from a 2022 scholar:
Greetings, I am Akanksha Kale, one of the Avery Dennison InvEnt 2022 scholars. I wanted to express my gratitude to the entire team of Avery Dennison and IIE for conducting this wonderful, and extremely informative session. This exposure to Alumni and industry professionals is something that I will cherish forever as it has given me the opportunity to learn from the experiences of others. It has also given me the chance to form friendships and network with amazing people, whom I will learn a lot from. The guidance that this program has provided me will be treasured. Thank you so much! Regards and Best Wishes, Akanksha
Please enjoy this InvEnt 10 year celebratory video of the journey in India. The Spirit of Invention program has demonstrated how important it is to invest in young minds. Our collective support has helped scholars throughout India to unite under a common purpose, to use their gifts to their fullest potential, and share them with the world. As a Foundation, we are proud to look back upon a full decade of this program and reflect on the impact it has made in the lives of our scholars—and, I believe, in our world.
To my friends at IIE: Can one say thank you too often? I hope not! Your flawless execution of the 10th Avery Dennison Foundation InvEnt India was inspiring. THANK YOU. We know that IIE's coordination is critical to the success of InvEnt. So often we share the deep experience of your staff in making our event look so polished. We notice and appreciate all the background work that lays the foundation for a two-day event – college recruiting, connecting with professors, panel interviews, coordination of the event, preparation of scholars' videos, preparation of speaker's, etc. We see you! Overall, there are few words that can fully describe the meaningfulness of this long-term partnership. The professionalism you bring to an Avery Dennison Foundation sponsored event, and more importantly, the friendships that we have made over the years, will never be forgotten. Thank you again.
Alicia Procello
President, Avery Dennison Foundation
Vice President, Corporate Social Responsibility, Avery Dennison