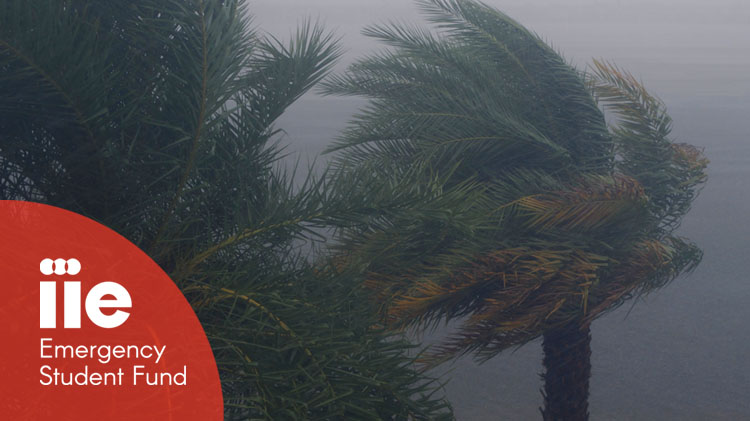 Written by IIE Global Education in Emergencies Analyst, Krikor Yeretzian.
"Every international student passes through different situations but education abroad teaches the value of the essential things in life." – Angela Puma Rodriguez, ESF-Venezuela Grantee.
Since 2010, the Institute of International Education has been administering the Emergency Student Fund to support U.S-based students whose education has been jeopardized because of conflict or disaster in their home countries. To date, IIE-ESF has awarded more than 800 awards, worth close to $3 Million, to students from Haiti, Iran, Japan, Libya, Nepal, the Philippines, Syria, Thailand, Yemen, the Caribbean nations, and Venezuela.
"It has been a devastating situation for me, emotionally and financially. This award will help me to continue my education here in U.S. and to focus on my career." – ESF-Nepal 2015 Grantee.
Due to the devastating aftermath of Hurricane Dorian, with tens of thousands rendered homeless, many Bahamian students attending colleges and universities across the U.S. are at risk of dropping out because of the financial burden their families now face. IIE's ESF is issuing a call for U.S. colleges and universities that currently host students from the Bahamas to nominate students with urgent financial needs for an IIE-ESF award.
The Bahamas Emergency Student Fund will provide grants of $2,000-$5,000 to students whose continuation or completion of their degree programs in the United States is in jeopardy due to serious financial difficulties precipitated by Hurricane Dorian. Accredited U.S. campuses are invited to nominate up to five students for whom help is needed to complete the fall 2019 semester. IIE also expects U.S. institutions nominating Bahamian students to help address the students' urgent financial needs through tuition waivers, scholarships, and other forms of assistance.
Through this multi-faceted support, we aim to provide students with relief during these trying times and hope that they will be able to concentrate on and complete Fall 2019. As we have seen with previous grantees, IIE-ESF helps build self-reliance, gives hope and motivation, and most importantly, allows dialogue and interaction between people from all over the world.
According to the Open Doors Report on International Educational Exchange, there were more than 2,000 students from the Bahamas studying in the U.S. during the 2017/18 academic year. To help as many students as possible, IIE welcomes donations to support this fund for the Bahamas, and for other world areas when crises arise. To support the Emergency Student Fund, please click here, and enter "Emergency Student Fund" in the gift designation field.