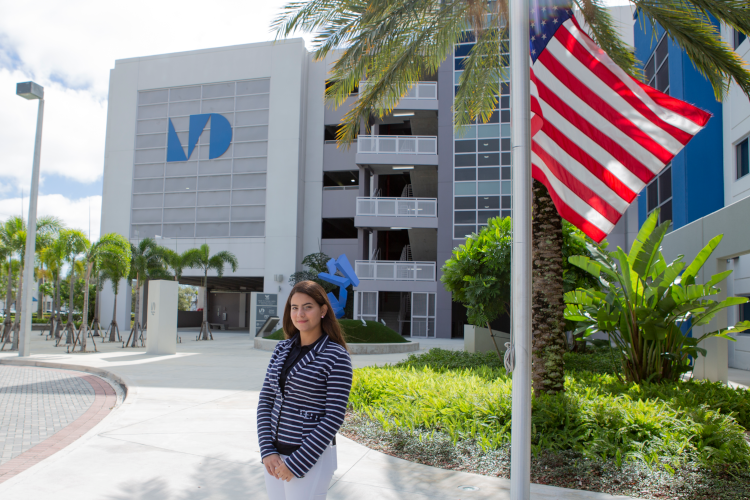 Angela Puma Rodriguez hopes to inspire other students through sharing her experience of leaving Venezuela to study in the United States.
In January, IIE announced that it would provide grants to 59 Venezuelan students studying at U.S. colleges and universities to help them cover educational expenses such as tuition and room and board. Due to Venezuela's current political and economic instability, it has become increasingly difficult for Venezuelan students to pay for their education and remain enrolled in their degree programs.
The grants were made possible through IIE's Emergency Student Fund (ESF), which supports international students studying in the United States who are facing financial hardship and are at risk of dropping out of their studies because their lives back home have been impacted by natural disaster, political unrest, or other forms of upheaval in their home countries. Since the fund was first implemented in 2010, it has awarded more than 850 emergency grants through ESF to students across the world, distributing approximately $3 million in financial aid.
IIE-ESF is one component of IIE's Student Emergency Initiatives (SEI). Through SEI, IIE provides assistance and support to deserving students who are at risk of dropping out of their education or have had their higher education interrupted as a result of natural disaster, conflict, or political unrest. Other SEI initiatives include the IIE Platform for Education in Emergencies Response (PEER), the Julia Stasch-IIE Scholarship for Refugees, and the IIE Syria Consortium for Higher Education in Crisis.
Read on to learn more about Angela's dream to become a pilot.
---
Why was it important for you to attend university in the United States? What can a student gain from education abroad?
Personally, I think that attending university is an important transition in the life of each person. In my case, attending university in the United States has been a complete honor, as well as a challenge. I was sixteen years old when I immigrated alone to the United States, with a heart and mind full of dreams and the inner desire to fight in search of a better future in the air of this blessed nation. I always remember to smile every day of my life because even if I am needing and missing my family, even with the situation in my country Venezuela which has forced me to experience difficult challenges, in the end, I know that I have a dream waiting for me to become a reality. I believe I can be an inspiration to other international students to never give up on their dreams. Education abroad has been a huge opportunity in my life to create, learn, dream, and succeed in the country that opened its doors during a difficult circumstance in my life. Every international student passes through different situations but education abroad teaches the value of the essential things in life. Education abroad teaches us to see the world from a different and successful perspective.
How will your degree help you to reach your academic or professional goals?
Since I was a child, my biggest dream was to become a professional and successful pilot. I would love to study aeronautical engineering, and then continue with aviation. Also, with my degree, I will be able to have the opportunity and financial support to make my second biggest dream come true. I would love to create an organization dedicated to educating people about how amazing it is to fight for our dreams as well as to support other students and people on their road to success. I have learned something new about myself, and it is that for my future I want to inspire others. I want to inspire and help people to never give up. I would love to show to the entire world that dreams are waiting for us. I would love to let my generation know that dreams are bigger than challenges. When I graduate, I hope that my story can inspire a lot of people to make their dream a reality.
How do you hope to make a positive contribution to Venezuela?
Venezuela is a gold mine but it has been exploited and corrupted due to the lack of democracy in the country. A gold mine not only in its earth and natural beauties but also in the minds of its young generation. We, the young generation have been experiencing the worst dictatorship in the history of Venezuela, with no right to speak, to be educated, to be free, and our human rights disregarded. We have been affected in many different ways during our adolescence. We do not know what it is to live in a democracy, to be free, because the dictatorships have closed all opportunities for us. At the same time, the majority of us have demonstrated what we are made of. We have emigrated, suffered, and survived many challenges at a very young age. But here is the blessing of the Venezuelan youth, the courage in our hearts to fight against the odds. My positive contribution to my country will be that we are never too young to fight for our rights and integrity. If the entire world can hear or read me now, I want to say that Venezuela's youth are warriors. The hope lives in us, to never give up on our dreams. We are the new leaders of our nation and continue fighting for our dreams every day of our life. We will show to the world that we do not understand the word "impossible".