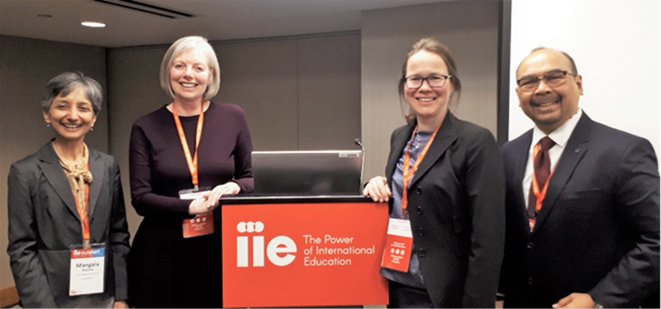 In February 2019, Prima Setiawan, Program Director for the Sustainable Higher Education Research Alliances (SHERA) attended the IIE Summit in New York and participated as an expert panelist. Coinciding with IIE's Centennial celebration, the Summit brought together more than 600 leaders, influencers, and practitioners from education, government, business, philanthropy, and media to envision the next 50 years of international education, specifically centered around five primary themes, Equity and Access, Higher Education in Emergencies, Student Mobility, International Partnerships, and Scholars and Innovation.
In partnership with the U.S. Agency for International Development (USAID), the IIE-implemented SHERA program is a research collaboration and university partnership program between Indonesia and the U.S. that aims to increase the research capacity of the Indonesian higher education sector and collaboration among Indonesian and U.S. higher education institutions in the fields of science, technology and innovation (ST&I); improve the enabling environment for quality research; and support access to research and professional development opportunities for women. Through grants from IIE, five Indonesian universities have established research consortia, called Centers for Collaborative Research (CCR), within ST&I priority research areas.
At the Summit, Prima provided expert insight in research collaboration and bi-national partnership development as a panelist in a session called Research Partnerships as Drivers of Innovation. Prima recently reflected on his experience at the Summit and shared key take-aways and lessons learned during a recent interview:
Q: How has the IIE network influenced your ability to support SHERA's objectives?
A: IIE is globally well known and its expansive network has made it easier to connect with universities and the private sector in the US and abroad. The Summit was specifically helpful in allowing me to connect with the right people at US universities to open the door to future engagements and partnership opportunities. I was able to grow the SHERA network by connecting with a number of Provosts, International Partnership Managers, and Directors of Global Engagement who I would not have otherwise met. These new connections will undoubtedly impact the SHERA research consortia's ability to continue to develop partnerships with US institutions, enhancing SHERA research activities. Following the Summit, I am now introducing these new connections to SHERA researchers and institutions to explore ways to collaborate on research activities within ST&I.
Q: What is one take-away from the IIE Summit that you feel will have the greatest impact on SHERA's future strategy to foster research partnerships?
A: While speaking with Summit participants during the pre-conference activities, I learned the concept of developing partnerships between a university and an individual, rather than solely between two institutions. As SHERA's partnerships are currently between two institutions, this concept is new for the program and will impact future ideas on fostering research partnerships. Many US universities develop partnerships with an individual if the two parties share a similar objective on a project and funding is available for the activity, as a partnership with an individual is often simpler to navigate and involves less bureaucracy than partnerships between institutions. The US universities shared valuable insights on engaging with individuals, such as researchers, professors, and heads of university departments. Expanding SHERA's strategy to foster research partnerships with individuals may greatly benefit the program's reach and opportunities available to SHERA researchers.
Q: What is one specific outcome from your participation in the IIE Summit that has directly benefited a SHERA Center for Collaborative Research (CCR)?
A: Through connections made during the Summit, I facilitated relationship building between the SHERA CCRs and individuals at US universities. For example, I connected the Director of the Center for Development of Sustainable Region (CDSR) at the University of Gadjah Mada (UGM), SHERA's CCR with a research focus on the environment, energy and technology, with the Director of International Initiatives at Colorado State University (CSU), who invited CDSR researchers to attend a renewable energy conference in Colorado in March, a topic that is closely linked to the CCR's research initiative to develop renewable energy systems in Indonesia. Similarly, I connected the Partnership Manager of the Center for Collaborative Research on Acute Respiratory Infections (CCR ARI) at the University of Padjajaran, SHERA's CCR with a focus on public health and infectious disease, with the Director of Global Engagement at University of California, Davis (UCD) and, as a result, CCR ARI researchers visited the UCD campus in April 2019. During the meeting between CDSR and UCD, the researchers developed a memorandum of understanding (MoU) formalizing a partnership between the two universities to collaborate on research within their joint fields of interest and are open to further collaboration in other areas as opportunities arise. In follow-up to drafting the MoU, in mid-June, the UCD International Training and Education Outreach Manager visited CDSR – UGM and met with the Director of International Cooperation to finalize the MoU. The partnership will be officially launched in Jakarta in mid-August through a ceremony attended by representatives from USAID/Indonesia, the U.S. Embassy in Indonesia, the Indonesian Ministry of Research, Technology and Higher Education, and both universities.
This is a new approach to developing partnerships within the SHERA program and has already shown benefits in further exposing SHERA researchers to US researchers and conferences in their fields.
Q: Which partnership within the SHERA program are you most excited about in terms of its ability to provide actionable solutions to one of Indonesia's development challenges?
A: The National Center for Transportation Technology (NCSTT), SHERA's CCR focused on innovative technologies, has made significant advances towards its goal of developing advanced technologies for the next generation of electric vehicles in Indonesia, including the development of an electric battery and bus infrastructure to be adopted by Jakarta's public transit system. From ideation to funding to implementation, this activity has been fully fostered by the SHERA program. In a ceremony that took place in February 2019, NCSTT signed an MoU with the local Jakarta government to develop an electric bus battery and bus infrastructure to house the electric battery. This electric bus battery and infrastructure will be used by the public transportation system. Through SHERA, NCSTT is addressing traffic and pollution challenges in the Jakarta area with a solution that will enhance citizens' quality of life.
Prima's participation in the IIE Summit opened doors of opportunity to the SHERA program. By participating in Summit sessions as a panelist and attendee and actively developing new connections, Prima exposed the broad IIE network to SHERA's innovative research through its consortia while fostering new partnerships to support long term sustainability of the consortia. The lessons learned and connections made have already proven beneficial. We look forward to seeing how these new connections further impact SHERA's research partnerships and initiatives.
Learn more about the SHERA program and its research partnerships