This summer, NAFSA: Association of International Educators received the inaugural IIE Center for Access and Equity Empower Award in recognition of the association's outstanding diversity, equity, inclusion, and access (DEIA) programming. While IIE and NAFSA have collaborated for many years, the award comes with a new ambition: to mark a bold new chapter of concerted efforts to advance and expand equity and access in the field of international education. The Empower Award will be announced annually and comes with a monetary award in support of organizations and individuals' DEIA in international education initiatives. Launched in May, the IIE Center for Access and Equity aims to leverage programs and partnerships, cultivate global learning, and support access for underrepresented communities.
In a Q&A with Tatiana Mackliff, NAFSA's Deputy Executive Director of Leadership and Professional Development Services, Lindsay Gee Calvert, Director of the IIE Center for Access and Equity, takes a closer look at the NAFSA RISE Fellowship as well as the Tamara H. Bryant Memorial Scholarship for undergraduates. The NAFSA RISE (Representation, Inclusion, Support, and Empowerment) Fellowship is a comprehensive development program that provides underrepresented professionals with foundational training and networking experiences to understand and thrive in the highly specialized field of international education. The fellowship spans two years and covers all related expenses; applications for its third cohort are being accepted through August 15.
Why is DEIA important in the field of international education, and what prompted NAFSA to create the RISE Fellowship in 2020?
For international education to be positioned for success, we must constantly ask ourselves who is at the table and who isn't. To stay relevant, international education must be more reflective of the world in which we live now and in the future.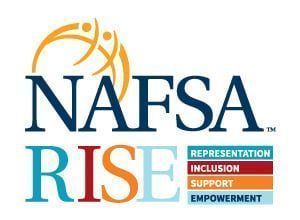 At NAFSA, we view a key piece of the puzzle to be diversifying the profession itself—so that students can see themselves among the professionals who design, support, and represent these programs. This belief was the genesis of the NAFSA RISE Fellowship, which evolved from an existing program to provide underrepresented individuals access to our flagship professional development program, the Academy for International Education, as well as mentoring, networking, and other enrichment opportunities such as our annual conference.
Diversifying the student population that engages in international education is another critical puzzle piece; it not only increases students' likelihood of achieving post-collegiate success, but it also enriches the global education experience for all involved. Our Tamara H. Bryant Memorial Scholarship program, in partnership with the Fund for Education Abroad, enables Black undergraduate students to experience the transformative effect of study abroad. NAFSA also supports the Senator Paul Simon Study Abroad Program Act— recently reintroduced in Congress—because it provides grants to assist colleges and universities with removing barriers that typically keep minority, first-generation, and community college students, for example, from studying abroad in larger numbers.
We will continue to center expanding access to international education through a variety of ways, including promoting inclusion and equity as integral to the profession's competencies, providing professional development and leadership pathways to all, and creating spaces for important conversations and connections across the sector and higher education, such as at our NAFSA 2024 Annual Conference & Expo in New Orleans next spring.
Tell us about a particular success story or anecdote that illustrates the fellowship's impact.
The ways in which RISE Fellows have leveraged their experience are varied, but they are all inspiring. A fellow from the 2020 cohort, for example, founded his own consulting firm to assist individuals, institutions, and organizations with advancing their DEI efforts using an intercultural framework. Another has shown leadership in her NAFSA region and on her campus, shaping the conversation around internationalization and diversity, equity, and inclusion, which earned her NAFSA's Rising Star Young Leader Award in 2022. A third alum has advanced from trainee to trainer in a few short years; he is now serving as a coach in our Academy for International Education, helping to mentor the next wave of professionals.
We are excited to see our fellows' future contributions as their careers advance. I'd also like to remind readers that applications for the next cohort of RISE Fellows will be accepted until August 15, 2023.
---
About the IIE Center for Access and Equity
The IIE Center for Access and Equity aims to advance accessible programming and equitable practices in community building that enrich and expand international education, exchange, and opportunity for all. Through dialogue and action, the Center leverages programs and partnerships that examine the intersection of international education with diversity, equity, inclusion, and access; cultivates global learning to support engagement and understanding of individuals and communities; and supports access for underrepresented communities by examining and addressing structural inequities. Learn more at www.iie.org/CAE.
About NAFSA: Association of International Educators
Founded in 1948, NAFSA: Association of International Educators serves more than 10,000 members and international educators worldwide. NAFSA is the largest nonprofit association dedicated to international education and exchange in the world, working to advance policies and practices that ensure a more interconnected, peaceful world. Learn more at www.nafsa.org