NAFSA 2021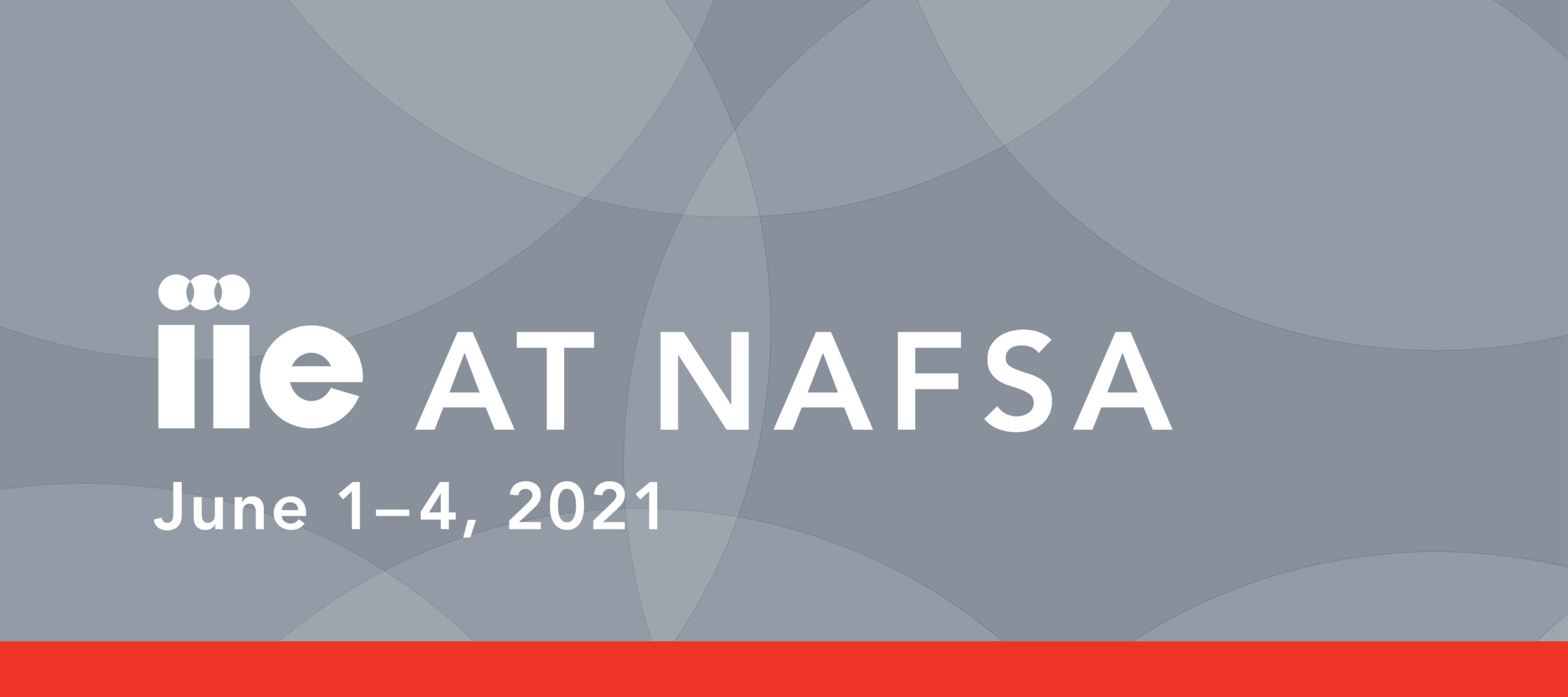 If you are attending the annual NAFSA Conference online, don't miss the chance to connect with IIE experts and learn what the Power of International Education can do for you. Visit us at our online Booth and participate in the sessions where IIE leaders will be present and presenting.
Visit our virtual booth to :
Meet IIE representatives who can provide details on scholarship management, study abroad, workforce training, leadership development, and campus internationalization. Learn more about our 360º approach to designing and managing scholarship programs here.
Pick up the latest research and resources on international education. You can also visit our Research and Insights page which provides an overview of our key research reports and studies.
Learn about the benefits of IIENetwork membership. If you're interesting in joining our global membership network of more than 10,000 professionals at 1,500 organizations around the world, visit our IIENetwork membership page.
Explore career opportunities at IIE and learn why we were certified a Great Place to Work organization in 2020. Details on our robust benefits package and talent philosophy are also available here.
Note: the IIE virtual booth is only accessible to registered NAFSA Conference attendees.
Event Details
Date: Tuesday, June 1st – Friday, June 4th 2021
Location: Virtual
Schedule Meetings with IIE Experts
Want to speak directly with our experts? Book meetings on your schedule through our NAFSA Booth online. Each meeting slot will be 30 mins, all meetings will begin at the IIE booth. Here are some of the experts that will be present:
Julie Baer: Learn how to navigate the extensive Open Doors data and ask any questions about how to complete the Open Doors surveys.
Lindsay Calvert: Meet with the Lead of the IIENetwork, IIE's global membership network of 1,500+ institutions and organizations, to learn more about membership services and benefits supporting international education and partnerships.
Sylvia Jons: Learn more about the Global Engineering Exchange Consortium, IIE Centennial Fellowships, and the Center for International Partnerships
Matt Kelly: Meet with our Human Resources & Talent Partner to discuss career opportunities at IIE.
Mirka Martel: Meet to learn the latest from IIE's Research, Evaluation, and Learning team and see how IIE's custom data reports and evaluation services can support your goals.
Clare Overmann: Meet with the Head of Higher Education Initiatives to learn more about international partnerships, institutional internationalization, and program management.
Ashley Stipek: Meet to learn more about the IIENetwork, IIE Centennial Fellowship application, and open calls for articles.
Panels and Events
IIE experts will be participating in the following panels and poster presentations:
June 1

Panel: Careers at IIE
1:00 – 2:00 pm EDT

Join an overview of careers at IIE and a Q&A with IIE team members and human resources. In 2020, we were designated as a Great Place to Work-Certified™ company, underscoring our commitment to creating a meaningful and rewarding environment for all team members. Working at IIE is not just a job; it's a place to build a rewarding career.


Research and Evaluation with IIE
3:00 – 4:00pm EDT

Since 1919, IIE has pioneered applied research and policy analysis in the field of international student mobility. IIE also provides research and program evaluation services to domestic and international governmental agencies, non-governmental organizations and foundations. Mirka Martel will share about the impact of data and how IIE uses it expertise to support some of the most recognized research in the field.

June 2

English-Language Programs: Industry Overview, Enrollment Data, and Market Trends
8:00 – 9:00 am EDT

Featuring IIE Expert, Julie Baer. NAFSA Conference attendees may register here.

HR Office Hours with Matt Kelly
2:00 – 3:00 pm EDT
Research Office Hours with Mirka Martel
3:00 – 4:30 pm EDT
June 3
Boren Awards for International Study Office Hours

10:00 am –12:00 pm EDT

Speak with Outreach Officers from IIE to learn more about the Boren Awards for International Study and how to apply.

HR Office Hours with Matt Kelly
2:00 – 3:00 pm EDT
June 4
Research Office Hours with Mirka Martel



10:00 – 11:30 am EDT

Leveraging Data for Global Engagement with Local Stakeholders
12:00 pm – 1:00 pm EDT

Featuring IIE Expert, Julie Baer. NAFSA Conference attendees may register here.