Coming to America: Navigating International Education in These Uncertain Times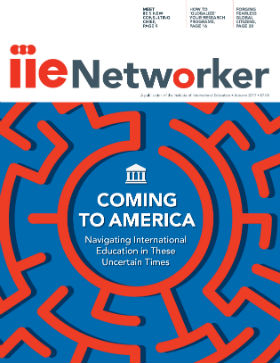 NEW YORK, September 12, 2017—In the Fall 2017 issue of the IIENetworker magazine, IIE experts share the ways in which they are joining with partners around the world to expand international opportunities for all.
IIE thought leaders and experts from the industry discuss the challenges of navigating international education in these uncertain times. As internationalizing the campus becomes a core strategic goal for higher education institutions, concerns about political environments, safety, and conflicts at home has many inside and outside academia wondering, "Will they come?". Features from EducationUSA, DAAD, Lehigh University, and Portland State University explore proactive outreach and engagement strategies such as 'parents-meet-parents' sessions, alumni driven peer-to-peer marketing, and creating a Global Union can help international students feel welcome and enable them to have a successful academic experience.