The scholarship will provide once-in-a-lifetime opportunities for students in Ukraine to access quality education that will help unlock their future.
NEWS PROVIDED BY
American University Kyiv
Apr 24, 2023, 16:26 ET
TEMPE, Ariz., April 24, 2023 / PRNewswire / — American University Kyiv (AUK), the first university in Ukraine founded on U.S. educational standards, has partnered with the Institute of International Education (IIE) to administer a new AUK Scholarship Program — Build Solid Futures. As one of the world's leading international education organizations, IIE will assist AUK in managing the scholarship that will expand access for Ukrainian students to high-quality education.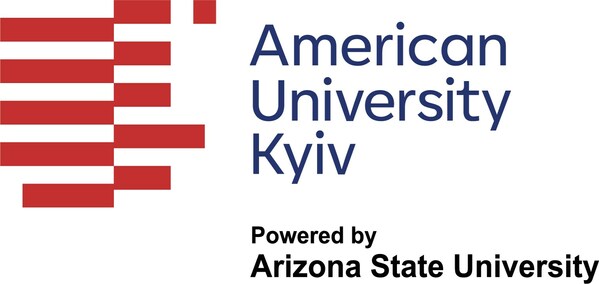 The Build Solid Futures program provides AUK students with merit-based, need-based, and wartime scholarships that contribute to Ukraine's young generation, its resistance and its commitment to freedom. The program also expands the generous scholarship support AUK already provides to its students. AUK wartime scholarships (up to 75% of expenses), launched in 2022 as AUK's response to the war, are provided to all AUK admitted students. As a result of Build Solid Futures, AUK merit-based scholarships will be awarded to students who have demonstrated academic excellence and leadership qualities. AUK need-based scholarships will be awarded to students in financial need. Within this category, AUK has created two fully funded scholarships for Wounded Warriors and Children of the Fallen Heroes — those who lost a parent in the war. A full four-year bachelor's scholarship to pay 100% of a young person's education is U.S. $32,000.
Young people in Ukraine are eager for the education and training that will allow them to address the challenges caused by the current war and build a stable, prosperous and innovative future for the country. This scholarship and the AUK academic experience will allow hundreds of them to do so.

Jonah Kokodyniak, Senior Vice President of the Institute of International Education
Building the premier American University in Kyiv, we are committed to helping Ukraine to overcome the impact of the current war and facilitate its recovery. AUK raises the funds to expand access to high-level education for promising young Ukrainian students, with an additional focus on the children of fallen Ukrainian heroes. We are proud to have such a highly reputable and reliable partner as the IIE together with us in this inspiring mission to grow the future leaders of Ukraine. As the war continues, we will continue supporting talented Ukrainians. That is why we are inviting partners to do it together with us and share this honorable responsibility of standing together with Ukraine.

Dan Rice, AUK President
AUK provides the unique opportunity to earn an American degree while studying in Ukraine. AUK powered by Arizona State University creates an optimal environment for young talent to develop their professional skills and drive progress while remaining in their homeland. AUK launched Build Solid Futures to unite various organizations and people in the U.S. and globally to allow Ukrainian students to succeed and build solid futures for themselves and their country today. IIE is a global not-for-profit organization that works with thousands of U.S. and international educational institutions and more than 29,000 students, scholars, and professionals each year.
Information on the scholarship and how to support it can be found at https://www.iie.org/programs/american-university-of-kyiv.
American University of Kyiv (www.auk.edu.ua) is offering a U.S. higher education standard in Ukraine through its partnership with Arizona State University (ASU), one of the largest universities in the U.S. and ranked by U.S. News & World Report as the most innovative university in the U.S. American University Kyiv delivers an American standard of excellence in higher education through its expanding portfolio of undergraduate, graduate, and lifelong learning programs.
Institute of International Education – IIE (www.iie.org) is the leader in designing and implementing international education strategies and program services. We work with governments, policymakers, educators, and employers across the globe to prepare students and professionals for the global workforce and equip them to solve the increasingly complex challenges facing our interconnected world. With support from donors, we also create initiatives that assist students, scholars, and artists whose lives and work are threatened; expand teaching and learning across cultures; and provide opportunities to underserved populations. A not-for-profit organization founded in 1919, IIE has a network of 16 offices and affiliates worldwide and over 1,600 higher education partners.
SOURCE: American University Kyiv