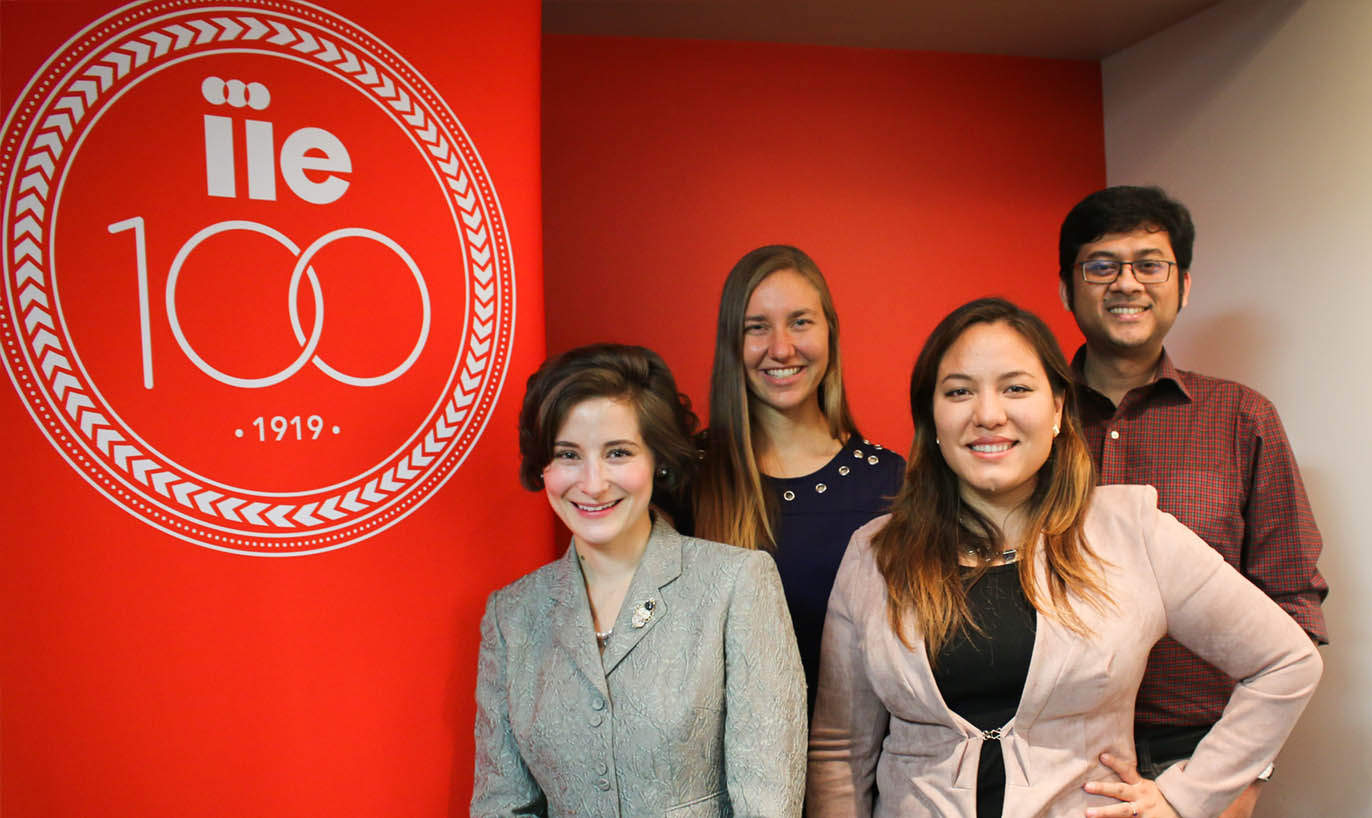 NEW YORK, January 13, 2020 — The Institute of International Education (IIE) is proud to announce the members of the inaugural cohort of the IIE Centennial Fellowship: Sabrina Verleysen, Paige Balcom, Syed Ishtiaque Ahmed, and Krizia Lopez. The IIE Centennial Fellowship was established in 2019 to celebrate IIE's centennial year and recognize IIE's long relationship with the Fulbright Program. Each member of the inaugural cohort of IIE Centennial Fellows is an alumnus or alumna of the Fulbright Program.
Two endowments have been established by the IIE Board of Trustees and other private donors to support the IIE Centennial Fellowships. One of the endowments is named in honor of Rodman C. Rockefeller, a former trustee who was deeply committed to the cause of international education.
As part of the IIE Centennial Fellowship, each fellow will receive a one-year fellowship award of up to $25,000 to support a project that presents innovative ideas that align with IIE's mission by tackling global challenges, advancing scholarship, and/or widening access to education.
Ms. Verleysen (Rodman Rockefeller Centennial Fellow) was a 2018-2019 Fulbright English Teaching Assistant to Indonesia. She is a research intern at the Cohen Group in Washington, DC. Her fellowship will support Project Buku Buku in Indonesia, a community-based literacy program that helps girls in rural Indonesia. She says, "By equipping them with both the resources they need through English lending libraries and scholarship opportunities, girls in rural Indonesia are able to accomplish their dreams and pursue opportunities that may traditionally be outside their sphere." She adds, "I am excited to continue to be an advocate for the Indonesian education system and a cultural ambassador for the United States."
Ms. Balcom (Rodman Rockefeller Centennial Fellow) was a 2016-2017 Fulbright Student to Uganda. She is a Ph.D. student in mechanical engineering at the University of California, Berkeley. Her fellowship will support Takataka Plastics in Uganda, which seeks to turn plastic waste into quality, affordable construction materials and divert it from being burned or buried in pits of landfills. She says, "My project brings the sophistication of modern polymer processing equipment into Uganda by fabricating the machines in-country at far lower costs than importing equipment. I am also really excited to create job opportunities through this project for up to 30 Ugandans including kids who live and work on the streets."
Dr. Ahmed (IIE Centennial Fellow) was a 2011-2014 Fulbright Foreign Student to the United States. He is an Assistant Professor of Computer Science at the University of Toronto. His project is entitled, "Toward Safe and Sustainable Repairing and Recycling for the Electronic Waste Workers of Bangladesh." He chose this project because "most e-waste is processed in informal markets by people who have little training on safe handling, which is creating a threat to their health and polluting the local water, soil, and air." He adds, "innovations that will come out of this project will benefit thousands of e-waste workers in Bangladesh, and later in other countries."
Ms. Lopez (IIE Centennial Fellow) was a 2013-2014 Fulbright U.S. Student in Nicaragua. She was most recently the founding Director of Operations at Valence College Prep in NYC and a Regional Program Manager at Google. Her fellowship will support Puentes Community Translators, a program to help bilingual young adults from immigrant communities become professional translators and help local organizations. She says, "Language, culture, and knowledge barriers lead to small but significant disadvantages. My project's significance lies in its attempt to break this cycle by increasing the supply of community-rooted translators and opening a pathway for young adults to increase their economic capital utilizing skills they already possess."
Over the remainder of their fellowship year, all four members of the inaugural cohort of IIE Centennial Fellows will be posting blogs and photographs of their projects and the people they are helping. These will appear on the IIE Centennial Fellowships page. Follow @IIEGlobal on Twitter and Instagram to see how their projects are transforming lives.
If you would like to learn more about supporting the IIE Centennial Fellowship or any of the other programs that provide life-changing opportunities for students and scholars around the world, including initiatives that support higher education in countries in crisis, and enable more U.S. students to study abroad, please visit www.iie.org/Donate or contact philanthropy@iie.org.
IIE will begin to solicit applications for the second cohort of IIE Centennial Fellows, which will also consist of four alumni/ae of the Fulbright Program, in May 2020. Projects that promote continued collaboration and institutional linkages established during applicants' Fulbright grant periods are encouraged. For more information, please visit IIE Centennial Fellowships or contact iiecentennialfellows@iie.org to learn more.
The Fulbright Program is sponsored by the U.S. Department of State's Bureau of Educational and Cultural Affairs with funding provided by the U.S. Government and implemented by cooperating agencies, including IIE.
About the Institute of International Education
Now celebrating its Centennial year, IIE was established in 1919 with the founding premise that international exchange could make the world a more interconnected place. IIE works to build more peaceful and equitable societies by advancing scholarship, building economies and promoting access to opportunity. IIE collaborates with a range of corporate, government and foundation partners across the globe to design and manage scholarship, study abroad, workforce training and leadership development programs.
For more information contact the IIE press office at press@iie.org.