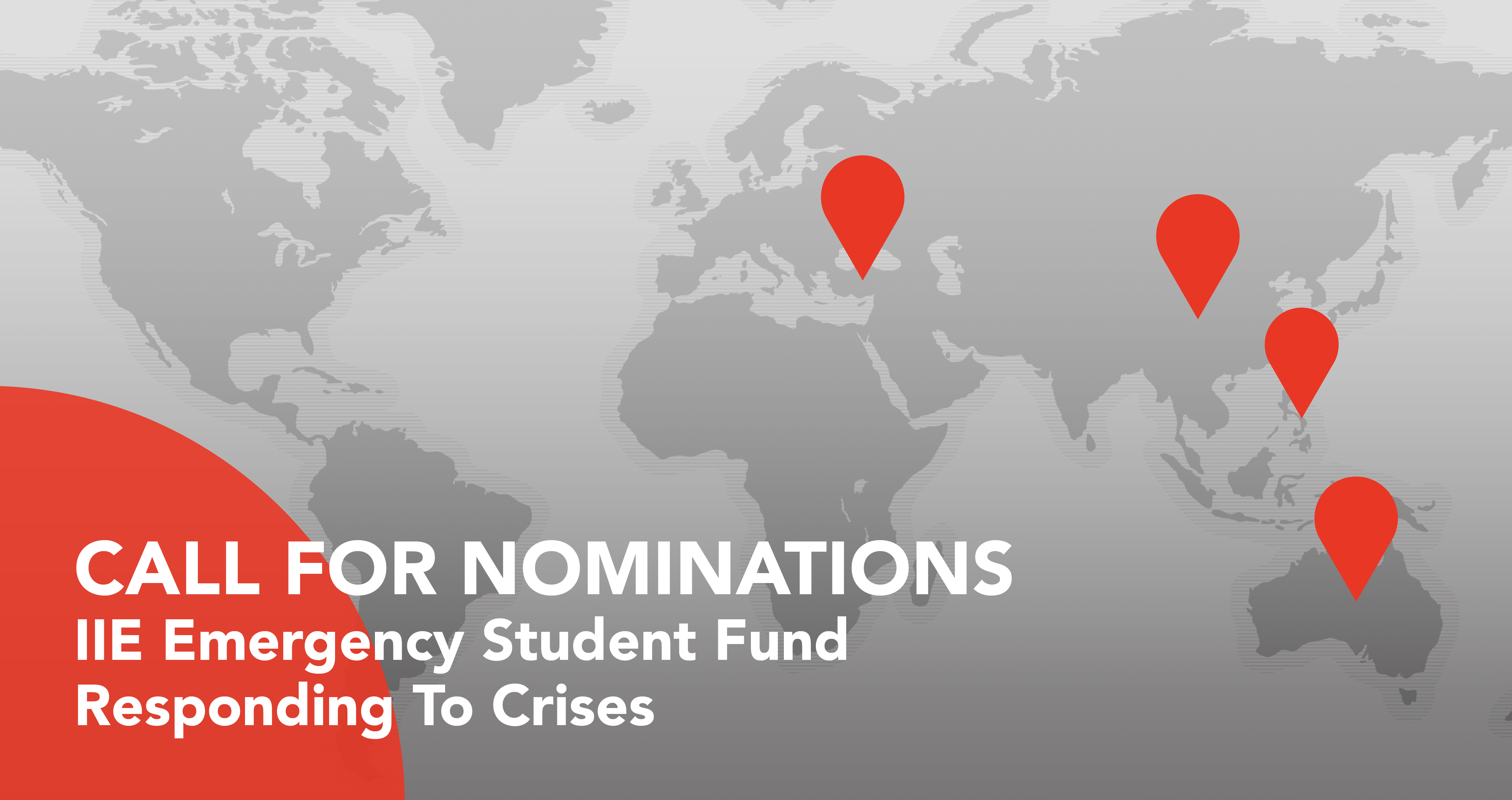 NEW YORK, January 31, 2020—The Institute of International Education's (IIE) Emergency Student Fund is expanding its efforts to support international students currently studying at colleges and universities in the United States who have been affected by recent crises. IIE has a long history of providing emergency assistance to students and the Emergency Student Fund was established to provide financial support to students who are at risk of dropping out of their studies due to natural disaster, armed conflict, or political strife in their home countries.
The Emergency Student Fund supports students whose ability to continue their studies in the current academic year is affected by particular crises and natural disasters. We are requesting applications from accredited U.S. institutions for students from:
Australia: Students from the states of New South Wales and Victoria whose ability to pay for their education in the United States is affected by the brushfires in those states in December and January.
China: Students from Hubei Province whose ability to pay for their education in the United States is affected by the outbreak of coronavirus (2019-nCoV). Students from other parts of China with demonstrable needs related to this coronavirus outbreak may also be considered.
Philippines: Students from Luzon whose ability to pay for their education in the United States is affected by volcanic activity from Taal Volcano.
Turkey: Students from Elazig and Malatya provinces whose ability to pay for their education in the United States is affected by the earthquake that struck near Sivrice on January 24.
Additional countries and regions may be added to this call for nominations as circumstances dictate.
According to the Open Doors Report on International Educational Exchange, China is the top place of origin for international students in the United States, with 369,548 students in the 2018/19 academic year. There were also 4,930 students from Australia, 3,320 students from the Philippines, and 10,159 students from Turkey in the United States in the 2018/19 academic year.
This effort will provide one-time grants of $2,000 – $5,000 to selected students whose ability to pay for their spring 2020 semester in the United States is in jeopardy due to serious financial difficulties related to these crises. Funds can be used to cover tuition, room and board, books, and related costs, but should not be used to support families in home countries or for travel.
Students must be nominated by their U.S. college or university for this opportunity and cannot apply on their own behalf. Accredited U.S. campuses are invited to nominate up to 10 students in total for whom help is needed to complete the spring 2020 semester. Nominating institutions are expected to provide additional emergency assistance to nominated students.
LEARN MORE ABOUT IIE'S EMERGENCY STUDENT FUND
Completed nominations must be received by February 19, 2020 at 11:59pm EST.
LEARN MORE ABOUT THE NOMINATION PROCESS AND ELIGIBILITY REQUIREMENTS
We anticipate that the need for emergency assistance will exceed the funding currently available to IIE's Emergency Student Fund. If you would like to support the Emergency Student Fund, please make a donation to help students affected by these crises and other disasters in the future by entering "Emergency Student Fund" in the gift designation field.
Since 2010, IIE has awarded more than 900 emergency grants through the Emergency Student Fund to students across the world, amounting to more than $3 million in financial aid. Grants have gone to students in the Bahamas, Haiti, Iran, Japan, Libya, Nepal, the Philippines, Syria, Thailand, Yemen, and others after these countries were affected by conflict or natural disasters. IIE is raising support for a dedicated fund so that we can respond quickly to help students when disasters and emergencies arise. Previous Emergency Student Fund initiatives have been funded with support from individual donors and organizations who share this goal.
For more information, see the website or contact esf@iie.org.
About the Institute of International Education
IIE was established in 1919 with the founding premise that international exchange could make the world a more interconnected place. IIE works to build more peaceful and equitable societies by advancing scholarship, building economies and promoting access to opportunity. IIE collaborates with a range of corporate, government and foundation partners across the globe to design and manage scholarship, study abroad, workforce training and leadership development programs.