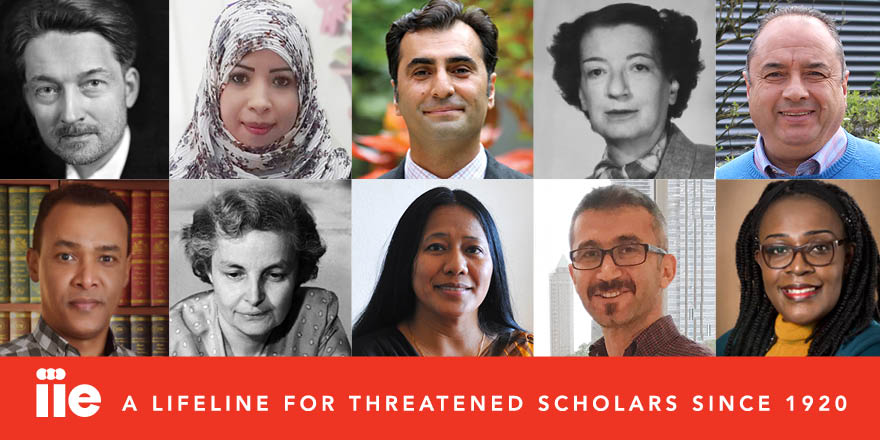 The Institute of International Education (IIE) has been saving the lives and careers of threatened scholars for a century.
As IIE marks this legacy throughout 2020, the Scholar Rescue Fund will launch several initiatives to expand and enhance its response to the growing number of scholars worldwide who face persecution and violence*. These include:
Formalizing the IIE-SRF Alliance as a global network of institutions and individuals committed to working with IIE-SRF to offer practical support to scholars in peril.
Opening a project office in Brussels, Belgium (when circumstances permit) to augment IIE-SRF's activities across Europe and to expand partnerships throughout the continent.
Convening an IIE-SRF Forum in Brussels (when circumstances permit) to bring together IIE-SRF fellows and alumni and program partners.
Organizing an event in New York City (when circumstances permit) to honor the scholars aided by IIE and the supporters who have made this work possible.
Publishing a book celebrating IIE's century of scholar rescue and the scholars whom IIE and its partners have supported.
Launching a new IIE-SRF website.
*With the spread of the COVID-19 virus and its impact on communities and higher education worldwide, IIE-SRF anticipates that several of these activities may be delayed. We remain committed to offering life-saving support and academic opportunities tothreatenedand displaced scholars. IIE-SRF will continue to closely work with, and provide support to, IIE-SRF scholars and our partners.
Be sure to check future issues of The Beacon for more information on these initiatives. Upcoming editions of the newsletter will also highlight the important work of IIE's valued partners, as well as the remarkable scholars IIE has supported throughout the past century.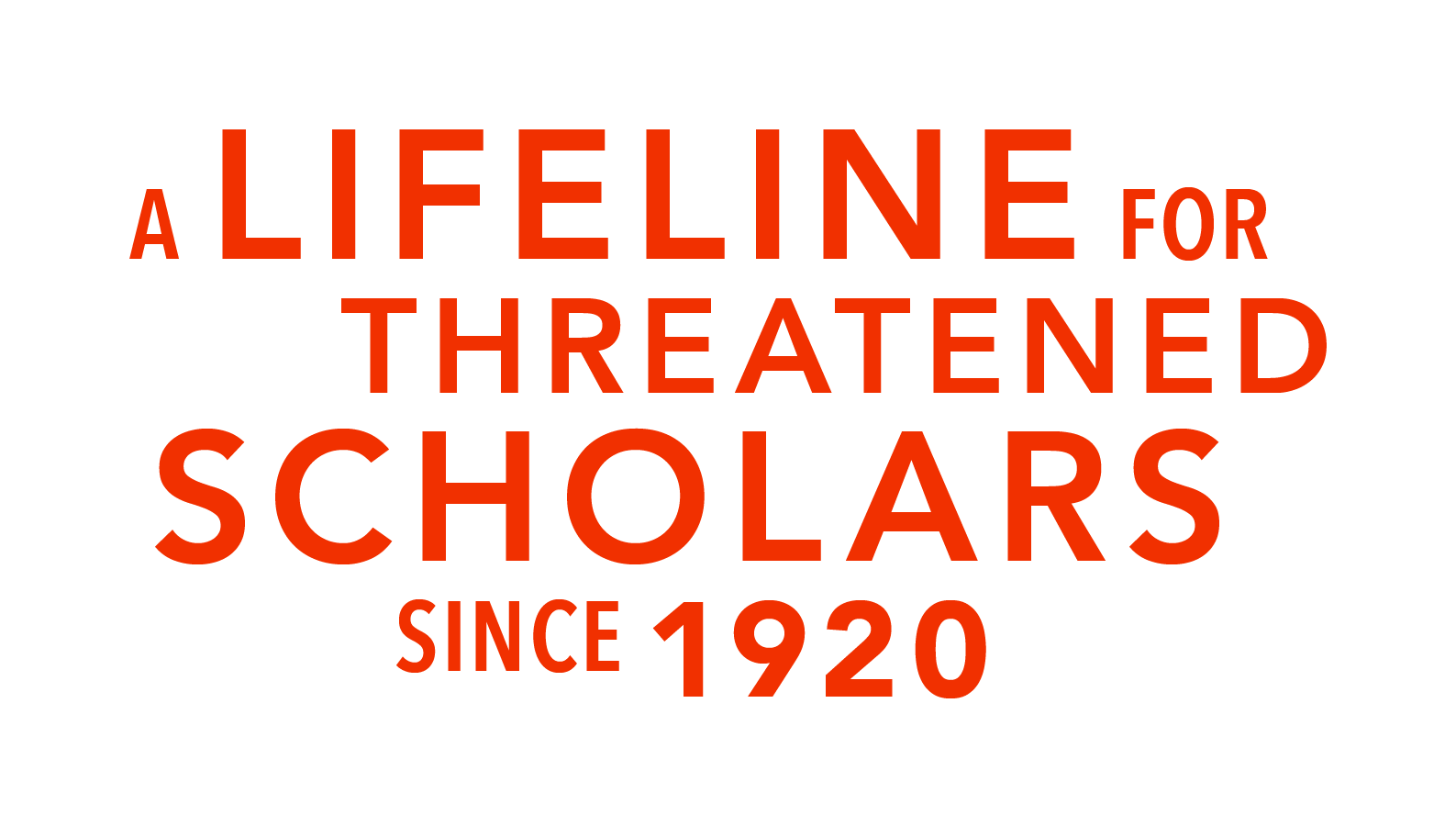 IIE's work to protect scholars and scholarship began 100 years ago, when leaders of the newly founded IIE launched an initiative to assist university professors and students fleeing the Bolshevik Revolution and Stalinism to pursue their academic work in the U.S. and Europe. In the 1930s, IIE established the Emergency Committee in Aid of Displaced Foreign Scholars, which rescued more than 300 scholars fleeing Nazi persecution in Europe. In the decades that followed, IIE went on to provide support to scholars and aspiring scholars living amidst Fascist Italy, the Spanish Civil War, the Hungarian Revolution, South African apartheid, and periods of unrest in East and Southeast Asia.
IIE formalized its scholar rescue activities in 2002 by establishing the Scholar Rescue Fund to ensure that emergency assistance and academic opportunities are always available to academics whenever and wherever they may be in danger. IIE-SRF is the only global program that arranges and funds fellowships for threatened and displaced scholars at higher education institutions worldwide. Since its founding, IIE-SRF has provided life-saving support to over 850 scholars from 60 countries across the globe, in partnership with more than 415 host institutions in 46 countries.
"The sad lesson of history," says IIE President & CEO Allan E. Goodman, "is that academics are targeted in every war and have always faced persecution for their research, activism, and ideas. The world will lose a great deal if we fail to act to save their lives and voices. Over the past century, IIE has been at the forefront of efforts to support thousands of talented and courageous scholars, working with our many partners across the globe. We are honored to have helped ensure that their important academic work continued. Especially in this moment, as we rely on epidemiologists and public health experts to help our societies determine an appropriate response to the COVID- 19 pandemic, we are conscious of the essential role that scientists and other scholars play in our world."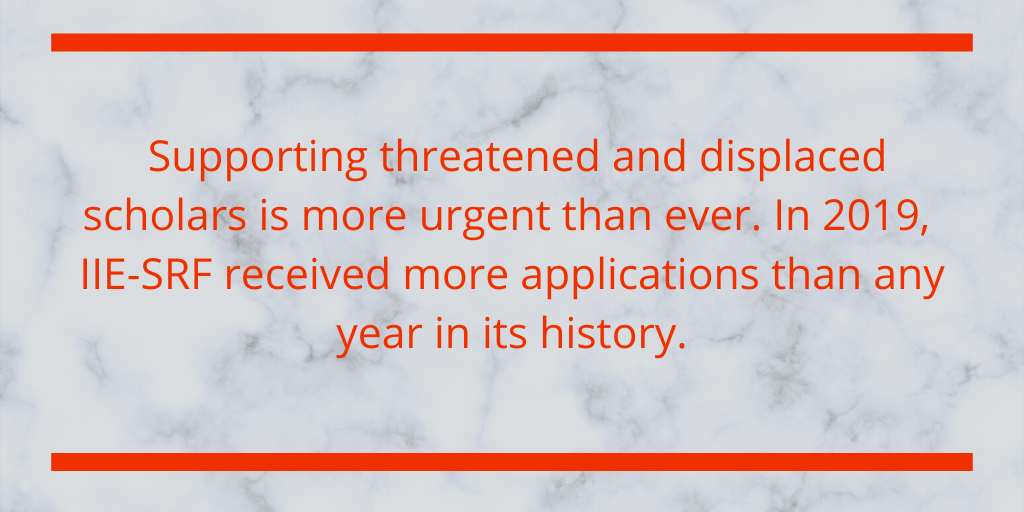 "We enter this centennial year with gratitude to our forebears and with the humble and very sobering recognition that IIE and our partners must do even more," says IIE-SRF Chairman Mark A. Angelson. "The scale and complexity of the threats facing scholars today is unprecedented. The need for scholar rescue is greater than ever. The stakes could not be higher."
We invite you to join in these efforts by referring a scholar in need of support, hosting an IIE-SRF fellow on your campus, or making a donation today.
Your partnership and support will help IIE continue this life- and career-saving work well into our next 100 years.