NEW YORK, February 14, 2023 — The Institute of International Education (IIE) announced today the winners of its annual Senior International Officer (SIO) of the Year Award, presenting the honor to Dr. Ahmad Ezzeddine, Vice President for Academic Student Affairs and Global Engagement at Wayne State University, and Mr. Thomas Buntru, Director of International Affairs at Universidad de Monterrey (UDEM). Initiated in 2019, the SIO of the Year Award honors leaders currently serving as their institution's Senior International Officer who have demonstrated outstanding and sustained leadership in international education.
Clare Overmann, Head of Higher Education Initiatives at IIE, said "The Senior International Officer is a critical leadership role in our global higher education ecosystem, and through the IIE SIO of the Year Award, we want to celebrate those leaders doing the job exceptionally well." This award is presented annually to an SIO who has developed a widely-embraced understanding of international education on their campus, infusing it into the mission and goals of their institution; have fostered multi-faceted, strategic international programming that has had significant impact across the institution; have built effective administrative structures, procedures, and policies for supporting international work across the institution; and continuously update and expand their knowledge of the theories, methods, and best practices of academic internationalization. This year, the selection committee determined that two outstanding leaders should receive the award this year.
"Ahmad has consistently been a strong and clear voice advocating for equity in international education", said Sally Crimmins Villela, Associate Vice Chancellor for Global Affairs at The State University of New York (SUNY), "He has been a champion of Global Learning for All, not just at Wayne State, but in our professional field." In his role at Wayne State University, Ahmad leads the university's efforts in developing, implementing, and providing programs and services that support students throughout the student lifecycle and lifelong learning journey including Enrollment Management, Student Success, Educational Outreach, and International Programs among many others.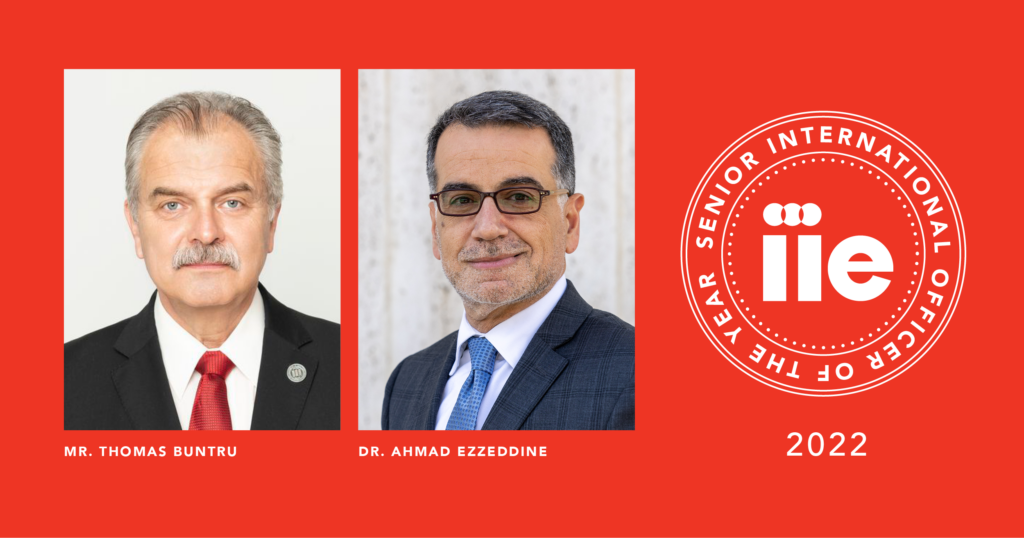 Thomas is recognized globally not only as an "active and tireless promoter of international education in Mexico, but also a key leader globally" through his roles at the Mexican Association for International Education (AMPEI) and the Consortium for North American Higher Education Collaboration (CONAHEC), notes Francisco Marmolejo, Higher Education President of the Qatar Foundation. "Comparable evidence shows clearly that UDEM is the most internationalized higher education institution in Latin America, at a level comparable with a few selected universities internationally. This is an important achievement that has been possible thanks to the dedication, persistence, vision, and inspiring work of Thomas and his team."
Ahmad and Thomas will receive their award and be recognized by IIE senior leaders in Washington, D.C. next week.
______________________________
About the Institute of International Education (IIE)
The Institute of International Education (IIE) is the leader in designing and implementing international education strategies and program services. We work with governments, policymakers, educators, and employers across the globe to prepare students and professionals for the global workforce and equip them to solve the increasingly complex challenges facing our interconnected world. With support from donors, we also create initiatives that assist students, scholars, and artists whose lives and work are threatened; expand teaching and learning across cultures; and provide opportunities to underserved populations. A not-for-profit organization founded in 1919, IIE has a network of 16 offices and affiliates worldwide and over 1,600 higher education partners.
About Wayne State University
Wayne State University is one of the nation's preeminent public research universities in an urban setting. Through its multidisciplinary approach to research and education, and its ongoing collaboration with government, industry and other institutions, the university seeks to enhance economic growth and improve the quality of life in the city of Detroit, state of Michigan and throughout the world.
About Universidad de Monterrey
The University of Monterrey is an institution of catholic inspiration, open to all creeds and conditions, and distinguished for offering a Personal Formation Plan for each student according to their personal characteristics and professional interests, with an aim of reaching their maximum potential in an environment of high academic rigor and international vision.
Currently, UDEM has more than 18,000 students and offers 47 bachelor's degrees, 4 high schools units with 3 baccalaureate programs, 19 master's degree programs, 13 postgraduate programs, 37 medical specialties, and two doctoral programs. Universidad de Monterrey is accredited by the Commission on Colleges of the Southern Association of Colleges and Schools to offer bachelor's and master's degree programs.