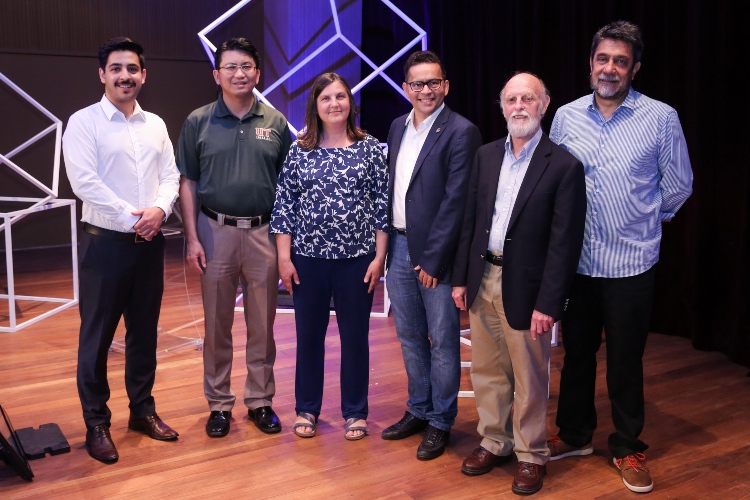 NEW YORK, November 5, 2019 —Fellows from The University of Fortaleza's (UNIFOR) Global Research Fellowship Program gathered in Fortaleza in August for events that underscored the university's commitment to research and the production of knowledge. Established in 2018, the program has enabled five distinguished scholars from Canada and the United States to conduct collaborative research with UNIFOR faculty with the aim of increasing research output and developing lasting linkages with institutions around the world.
The week of activities at UNIFOR included scholarly workshops facilitated by Fellows and attended by students and faculty. One of the highlights was a university-hosted event called "Nossas Conexões com o Mundo" or "Our Connection to the World" where Fellows presented their research to members of the business, academic and government communities.
The inaugural group of UNIFOR Fellows are:
Virgilio Almeida, Professor, Computer Science, Federal University of Minas Gerais; Faculty Associate, Harvard University
Mike Peng, Professor, Management; Jindal Chair of Global Strategy; Executive Director, Center for Global Business; University of Texas at Dallas
Barry Sessle, Professor, Faculty of Dentistry, University of Toronto
Amir Sheikhi, Assistant Professor, Chemical Engineering, Pennsylvania State University
Pamela Surkan, Associate Professor, Johns Hopkins Bloomberg School of Public Health
"The internalization of the research developed by UNIFOR is one of the main goals of the University for the next years," says Dr. Vasco Furtado, UNIFOR's Director of Research, Development and Innovation. "The connection with top researchers, as we are establishing with the UNIFOR Global Fellowship Program, is concrete and consistent way to obtain this".
The Global Research Fellowship Program will continue into 2020 with new scholars joining the current UNIFOR Fellows in the fields of law and psychology.
About UNIFOR:
UNIFOR has a mission to contribute to the realization of ideals and dreams, forming professionals of excellence and maintaining a commitment to socio-environmental, scientific and cultural development. As the best private, higher learning institution in the north and northeast of Brazil, UNIFOR has offered excellent conditions for teaching and learning since its foundation in 1973. With a modern infrastructure, UNIFOR gladly host students from all over the world. Spread out in an extensive campus of 720 thousand square meters, the UNIFOR has auditoriums, a library, a theater, audio-video rooms, laboratories, a sports park, a healthcare center, cultural spaces, a student center, a legal practice office, research centers and different university extension centers.
About IIE:
For nearly a century, IIE has been a world leader in international education. We work to build more peaceful and equitable societies by advancing scholarship, building economies and promoting access to opportunity. As a not-for-profit with 18 offices and affiliates worldwide, IIE collaborates with a range of corporate, government and foundation partners across the globe to design and manage scholarship, study abroad, workforce training and leadership development programs.
For more information, contact:
UNIFOR: Divisão de Inovação, dpdi@unifor.br
IIE: Jeremy Coats, JCoats@iie.org