The Language Flagship
The Language Flagship is a national effort to change the way Americans learn languages. We offer language programs at schools across the United States for undergraduate students in critical languages such as Arabic, Chinese, Hindi Urdu, Korean, Persian, Portuguese, Russian, Swahili, and Turkish. In an effort to build language proficiency for all U.S. students, we also support K–12 language programs and curriculum development to improve opportunities for U.S. students to pursue language education.
Designed as a network of programs, the Flagship community is made up of 31 Flagship programs at 22 institutions of higher education, and 7 Overseas Flagship Centers. Programs are led by nationally-recognized leaders and innovators in language education. Each Flagship Center is unique. All Flagship Centers have programs for undergraduate students, and all share the goal of educating students in the languages and cultures of the world.
The Language Flagship is sponsored by the National Security Education Program (NSEP) which was created by Congress in 1991 to address the need to increase the ability of Americans to communicate and compete globally by knowing languages and cultures of other countries. NSEP recognizes that the scope of national security has expanded to include not only the traditional concerns of protecting and promoting American well-being, but also the new challenges of a global society, including sustainable development, environmental degradation, global disease and hunger, population growth and migration, and economic competitiveness.
---
2021 – 2025 Flagship Overseas Capstone Open Competition
The Language Flagship is conducting full and open competitions for African, Arabic, Chinese, and Russian Overseas Flagship programs. These competitions will be for grant awards that encompass a five-month planning and preparation phase and four additional one-year project periods.
For this competition, Flagship will host a technical assistance webinar for institutions interested in applying on Thursday, June 25, 2020 at 3 p.m. (ET). To register for the webinar, please send an e-mail to flagship@iie.org indicating the names and e-mail addresses of the participants. For copies of the full application guidelines, please follow the below link.
---
Sponsor
This program is funded by the National Security Education Program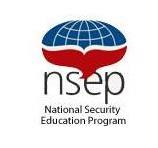 Sponsor