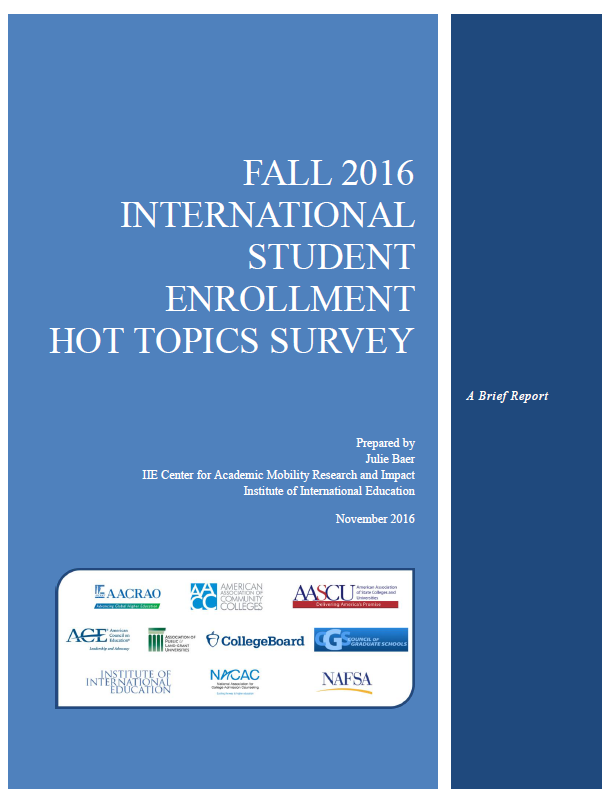 The world has experienced many shocks in recent years with instability and refugee crises intensifying globally. These events impact the mobility of international students in the United States and throughout the world. International student mobility in the United States creates an interconnected learning environment that prepares graduates to tackle the serious, shared threats to our world and accounts for $35.8 billion dollars in revenue according to the U.S. Department of Commerce (U.S. Department of Commerce, 2016). This report examines several of the hot topics impacting international student enrollment on U.S. campuses for the current 2016 academic year. With an emphasis on current events and issues impacting international student enrollment trends, this report covers international student enrollment; recruitment and outreach; governmental initiatives; the U.S. social and political climate; and students from conflict areas.
The International Student Enrollment Hot Topics Survey was distributed by ten partnering higher education associations listed on page 11 to their member institutions around the United States. It is released jointly with and complements the Open Doors Report, which provides a comprehensive view of international student enrollment in the United States based on data from the previous academic year, 2015/16.
This report is based on data submitted by 423 institutions in October 2016 and should not be viewed as comprehensive. A comprehensive view of 2016/17 enrollment figures will be released in the Open Doors 2017 Report in November 2017.