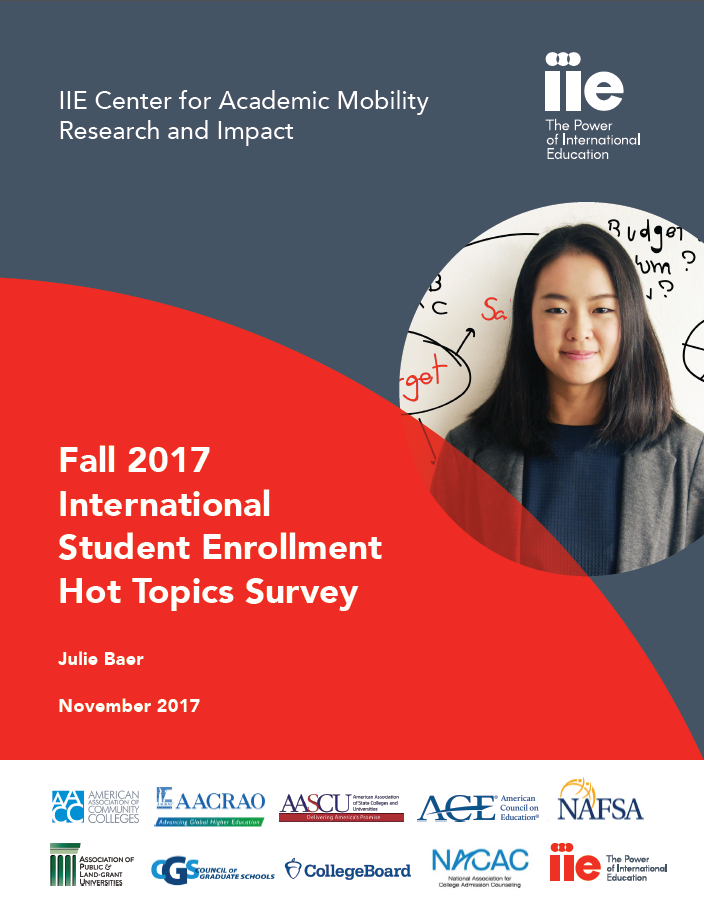 Over the past year, U.S. higher education institutions have spread the message #YouAreWelcomeHere globally through videos and social media. However, with policy shifts and public debates on immigration, questions abound regarding the United States' ability to continue attracting and educating the brightest talent from around the world: "Will the number of international students in the United States decline?"; "Are changes at my institution reflected at other colleges and universities?"; "Do international students still want to come to the United States?"; "Are other countries attracting international students away from the United States?"

This report explores these complex questions through findings from the Fall 2017 International Student Enrollment Hot Topics Survey. A national survey of U.S. higher education institutions conducted annually since 2005, this report provides the international education field with a snapshot of current patterns and trending topics in international student enrollments. This year's survey focused on understanding Fall 2017 new international student enrollment, institutional recruiting and outreach priorities, and how the current U.S. social and political climate is impacting U.S. colleges and universities. The report is released jointly with and complements the Open Doors Report, which provides a comprehensive view of international student enrollment in the United States based on data from the previous academic year, 2016/17. However, it should be noted that because this report reflects just a snapshot from 522 institutions, the full picture for 2017 fall enrollments will be reflected in Open Doors 2018, available in November 2018.

The results of this survey are designed to provide insight into how U.S. higher education institutions are impacted by the shifting U.S. landscape. Additionally, the findings provide information for colleges and universities to benchmark their own enrollment patterns and to inform ongoing outreach and recruitment strategies.