With overall growth of international students in the United States, those in baccalaureate degree programs have increasingly found their way to U.S. higher education through a diverse set of pathways. A growing phenomenon over the past several years has been the strong increase in the number of international students at the secondary level who enroll in U.S. high schools for the purposes of preparing for enrollment in U.S. higher education institutions. IIE's groundbreaking 2014 report, Charting New Pathways to Higher Education: International Secondary Students in the United States (Farrugia, 2014) provided the first evidence of the rising numbers of international students coming to the United States for secondary education with the intention of remaining in the country for postsecondary studies. In this 2017 update, we track the evolution of international students in U.S. high schools who seek eventual enrollment in U.S. colleges and universities, exploring the changes in enrollment patterns since 2013.
---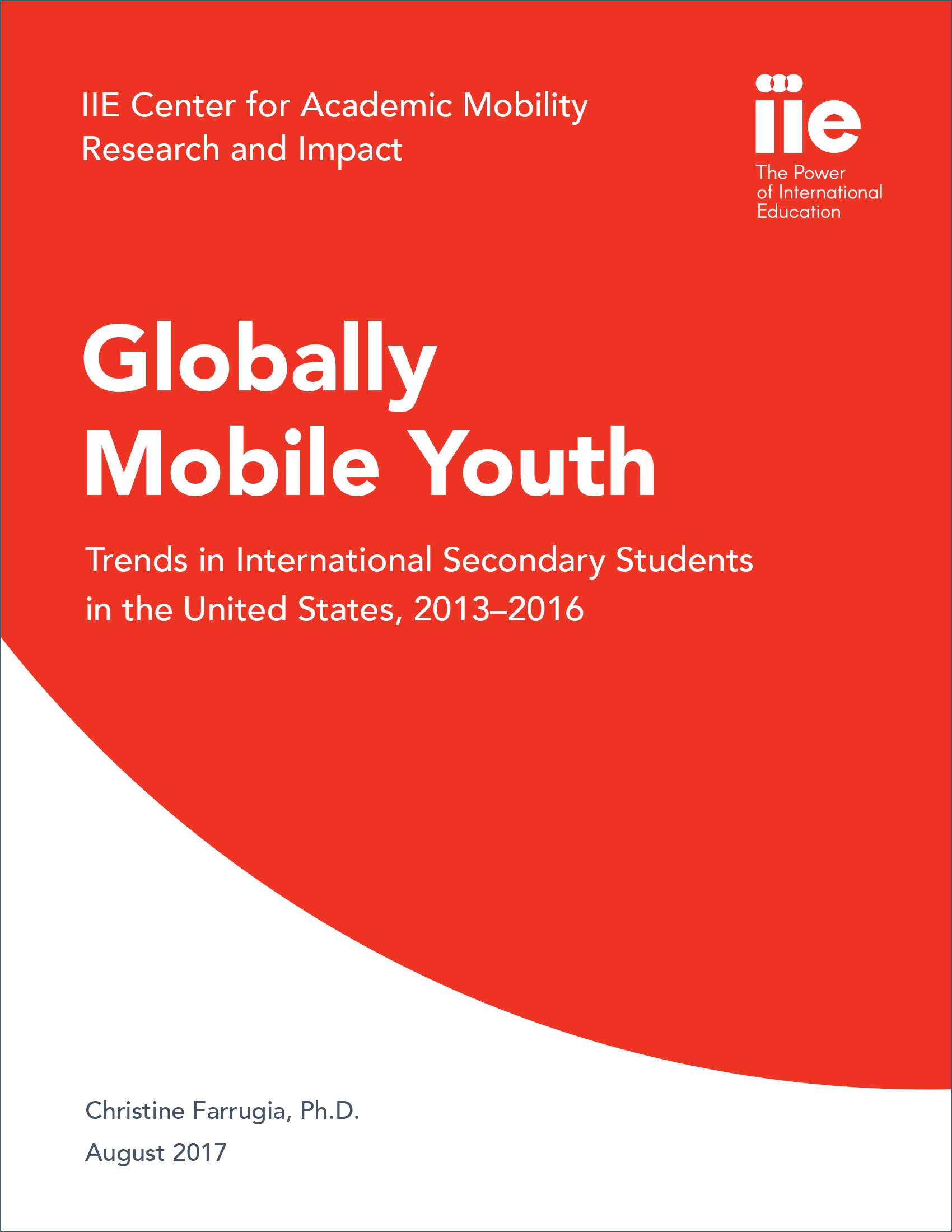 This report is divided into six sections. We first present the key findings and discuss the methodology for the study. Following this is an overview of recent growth in international secondary students. Next are sections detailing students' places of origin, their study destinations, and global comparisons with other leading host countries. The report concludes with a discussion of the implications that international secondary students have for U.S. higher education.
International secondary student numbers continue to grow, but at a slower rate. International secondary student numbers more than tripled from 2004 to 2016, but the growth has been slowing in recent years. The annual growth rate of F-1 diploma-seeking students was 8 percent from fall 2013 to fall 2014, followed by 3 percent growth in fall 2015 and 1 percent growth in fall 2016. At the same time, the number of J-1 exchange students has fallen, declining annually by 2 percent each year in 2014 and 2015, and 4 percent in 2016. In fall 2016, there were nearly 82,000 international students enrolled in U.S. high schools. While these students make up just 0.5 percent of the more than 15.5 million secondary students in the United States, their numbers have grown over time, increasing from 73,000 in 2013. Growth in international secondary students has been most pronounced among those seeking a U.S. high school diploma.
The top host states for high school students are the same as the top host states for higher education students, but there are notable differences in which states host cultural exchange vs. diploma seeking students. California, New York, and Texas are the top three states that host international students at both secondary and postsecondary levels. California, New York, Massachusetts, and Florida host the largest numbers of F-1 diploma-seeking secondary students. Michigan, Texas, California, and Oregon are the leading hosts of students on J-1 visas, who are primarily enrolled in exchange programs of a year or less.
---
This report was funded by a grant from the U.S. Department of State, Bureau of Educational and Cultural Affairs. The opinions, findings, and conclusions stated herein are those of the author and do not necessarily reflect those of the U.S. Department of State.
Learn more