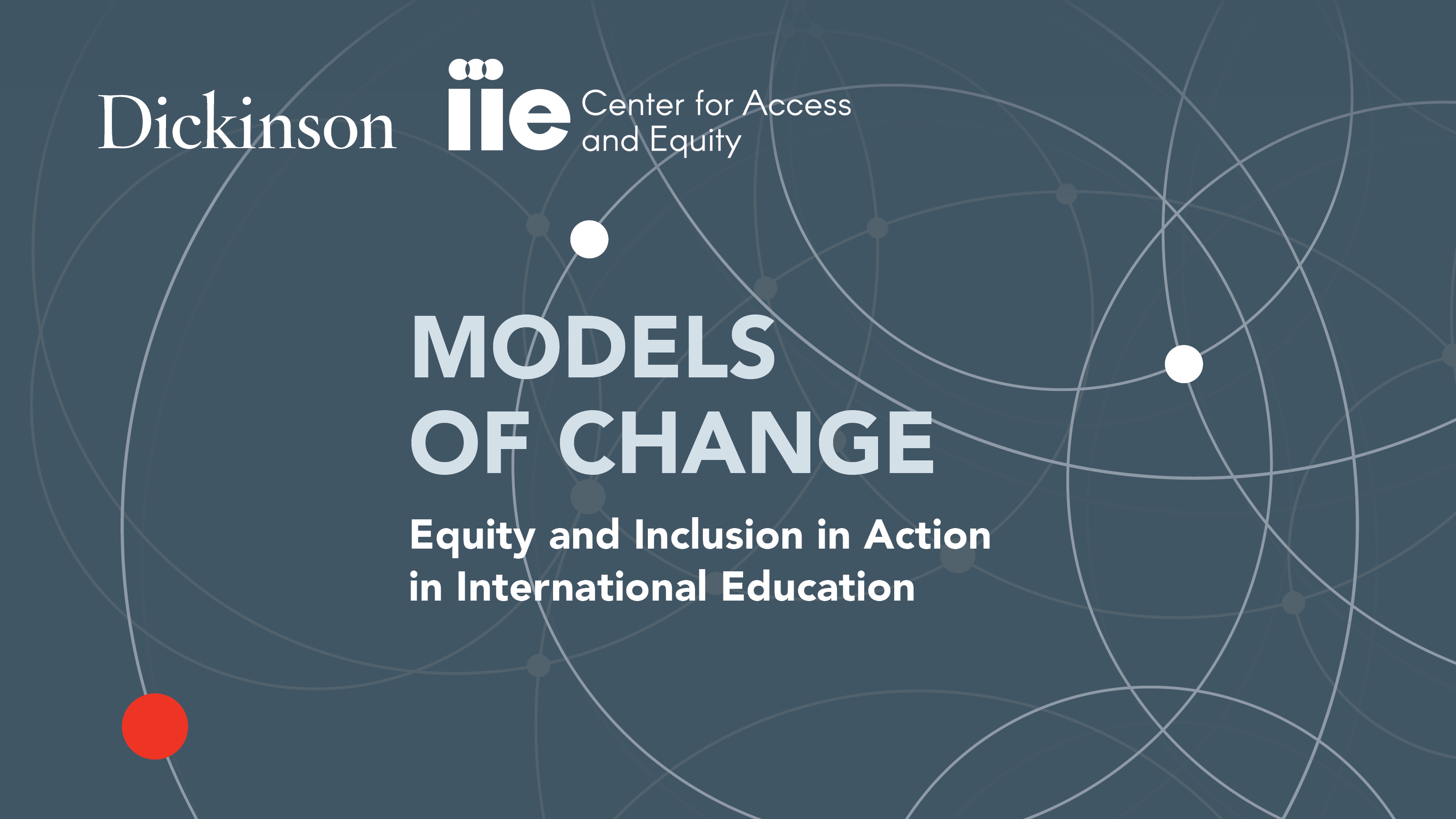 Models of Change: Equity and Inclusion in Action in International Education
The Institute of International Education (IIE) and Dickinson College have produced a new publication, Models of Change: Equity and Inclusion in Action in International Education, summarizing their partnership to reimagine an international education framework that incorporates global, intercultural, and equity and inclusion lenses through a virtual workshop series. Along with the co-creators' own reflections of the partnership and the workshops are a curated set of case studies that share personal narratives and experiences from professionals who carried out projects initiated or informed by their workshop participation.
Given these two institutions have a common commitment to international education and a shared mission of building inclusive, equitable, and sustainable communities, they came together in 2020 to develop an educational program predominantly centered on exploring the intersection of cultural differences and hierarchies of power through Dr. Kathryn Sorrells' intercultural praxis model. In addition, they were keen to incorporate practicality and develop a community of learners, where participants could use the time during and outside of the workshop to channel their learning and efforts to a current project. These cohorts' connection and collaboration through their applied learning enabled opportunities for community building.
This partnership has resulted in three sets of virtual workshops being attended by nearly 300 leaders representing 100+ institutions and organizations in 10 countries, to date. These included: Moving from Inclusivity Talk to Equity in Action in International Education Leadership (2020–21), Building Bridges: Committing to Global Equity and Justice in International Education (2022), and "How Do You Know You Are Meeting Your Global DEI Outcomes? Assessing and Communicating Impact" (December 2022).
The "Models of Change" case studies reflect the work international educators and higher education professionals have done over the last few years at the intersection of DEI and global and intercultural learning. They also reflect how their work has been shaped by the IIE–Dickinson workshops, Sorrells' IPM, and other models, theories, and tools. The case studies come from both workshop facilitators and participants, and their authors are situated in the United States (U.S.) and Europe.
"Reframing Cultural Expectations: The Role of On-Site Academic Staff and Faculty," Monica Francioso explores the role of on-site staff and faculty in Italy.
"The Ongoing Process of Translating Equity to Action: A Dickinson College Case Study for Education Abroad," Nedra Sandiford and Katie DeGuzman explore the unique and critical role that on-site or local faculty and staff can play in supporting underrepresented education abroad students.
"Cyclical and Reciprocal: Diversity, Equity, and Inclusion at the Brandeis International Business School," Julia Zeigler and Kapik Yeung share how the Building Bridges workshop series helped them create a series of events for international students to build community and demonstrate commitment to students.
"Collaboration between the Tuck DEI Initiative and TuckGO to Build M.B.A. Students' Intercultural Competence at the Tuck School of Business at Dartmouth," Lisa Miller, B. Dia Draper, and Vincent Mack share lessons learned and changes in outcomes and student learning and engagement.
The following themes run throughout the case studies:
Self-awareness and an understanding of one's own positionality and how it shifts across contexts are key components of this work. This process of self-inquiry is ongoing.
The work of change toward more inclusion and equity can happen at different levels. Our authors understand their spheres of influence and have started where they have the most ability to affect changes, even small, incremental ones. Small steps can have big ripple effects.
This work is a process, and it is iterative. We need to be able to articulate what progress and growth look like in our context, garner lots of feedback, learn from our missteps, reflect, and then begin again. We need to keep asking, Who is missing? Who is not being heard?
This work is most effective when done collectively. Part of our role is to build bridges to communities; with partners abroad, to our students; and to our colleagues across our institutions and organizations. We need to de-silo this work together and build communities of practice.
While we may believe that international education naturally integrates justice, equity, diversity, and inclusion, it is not an assumption to be made about our field. During this era of questioning, critical examination, and change, IIE and Dickinson invite readers to utilize these models to support one's own practice of reflection – examining assumptions, positionality, and identities – to better equip oneself to effect change for others. And, change, however incremental, is possible, especially with collaboration and shared responsibility.
*This publication is available for PDF download