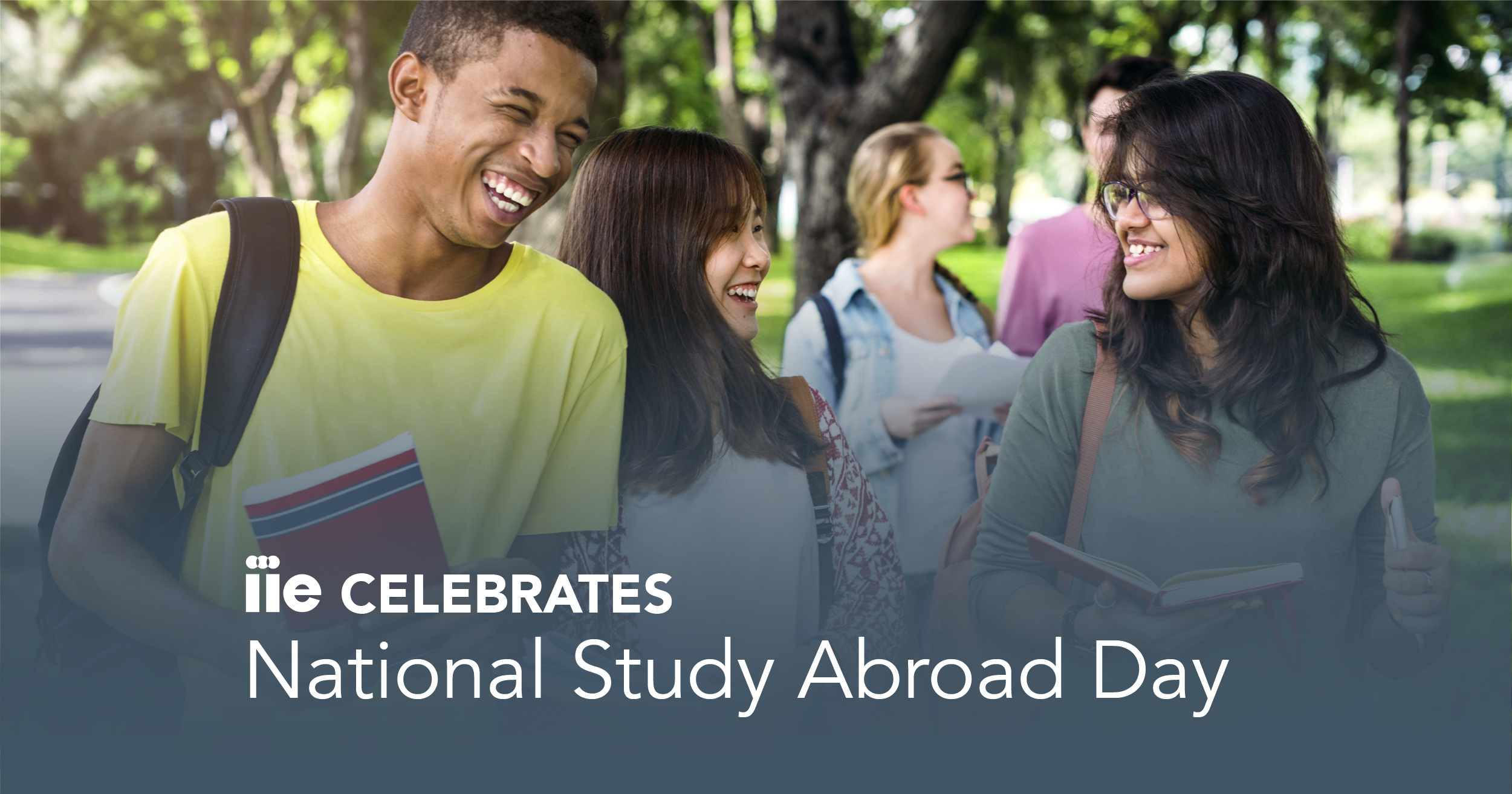 Today, IIE joins our partners, colleagues, and friends celebrating National Study Abroad Day – a day "to bring awareness to Study Abroad and its lasting impacts to campuses and the global community." Although study abroad participation has been severely affected by pandemic travel and health restrictions in 2020 and continuing into 2021, IIE remains steadfast in supporting international experiences and education abroad, and collaborating with our worldwide network of members, partners, and stakeholders to prepare for student mobility to resurge.
"Transformative" is often a succinct term used to describe one's experience traveling, living, studying, and working abroad. This term can also be attributed to how we see the field of international education as we weather this pandemic, pivoting and modifying our plans and practices for engaging study abroad. IIE not only rejoices in the power of international education through study abroad experiences but, also, the resilience of study abroad champions, such as schools, organizations, educators, and administrators.
IIE is proud of its long-standing commitment to education abroad since we helped create the first junior study abroad program in the 1920s. Approaching our centennial, IIE launched Generation Study Abroad® (GSA) in 2014 to double and diversify the number of U.S. college students studying abroad by the end of decade. In that time, GSA became a global movement with over 800 Commitment Partners worldwide pledging to expand study abroad opportunities and participation through their institution, school, organization, or government. Research, best practices, financial support, events, and other resources were generated and provided by IIE and the GSA Commitment Partner Network to aid students, international educators, program providers, and other study abroad advocates to increase and diversify access to study abroad. As the five-year initiative concluded at the end of 2019, we turned our focus to evaluating its impact. Here are a few highlights from the forthcoming report:
From academic year 2012 to 2019, study abroad growth for all U.S. institutions was 22.5%, with GSA Commitment Partner institutions experiencing growth almost three times that of non-GSA Commitment Partners.
Since joining the initiative in 2014, at least 168 GSA Commitment Partners have established more than 600 new scholarship programs to promote study abroad, awarding at least 39,000 individual scholarships.
By 2020, 67% of partners said their study abroad goal included efforts to increase the diversity of U.S. student participation in study abroad.
Between the 2018 and 2020 GSA Annual Progress Surveys, U.S. institution GSA Commitment Partners engaged in meaningful collaboration with academic departments through various curriculum integration efforts, which increased in all areas over time.
We look forward to sharing the full report this Spring and continuing to collaborate with our IIENetwork members and partners in support of rebuilding, reinventing, and reimagining study abroad.
As we prepare for study abroad to resume with more frequency and continue striving for access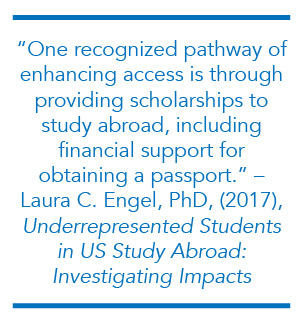 to and equity in education abroad, we are pleased to announce the application opening for the IIE American Passport Project. With this initiative, IIE plans to have enabled 10,000 students to obtain U.S. passports by the end of this decade. In this first year, IIE will provide grants to 40 U.S.-based IIENetwork member universities and colleges to cover the costs of approximately 25 passports for Pell-eligible U.S. freshmen. More details can be found on the program website. IIE will host an informational webinar in March, so stay tuned to IIE's social media channels and website for registration details.
IIE has produced numerous research publications demonstrating the impacts of study abroad on students, in particular students traditionally underrepresented in participating, and a series of informative guides for students and parents to understand the benefit and maximize the value of international experiences. Many of these are available for download through IIE's website and we encourage these resources to be used widely. In addition, Leah Mason, IIE Research Lead, blogged last month about the positive impact of international education experiences on student success outcomes as demonstrated through the Consortium for the Analysis of Student Success through International Education (CASSIE) project findings. In consideration of U.S. institutions preparing to send students abroad again, Leah also posited data collection and management practices to support articulating and demonstrating the value of international education, particular to the study of world languages.
We are grateful to IIE's Trustees for their financial support to launch the IIE American Passport Project this year. We also are appreciative of our Generation Study Abroad Commitment Partners for all their achievements and continued efforts to uplift study abroad. And on this particular day, a special shout out to Jessica Mulvihill and Erin Kunert, who have continued to build on the National Study Abroad Day momentum ensuring that, even in a challenging year, we take the time to celebrate study abroad and its transformative power.