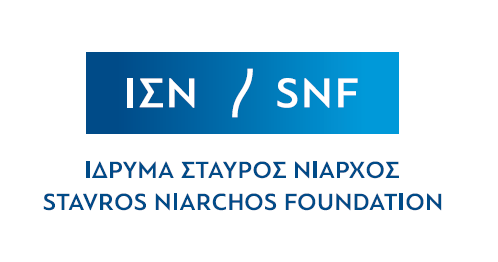 Fellows Dr. Alexandra Touroutoglou from Harvard Medical School (left) and Professor Michail Maniatakos (right) from New York University are among the first Greek Diaspora Fellows selected to collaborate with peers at Greek higher education institutions to conduct research, training and curriculum co-development projects. The Athens University of Economics and Business (center) is among the 12 universities in Greece to host the Fellows' projects, which start in January. Photos of the host institutions and Fellows are available for download upon request.
NEW YORK, NY, December 14, 2016—Beginning in January, twenty-one Greek- and Cypriot-born scholars, hailing from a cross-section of sixteen prominent United States and Canadian universities, will travel to Greece to conduct academic projects with their peers at Greek universities, working in areas that range from public health to chemical genomics research, and from English language curriculum to continuing education studies in urban food security. Twelve Greek universities were selected by the Greek Diaspora Fellowship Program to host the fellows for collaborative projects that meet specific needs at their institutions and in their communities, through proposals submitted by faculty members and administrators at the Greek universities.
The Greek Diaspora Fellowship Program is designed to help avert Greece's brain drain and develop long-term, mutually-beneficial collaborations between universities in Greece and the United States and Canada. It is managed by the Institute of International Education in collaboration with the Fulbright Foundation in Greece, and funded by the Stavros Niarchos Foundation.
Over a period of two years, the program will award Fellowships to 40 U.S. and Canadian based academics to collaborate with universities throughout Greece to develop curricula, conduct research, and teach and mentor graduate students in priority areas identified by the Greek universities. Projects supported by the first round of Fellowships include:
Democritus University of Thrace will host a collaborative research project in software development for neurosurgical planning' and curriculum co-development for graduate student and medical fellow training in neurosurgical procedures with a fellow from the University of Houston.
A fellow from the University of Notre Dame will visit the National Technical University of Athens to work on collaborative research in earthquake engineering in order to enhancing resilience of communities to seismic hazards.
Aristotle University of Thessaloniki will host one fellow from the University of Missouri, St. Louis and one from The Ohio State University to assist with the creation of archival resources' research material and identification of exhibits for a future Museum of Greek Diaspora and Immigration in Greece.
"The Stavros Niarchos Foundation is thrilled both with the appeal and interest the program has generated among academics of the diaspora, as well as the wide ranging expertise of the first round of Fellows," stated Stelios Vasilakis, Director of Programs and Strategic Initiatives at SNF. "We look forward to these partnerships, which we believe will build long-lasting relationships and be beneficial to all parties involved. We are grateful to the Institute of International Education for their dedication to the program as well as the invaluable input of the esteemed Advisory Council."
"The Stavros Niarchos Foundation's generous support for these Fellowships demonstrates the Foundation's commitment to expanding Greece's human capital and investing in the country's long-term economic recovery," said Allan Goodman, President and CEO of the Institute of International Education.
Call for Project Requests and Scholar Applications for the second cycle of Fellowships
Until January 31, degree conferring universities in Greece can submit a project request for visiting Fellows to come to their universities starting in May 2017. Greek- and Cypriot-born academics residing in the United States or Canada can apply any time, and are matched with accepted projects on a rolling basis. Prospective hosts and fellows can find eligibility requirements and instructions in the "How to Apply" section of the program's website. Prospective hosts and fellows can also work together to develop specific projects.
How the Projects and Fellowships Work
All projects are collaborations between the host institution and the visiting Fellow. The proposed scholar and project requests are each evaluated by a review committee based on merit and are subject to approval by the Advisory Council. Fellowships match host universities with Greek- and Cypriot-born scholars.
Host Institutions: Degree conferring institutions in Greece are invited to submit a project request to host a scholar for 14 to 60 days. Prospective hosts may name a proposed scholar with whom they have a preexisting relationship in a project request, but this is not required. If a project request does not name a scholar, IIE will review the roster of qualified Greek- and Cypriot- born academics to fill the university's stated needs.
Prospective Fellows: IIE maintains a roster of qualified scholars to facilitate matches, according to the discipline, expertise, activities and objectives described in a project request. Candidates are required to have a terminal degree in their field and can hold any academic rank. When a scholar is successfully matched with a selected project, he or she is awarded a Fellowship to conduct a project visit to the host institution. The Fellowship includes a daily stipend, transportation, a housing allowance and health insurance coverage during the specified length of the project visit. Scholar applicants are also encouraged to contact universities to explore collaborative projects.
Contact
GreekDiaspora@IIE.org
for questions related to the application process.
---
About the Stavros Niarchos Foundation
The Stavros Niarchos Foundation (www.SNF.org) is one of the world's leading private international philanthropic organizations, making grants in the areas of arts and culture, education, health and sports, and social welfare. The Foundation funds organizations and projects that are expected to achieve a broad, lasting and positive impact for society at large, focusing on vulnerable groups such as children and the elderly, and also exhibit strong leadership and sound management. The Foundation also seeks actively to support projects that facilitate the formation of public-private partnerships as an effective means for serving public welfare. 2016 marks the twentieth year of the Stavros Niarchos Foundation's global philanthropic activity. Since 1996, the SNF has made grant commitments of $1.9 billion / €1.6 billion, through 3,646 grants to nonprofit organizations in 111 nations around the world. In 2012, the Foundation, in addition to its standard grant-making activities, embarked on three major grant initiatives totaling $378mil (€300 mil) aiming to provide relief support against the severe effects of the deepening socioeconomic crisis in Greece, and to help address the critical issue of youth unemployment.
About the Institute of International Education (IIE)
The Institute of International Education (IIE) is the leader in providing international education strategies and program services. Our international approach to education—diverse, borderless, impactful—is a proven way for governments and companies to invest in global talent and solidify overseas relationships. We work with policymakers, educators and employers across the globe to prepare students and professionals for the global workforce and equip them to solve the increasingly complex challenges facing our interconnected world. An independent, not-for-profit organization founded in 1919, IIE designs and implements over 250 programs of study and training for students, educators, young professionals and trainees from all sectors with funding from government and private sources. IIE has a network of 19 offices and affiliates worldwide and over 1,300 member institutions.
About the Fulbright Foundation in Greece
Fulbright is the most widely recognized and prestigious international exchange program in the world, supported for more than half a century by the American people through an annual appropriation from the U.S. Congress and by the people of partner nations. The Fulbright Foundation in Greece offers scholarships to Greek and American citizens – students, teachers, scholars, and artists – to pursue a wide variety of educational projects. The Foundation awards grants to Greek and US citizens to study, teach, lecture, or conduct research in the United States and Greece respectively. The Fulbright Foundation in Greece operates an Educational Advising Center in Athens where staff offer free, comprehensive information on American institutions of higher learning.