April 10, 2017
Did you study, intern or volunteer abroad? Take THE STUDY ABROAD SURVEY and tell us if and how it impacted your career! Fill out the short 6-minute survey.
You're eligible if you studied abroad during or after the 1999/00 academic year, while seeking an undergraduate or graduate degree from a U.S. higher education institution! http://bit.do/thestudyabroadsurvey
This national survey is part of IIE's Generation Study Abroad initiative which aims to encourage meaningful, innovative action to drive up the number of U.S. students who graduate with an international experience by the end of the decade.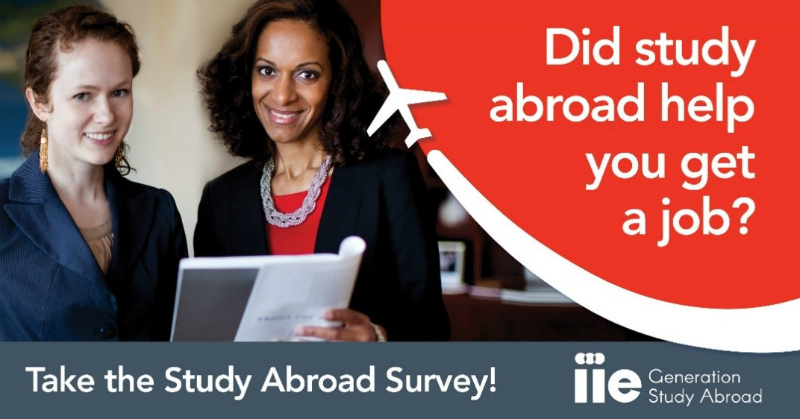 About Generation Study Abroad
Generation Study Abroad is an initiative, launched in 2014, of the Institute of International Education (IIE) to mobilize resources and commitments with the goal of doubling the number of U.S. students studying abroad by the end of the decade. The initiative, which is timed to coincide with IIE's centennial in 2019, highlights IIE's commitment to study abroad and encourage purposeful, innovative action to get more Americans to undertake a meaningful international experience through academic study abroad programs, as well as internships, service learning, and non-credit educational experiences. www.generationstudyabroad.com