TechWomen empowers women for leadership in STEM fields and in their societies
SAN FRANCISCO, September 19, 2017—Google, Twitter and the Chan Zuckerburg Biohub are among more than 30 leading tech companies in San Francisco and Silicon Valley that are hosting emerging women leaders in science and technology from 20 countries for an intensive program of mentoring and professional exchange this month.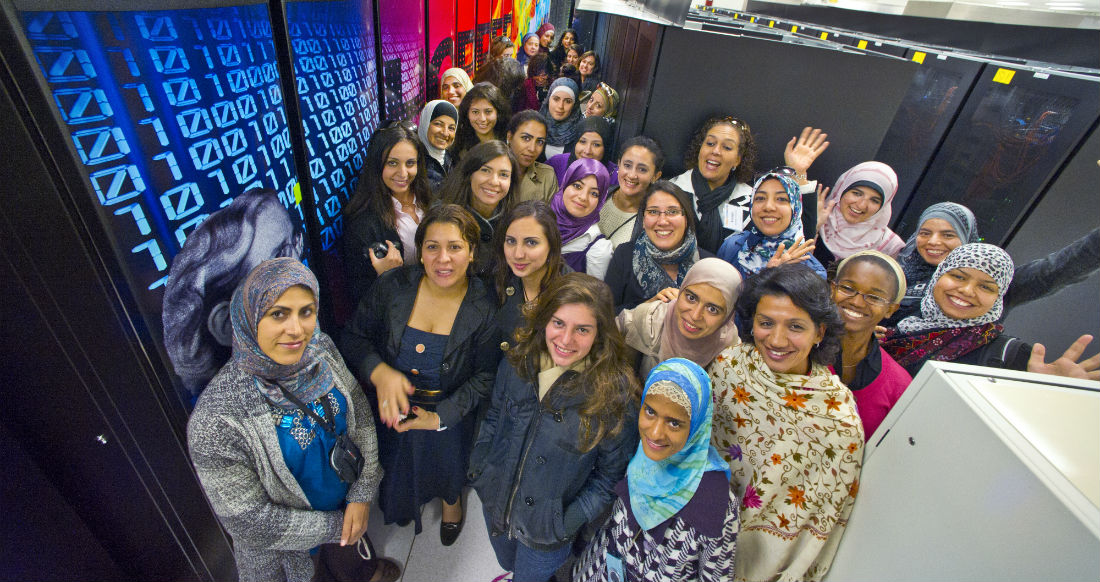 Out of more than nearly 4,000 applicants, 100 women from Africa, Central and South Asia and the Middle East have been selected to come to the United States to participate in TechWomen, a five-week program that empowers and connects emerging women leaders to create positive impact in their fields and their societies. TechWomen, launched in 2011 by the U.S. Department of State's Bureau of Educational and Cultural Affairs (ECA), is managed by the Institute of International Education (IIE).
Emerging Leaders are selected to participate in TechWomen based on educational and professional accomplishments, as well as potential and commitment to inspire and support girls in STEM. IIE has matched Emerging Leaders with mentors from 32 Silicon Valley and Greater San Francisco Bay Area companies based on each Emerging Leader's background and goals.
The emerging women leaders will work in projects at their host companies and attend workshops with program partners to develop projects that address socioeconomic issues back home in their communities.
More than half of this year's 100 TechWomen Emerging Leaders have an advanced degree, and 14 are chief executive officers or founders of a company. They are leaders in the fields of science, technology, engineering and mathematics (STEM), hailing from Algeria, Cameroon, Egypt, Jordan, Kazakhstan, Kenya, Kyrgyzstan, Lebanon, Morocco, Nigeria, the Palestinian Territories, Rwanda, Sierra Leone, South Africa, Tajikistan, Tunisia, Turkmenistan, Uzbekistan and Zimbabwe. For the first time in the program's seven-year history, women from Pakistan will also participate. Profiles of all 100 TechWomen Emerging Leaders are available at techwomen.org.
These inspiring women include:
Tech evangelist Carolyn Seaman of Nigeria, who created Girls Voices Initiative, an organization that teaches digital literacy and empowerment skills to women and young girls and facilitates their creation of technology applications and resources. Carolyn will be hosted at Disney.
Makhliyo Normatova of Tajikistan, who is engaged in cutting-edge research at the Medical Genetic Centre, seeking cures for cancer and genetic diseases. She will be mentored at Illumina.
Noha Elkattan of Egypt, who founded WriteIT, a technical content production company for small businesses. Noha will be mentored at GoDaddy.
Maya Itani, an instructor and expert mentor in robotics, who supports students to develop robotics project to solve real-life problems. She will be hosted at NASA Ames Research Center.
The 2017 companies include: Adobe, Autodesk, BigCommerce, Cahill Contractors Inc., Chan Zuckerberg Biohub, Disney, Draper University, Ericsson, Fitbit, GoDaddy,Google, Illumina, Juniper Networks, Lawrence Berkeley National Laboratory, LinkedIn, Lumos Labs, Mozilla, NASA Ames Research Center, Northgate Environmental Management, Pacific Gas & Electric Company, PayPal, Prysm, Qualcomm, com, San Francisco Department of the Environment, San Francisco Public Utilities Commission, SunPower, Symantec, Synopsys, Twitter, Unity and Veritas.
"[TechWomen] provides me with the necessary tools and methods to become a better entrepreneur, as well as creating an opportunity for me to learn from some of the world's most successful companies," said Aseel AlMusa of Jordan. Aseel is a serial entrepreneur, currently serving as CEO of Adamtech Limited, an incubator for small businesses, and will be hosted at LinkedIn. "After the TechWomen experience, I want to use the knowledge I learned to help the start-up companies in my country thrive and reach their optimum levels. This will help to create new job opportunities in my community."
---
Note to Editors
Media are invited to attend TechWomen events by advance RSVP. Contact Stacey Chapple for details on time and location, and to schedule interviews with program participants. These include:
Cultural Kickoff| Tuesday, Sept. 19, 5:30 pm at Juniper Networks
Participants will showcase the culture of their home countries to TechWomen mentors and partners. This event is a robust reflection of the program's diversity.
Pitch Event| Friday, Oct. 13, 2:00 pm at Microsoft
Groups will pitch action plans to address a socioeconomic challenge in their home country. A panel, comprised of executives from TechWomen partner organizations and venture capitalists, will evaluate pitches and determine the top action plans to be awarded seed grants.
Community Celebration| Monday, Oct. 16, 6:00 pm at Twitter
The celebration will showcase the top action plans, and seed grant recipients will be announced. The event will highlight ways to get involved and showcase the global impact of TechWomen.
---
Contact
IIE: Sharon Witherell, switherell@iie.org, 212-984-5380
Stacey Chapple, schapple@iie.org, (415) 362-6520 x273
ECA: eca-press@state.gov, (202) 632-6452