BUDAPEST, December 15, 2017 — IIE presented its 2017 IIE Europe Award for Excellence in International Education to the Stavros Niarchos Foundation (SNF) and the Fulbright Foundation in Greece for their outstanding support for IIE's Greek Diaspora Fellowship Program. The award was created in 2011 to recognize an individual or organization for furthering the mission of IIE and impacting higher education in Europe.
The Greek Diaspora Fellowship Program was launched in 2016 with the goal of helping to avert Greece's "brain drain" and developing long-term collaborations between universities there and in North America.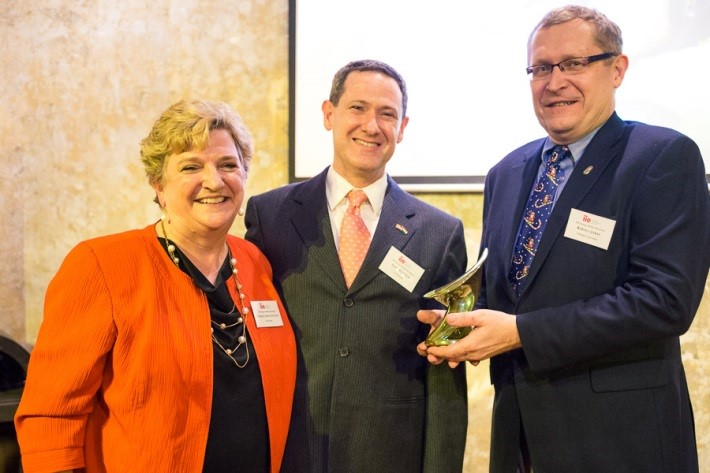 Pictured: (L-R) Cheryl Francisconi with Eric Watnik from the U.S. Embassy and Károly Jókay, Executive Director of Fulbright Hungary.
Scholars selected for the program represent a variety of disciplines and have worked on projects ranging from medical physics and clinical neurophysiology to modernist poetry and educational psychology. They not only conduct joint research but also help develop curricula and teach and mentor graduate students in areas identified by the Greek universities as priorities. The program is managed by the Institute of International Education in collaboration with the Fulbright Foundation in Greece and is funded by the Stavros Niarchos Foundation.
"The Stavros Niarchos Foundation's generous support for these Fellowships demonstrates the Foundation's commitment to expanding Greece's human capital and investing in the country's long-term economic recovery," said Allan Goodman, president and CEO of the Institute of International Education. "We appreciate the support that the Fulbright Foundation in Greece provides in fostering mutually-beneficial relationships between the scholars and hosts. The strong relationship that Fulbright Greece has with Greek higher education institutions and their long commitment to United States-Greek higher education partnerships has contributed immensely to the program's impact."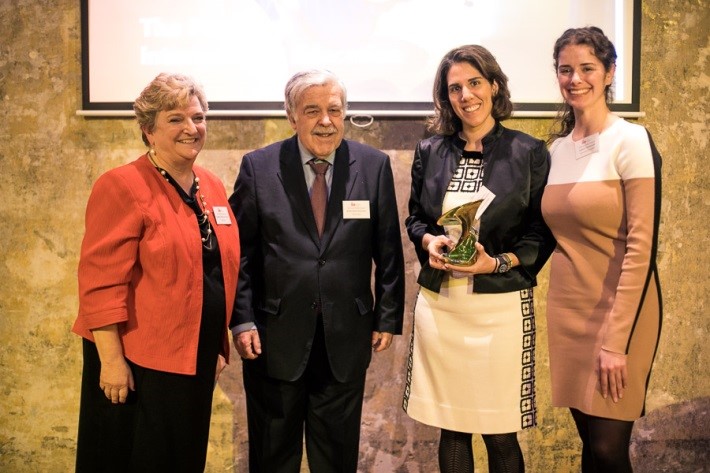 Pictured: (L-R) IIE's Cheryl Francisconi and Greek Ambassador Dimitrios Letsios with Sarah Needham and Eva Polyzogopoulou.
The Greek Ambassador to Hungary, Dimitrios Letsios, joined IIE Europe Director Cheryl Francisconi in presenting the award. Two representatives of the Stavros Niarchos Foundation, Eva Polyzogopoulou from Athens and Sarah Needham from New York came to Budapest for the special reception, which was attended by many local partners, including higher education professionals and representatives of the U.S Embassy, EducationUSA, and the bi-national Fulbright Commission, and members of the international business community. Eric Watnick, Public Affairs Officer at the U.S. Embassy in Hungary, joined IIE in recognizing Fulbright Greece. The award was accepted by Karoly Jokay, Executive Director of Fulbright Hungary, on behalf of Fulbright Greece Executive Director Artemis A. Zenetou, who sent a video message to the assembled guests.
About the Institute of International Education
IIE has been a world leader in international education since 1919. IIE works to build more peaceful and equitable societies by advancing scholarship, building economies and promoting access to opportunity. As a not-for-profit with 18 offices and affiliates worldwide, IIE collaborates with a range of corporate, government and foundation partners across the globe to design and manage scholarship, study abroad, workforce training and leadership development programs.
Founded in 1990, IIE's Budapest office represents IIE's program operations in Europe. Covering over 30 countries in Western, Central and Eastern Europe, the office focuses on supporting and strengthening internationalization of universities, developing and managing scholarship and study abroad programs, and collaborating with corporate partners to design and implement programs and services that meet their specific corporate needs and philanthropic objectives.
About the Stavros Niarchos Foundation
The Stavros Niarchos Foundation (SNF) is one of the world's leading private, international philanthropic organizations, making grants in the areas of arts and culture, education, health and sports, and social welfare. Since 1996, the Foundation has committed more than $2.4 billion, through more than 4,000 grants to nonprofit organizations in 120 nations around the world.
The SNF funds organizations and projects, worldwide, that aim to achieve a broad, lasting and positive impact, for society at large, and exhibit strong leadership and sound management. The Foundation also supports projects that facilitate the formation of public-private partnerships as an effective means for serving public welfare.
About The Fulbright Foundation in Greece
Fulbright is the most widely recognized and prestigious international exchange program in the world, supported for more than half a century by the American people through an annual appropriation from the U.S. Congress and by the people of partner nations. The Fulbright Foundation in Greece offers scholarships to Greek and American citizens – students, teachers, scholars, and artists – to pursue a wide variety of educational projects. The Foundation awards grants to Greek and US citizens to study, teach, lecture, or conduct research in the United States and Greece respectively. The Fulbright Foundation in Greece operates an Educational Advising Center in Athens where staff offer free, comprehensive information on American institutions of higher learning. In 2018 Fulbright Greece will celebrate 70 years of educational exchanges between Greece and the United States.