NEW YORK, April 17, 2018 – The Institute of International Education was awarded the title of Honorary Member of the Order of Liberty by the President of Portugal, H.E. Marcelo Rebelo de Sousa, and the government of Portugal. IIE received the award, along with the Carnegie Corporation of New York, in recognition of the institutions' respective work helping displaced students worldwide access higher education and rescuing scholars at a dinner at the Palácio da Ajuda in Lisbon, Portugal, on April 5.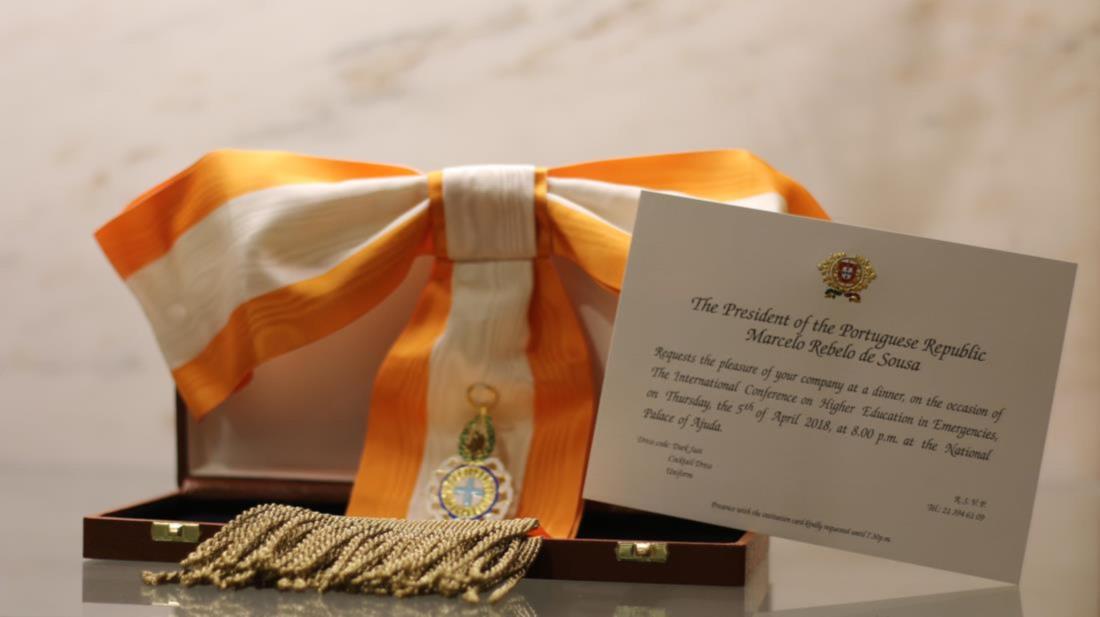 Order of Liberty medal, awarded to IIE by the President of Portugal, H.E. Marcelo Rebelo de Sousa, and the government of Portugal.
Created in 1976 after the Portuguese Carnation Revolution of 1974, the Order of Liberty recognizes public service and work that furthers democracy and defends the values of civilization and human dignity. Dr. Allan E. Goodman, president and CEO of IIE, accepted the honor on behalf of IIE during the International Conference on Higher Education in Emergencies, which took place in Lisbon April 4-6. In his closing remarks, President Rebelo de Sousa also recognized the former President of Portugal, H.E. Jorge Branco de Sampaio, for his groundbreaking work assisting displaced Syrian students.
"This award recognizes the important work that IIE does every day to help displaced students and threatened scholars regain their place in universities," Dr. Allan Goodman said. "We remain committed to our efforts in this area. Given the scale of the refugee crisis, which has now impacted more than 65 million people worldwide, it is more essential than ever."
The conference, hosted by the Global Platform for Syrian Students and the Portuguese government, convened stakeholders and policymakers to discuss best practices in providing access to higher education for students impacted by war, conflict, humanitarian crises or natural disasters. Founded in 2013 by President Sampaio, the Global Platform for Syrian Students is a nonprofit organization that supports Syrian students whose educations have been disrupted by conflict. IIE has been an institutional partner of the Global Platform since its inception.
At the conference, the Global Platform announced a new initiative to coordinate governmental, philanthropic, NGO and institutional efforts to help more Syrian students access higher education. The Rapid Response Mechanism for Higher Education in Emergencies and Conflict-affected Societies (RRM) seeks to provide universities with the resources to accept displaced students and help them continue their education, building on a 2014 commitment from the Portuguese government which funded scholarships to Portuguese universities for 45 displaced Syrian students.
"Remember that our collective future hangs in the balance. Students want to go on living, they cannot continue to wait for us to find solutions," said President Sampaio. "The times call for collaborative effort, and it will be easier if we are all in it together. Our work and energies must not be fragmented as we develop solutions to this global crisis. We have to do more, better and faster. I am strongly convinced that RRM is a critical tool to achieve this goal. Let's make a quantum leap."
Providing access to education for displaced students is an essential part of helping them rebuild their lives. IIE has assisted students and scholars threatened by conflict and natural disaster since its founding, and funds multiple initiatives in support of this objective, including but not limited to the IIE Scholar Rescue Fund, the Platform for Education in Emergencies Response (PEER) and the Syria Consortium for Higher Education in Crisis. The Global Platform was a founding partner of IIE PEER.
About the Institute of International Education (IIE)
IIE has been a world leader in international education since 1919. IIE works to build more peaceful and equitable societies by advancing scholarship, building economies and promoting access to opportunity. As a not-for-profit with 18 offices and affiliates worldwide, IIE collaborates with a range of corporate, government and foundation partners across the globe to design and manage scholarship, study abroad, workforce training and leadership development programs.