JERUSALEM – June 13, 2018 – IIE today awarded the 14th annual IIE Victor J. Goldberg Prize for Peace in the Middle East to three pairs of Jewish Israelis and Muslim Arabs working to advance peace and reduce tensions in the region. The ceremony was held at the America House Jerusalem at 2:30pm IDT.
Distinguished speakers at the ceremony included public affairs officers Chris Hodges, representing the American Consulate, Terry Davidson, representing the U.S. Embassy, and Victor J. Goldberg.
Victor J. Goldberg, a retired IBM executive and longtime IIE trustee, created and endowed the prize in 2005. Mr. Goldberg said, "This award recognizes innovation, and rewards those who are courageous and committed enough to work together to overcome the religious, cultural, ethnic and political issues which divide the Middle East."
This year three separate initiatives were recognized. Roie Ravitsky and Raed Badir won for their Mosaica Religious Peace Initiative. Dor Dayan and Shadi Khatib won for Middle East Peace Players Tamra/Naharia's All-Star team. Harb Amara and Dr. Nava Sonnenschein won for Change Agents: Jewish and Palestinian Professionals.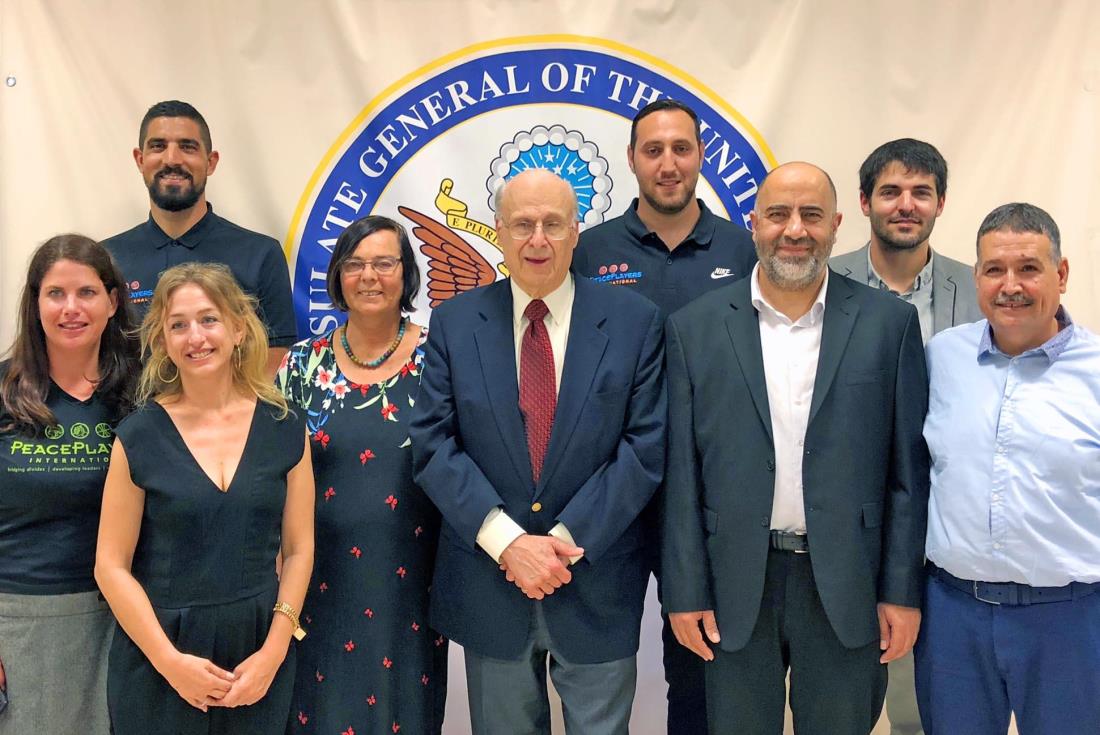 Mosaica Religious Peace Initiative
The Religious Peace Initiative seeks to create the foundation for peace in the region by involving influential Jewish and Muslim religious leaders in efforts to resolve the ongoing conflict. Crucially, the initiative engages religious leaders who are considered to be extremists or who appear to reject conciliation and peace efforts.
"Through the Religious Peace Initiative, religious leaders may ask themselves certain long-avoided questions: What would peace look like were it to include me and my community? What would it look like were it to be the fulfilment of divine commandment, and not its violation?" Ravitzky said. "When those challenges are addressed freely and from within a religious framework, novel solutions may sprout in the most unusual places."
Roie Ravitzky is the director of the Religious Peace Initiative and Raed Badir is the director of the Adam Center for Interreligious and Intercultural Dialogue in East Jerusalem and Kfar Kassem. Together, they are working to bridge divides in religious leadership in the region and expand the existing coalition of leaders who engage in constructive dialogue together.
PeacePlayers
PeacePlayers brings Jewish and Arab women from the Arab and Israeli communities of Tamra and Naharia who might otherwise have few opportunities to meet together through basketball. As the coaches of this program, Shadi Khatib and Dor Dayan seek to build bridges across communities in conflict through sport.
"It is a pleasure to see the way basketball brings the girls we coach together and helps them grow as athletes and friends," said Khatib. "Thank you to the Goldberg Prize for recognizing and appreciating our work."
Through their efforts, the team has made extraordinary strides in building trust and friendship across the two communities. The team also made history in the 2016-2017 season as the first Israeli and Arab women's team to advance to the National Division after winning the Regional Championship. The All-Stars Project is supported by USAID's Conflict Management and Mitigation program.
"It's very exciting to instill values and to create conditions for cooperation between the two sides, and to do it through sports," Dayan said.
Khatib, a professional basketball player, grew up in the Northern Israel Arab village of Tamra, and has coached the team since 2011. He has trained extensively in conflict mitigation and runs an NGO in Tamra dedicated to advancing women in sport. Dayan, also a professional basketball player and coach, has coached the team since 2015. A native of the Jewish town of Naharia, he has represented Israel as a player abroad and has coached the local men's team.
Change Agents Program
Dr. Nava Sonnenschein and Harb Amara lead the Change Agents program, which features courses designed to connect Palestinian and Israeli professionals to create dialogue and implement action around areas of need. Created by the School for Peace and first piloted in 2006, Change Agents engages Palestinian and Israeli lawyers, mental health professionals, journalists, environmentalists, architects and planners, physicians, and politicians and teachers.
"This program is creating leadership that advances peace, justice, equality and human rights in an era that it is the most needed in the Israeli and Palestinian societies," Dr. Sonnenschein said. "Today it is the flagship program of the School for Peace."
Since the program's inception, participants have gone on to pursue notable and important work bridging divisions across communities. Alumni of the program developed seed exchanges for Palestinian and Israeli farmers, and helped connect a Palestinian town to the national electric grid, among many other accomplishments.
###
About IIE
IIE has been a world leader in international education since 1919. IIE works to build more peaceful and equitable societies by advancing scholarship, building economies and promoting access to opportunity. As a not-for-profit with 18 offices and affiliates worldwide, IIE collaborates with a range of corporate, government and foundation partners across the globe to design and manage scholarship, study abroad, workforce training and leadership development programs.
About the Victor J. Goldberg Prize for Peace in the Middle East
IIE annually awards the Goldberg Prize to recognize outstanding work being conducted jointly by two individuals, one Muslim Arab and one Jewish Israeli, working together to advance the cause of peace in the Middle East. The two individuals whose work is judged to be most successful in bringing people together and breaking down the barriers of hatred toward "the other" share a $10,000 prize. The Selection Committee for the Prize includes leaders from business, academia, the not-for-profit sector, and government.
Learn More About the Goldberg Prize Here
About Victor J. Goldberg
Victor J. Goldberg retired from IBM in 1993 as a corporate vice president after a 34-year career at the company. Mr. Goldberg received both his undergraduate and his M.B.A. degrees from Northwestern University. He joined the Board of Trustees of the Institute of International Education in 1979, is a member of its Executive Committee and served for 13 years as vice chairman of the Board. He is a director of Education Through Music which puts music programs in inner city schools; a member of the Advisory Committee of J Street; and member of the Westchester County Fair Campaign Practices Committee. He previously served as a trustee of the International Fellowship Program, a Ford Foundation initiative for underserved populations around the globe; president of the Scarsdale Foundation; chairman of the Scarsdale Planning Board; member of the Board of Governors of the American Jewish Committee; and trustee of New Alternatives for Children, Westchester Reform Temple, the Mental Health Association of Westchester, and the Westchester Non-Profit Loan Fund.
Contact:
IIE: Catherine Morris, cmorris@iie.org, +1.202.326.7765
Consulate General of the United States: Adam Sigelman, SigelmanAH@state.gov
Change Agents: Dr. Nava Sonnenschein, nava.sfp@nswas.info, +02.9991736 ext. 109
Mosaica Religious Peace Initiative: Roie Ravitzky, roie@mosaica.org.il, +972.505901119
Tamra/Naharia PeacePlayers Middle East All-Star Team: Ms. Michal Rapoport, mrapoport@peaceplayersintl.org, +972.3.510.2358