Marks 100 Years of Facilitating International Educational Exchange
NEW YORK, February 12, 2019 – In honor of the Institute of International Education's Centennial anniversary on Tuesday, Feb. 19, the Empire State Building will illuminate the sky in red and white to celebrate IIE's 100-year legacy of promoting mutual understanding, cultural exchange, and diplomacy through international education. Founded in New York in 1919, IIE has been a pioneering force in the field of international exchange, arranging some of the earliest scholar and student exchanges between the U.S. and countries around the world.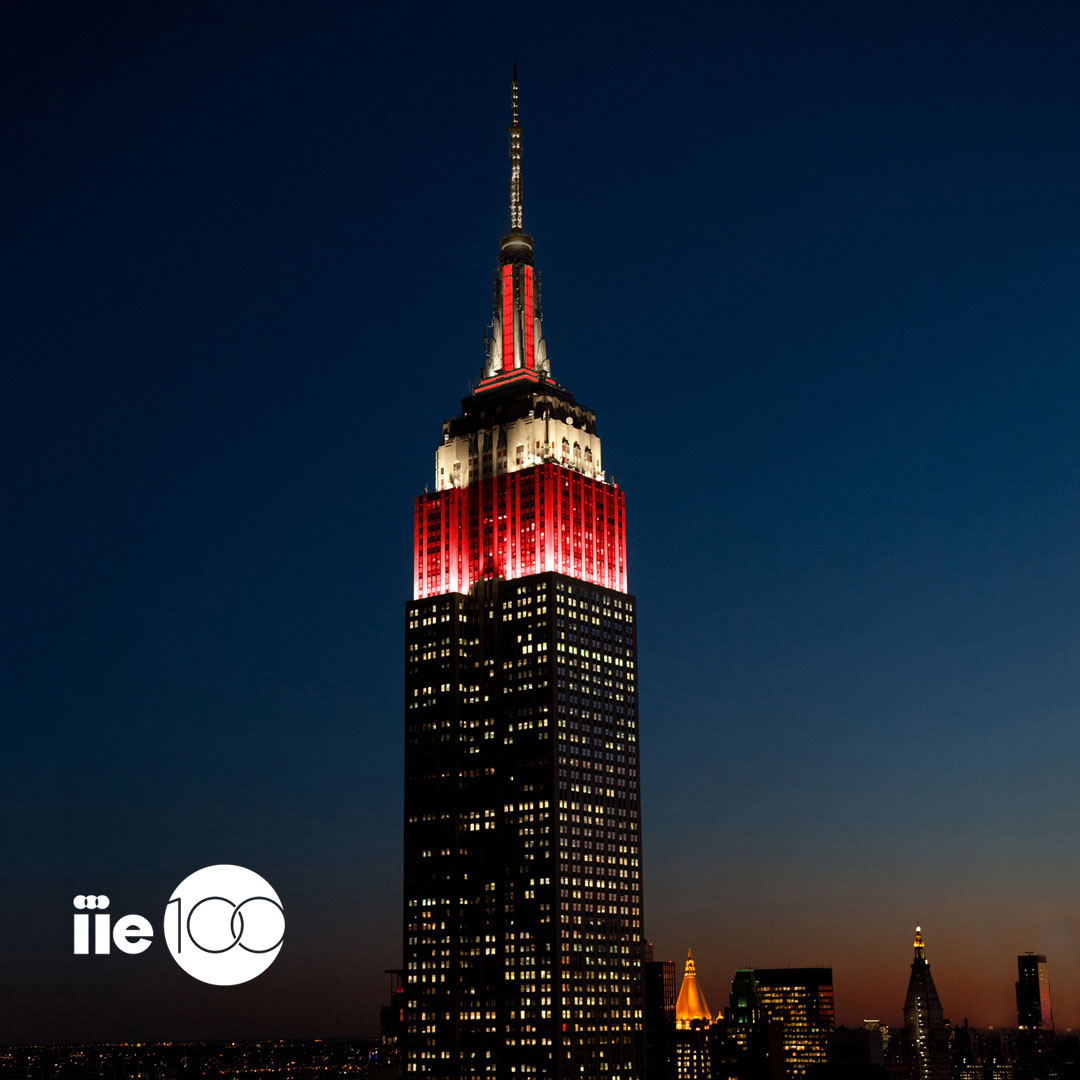 The Empire State Building image ® is a registered trademark of ESRT Empire State Building, L.L.C. and is used with permission.
The most iconic building in New York City, the Empire State Building stands as a beacon for the international exchange of people, culture and ideas. It is a testament to the power of education that the building will represent IIE in celebration of its centennial anniversary.
The Empire State Building will display IIE's official colors from Tuesday evening at sundown, approximately 5:30 p.m., through 2 a.m. Wednesday morning. The lighting is timed to coincide with the conclusion of IIE's Centennial Summit, which will convene more than 500 professionals representing 27 countries and more than 300 organizations in education, government, business, philanthropy and media at the Grand Hyatt New York from Feb. 17-19.
In addition to the Summit attendees, IIE's team of more than 650 professionals in 18 international offices and affiliates worldwide will join in the celebration by observing and sharing the news with their networks and audiences.
The city of New York attracts the United States' highest concentration of international students in higher education, adding $4.1 billion to the NYC metropolitan area's economy and supporting 47,000 jobs last year. According to the U. S. Department of Commerce, the U.S. hosted 1,094,792 international students last year, contributing $42.4 billion to the U.S. economy through tuition, room and board, and other expenses.
IIE has the unique privilege of designing and administering some of the world's most prestigious and innovative scholarship and training programs, including The Fulbright Program sponsored by the U.S. Department of State, and The Language Flagship, sponsored by the U.S. Department Defense. In the last year alone, nearly 30,000 U.S. and international students, scholars and professionals participated in IIE-managed programs in more than 180 countries. To date, there have been 108 Nobel Prize winners associated with IIE.
The Centennial celebration will take place throughout 2019, beginning with the IIE Summit: The Future of International Education, taking place Sunday, Feb. 17 through Tuesday, Feb. 19, in New York City. To learn more about IIE's Centennial year, visit
iie.org
.
About IIE
IIE works to build more peaceful and equitable societies by advancing scholarship, building economies and promoting access to opportunity. As a not-for-profit with 18 offices and affiliates worldwide, IIE collaborates with a range of corporate, government and foundation partners across the globe to design and manage scholarship, study abroad, workforce training and leadership development programs.