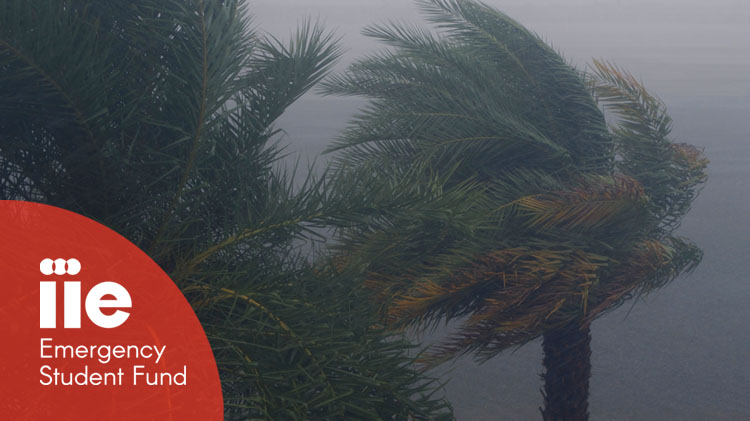 NEW YORK, September 19, 2019 – The Institute of International Education's Emergency Student Fund (ESF) is launching a Bahamas-ESF to support international students from the Bahamas currently studying at colleges and universities in the United States who have been affected by Hurricane Dorian. IIE has a long history of providing emergency assistance to students and the ESF was established to provide financial support to students who are at risk of dropping out of their studies due to natural disaster, armed conflicted or political strife in their home countries.
The Bahamas-ESF will provide one-time grants of $2,000 – $5,000 to selected students whose ability to pay for their fall 2019 semester in the United States is in jeopardy due to serious financial difficulties related to the devastation caused by Hurricane Dorian. Students must be nominated by their U.S. college or university for this opportunity. Accredited U.S. campuses are invited to nominate up to five students in total for whom help is needed to complete the fall 2019 semester.
Learn more about IIE's Bahamas-ESF
Completed nominations must be received by Sunday, October 6, 2019, 11:59PM EST.
Learn more about the nomination process and eligibility criteria
We anticipate that the need for emergency assistance will exceed the funding currently available to IIE's ESF. If you would like to support the Bahamas-ESF, please make a donation to help students affected by Hurricane Dorian and other disasters in the future by entering "Emergency Student Fund" in the gift designation field.
The Institute of International Education's ESF provides grants to students matriculated at accredited post-secondary education institutions in the United States who are affected by natural disaster or other crises in their home countries. Since 2010, ESF has provided approximately $3 million in emergency grants to over 850 students from Japan, Haiti, Libya, Thailand, the Philippines, Syria, Yemen, Iran, Nepal, the Caribbean Nations and Venezuela.
For more information, see the website or contact esf@iie.org.