Award recognizes Dr. Mohammed Alnabari and Matan Yaffe for their work to build a new generation of Bedouin leadership based on social action, volunteering, and tackling real-life challenges in the Negev
JERUSALEM, June 28, 2023 — The Institute of International Education (IIE) awarded the 19th annual IIE Victor J. Goldberg Prize for Peace in the Middle East to Dr. Mohammed Alnabari and Matan Yaffe, who joined together to build the thriving NGO Desert Stars, which works to build a new generation of cross-tribal Bedouin leadership operating in partnership with the entire community to lead long-lasting, sustainable change. The co-founders will share a US$20,000 prize for their work together to try to make life better in their communities and the region.
Desert Stars operates a high school, two gap year programs, a thriving youth movement, and comprehensive alumni program to help all graduates succeed in higher education and to build careers of influence. Matan and Mohammed model true partnership, and demonstrate how two leaders from very different backgrounds can accomplish a dream when working together in full trust and belief in one another. Their programs aim to create a network of young leaders by empowering mission-driven young people to realize their individual and collective potential, in order to address poverty, high unemployment rates, and disenfranchisement in the Negev Bedouin community. Their vision is to create groundbreaking Bedouin leadership that unites the Negev and strengthens Israeli society.
Mohammed Alnabari, a Bedouin community leader and former mayor, and Matan Yaffe, an entrepreneur and former officer in the Israel Defense Forces, founded this organization in 2013 in the belief that Southern Israel belongs to both Jews and Bedouins, and that they are destined to live together side-by side. Therefore, it is imperative that Bedouins have every opportunity that their Jewish counterparts enjoy, and that both populations must discard their stereotypes and get to know each other as individuals and fellow citizens. "Our 'stars' feel connected to wider Israeli society and represent the entire Bedouin population – no longer only feeling allegiance to their specific family or tribe," according to the two partners. "We believe in community-led change that reflects community needs, values, traditions, and heritage."
Victor J. Goldberg, a retired IBM executive and longtime IIE trustee who created and endowed the prize in 2005, presented the award in a virtual award ceremony that brought the winners together with colleagues, friends, and supporters of interfaith initiatives across Israel and the Palestinian Territories.
"In this time of violent conflict, we believe it is more important than ever to share stories of grassroots success so that they may encourage and inspire others. This year's winners are a great example of the brave individuals and groups who are working together to try to make life better in their communities and the region," said Mr. Goldberg. "While there is no magic solution, one positive force is to encourage people to live and work together toward mutual goals, learning to trust and depend on one another for their common good. As we look ahead to the 20th anniversary of the IIE Goldberg Prize in 2024, we celebrate the courage and conviction of Matan and Mohammed as well as the accomplishments of all the inspirational pairs of winners who we have recognized in previous years."
IIE CEO Allan E. Goodman joined Mr. Goldberg in presenting the award, commenting, "The IIE Goldberg Prize is a testament to the vision of what courageous individuals working together can actually achieve. Today's winners join a roster of laureates who are making the world a less dangerous place for us all." Following the award presentation, Mohammed and Matan spoke about the work they are doing together to build platforms of mutual trust for living side by side in peace and resolving issues constructively together.
Learn more about the 24 pairs of winners from the previous 18 years on the IIE Goldberg Prize website, and download a report on the Prize's first 15 years here: "IIE Victor J. Goldberg Prize: 15 Years of Encouraging Grassroots Partnerships in Peacebuilding."
SPOTLIGHT: Israel's First Bedouin Youth Village: The Jusidman Campus for Bedouin Leadership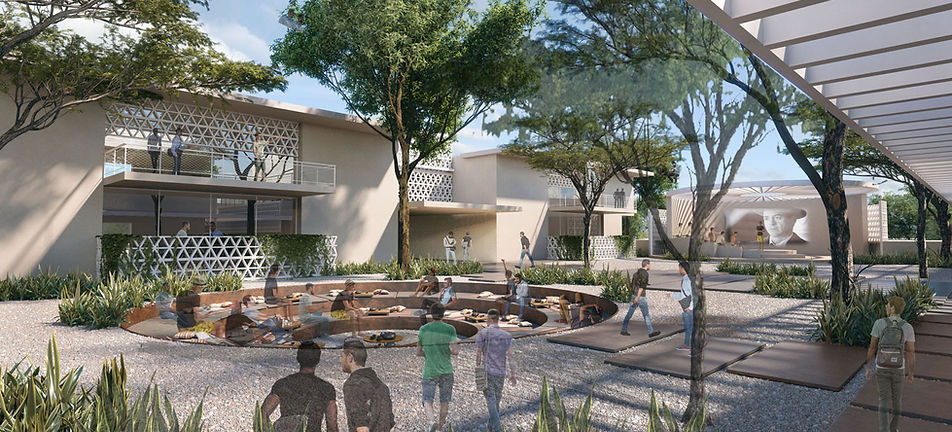 After more than three years of planning, Desert Stars broke ground on its new campus in April 2022. The Jusidman Campus for Bedouin Leadership, scheduled to open in late 2024, will be a living community based on organizational values. At Desert Star's new boarding school, stars will live side by side with staff, classmates, and older students, who serve as mentors and role models. The village concept is adapted from Israel's innovative model for youth villages, which allows students to excel in an immersive boarding school environment.
"We will blend formal and informal education to nurture our stars' natural talents, foster their intellect and entrepreneurial spirit, and promote healthy cognitive, social, and emotional development. Families will be highly involved in village activities. The village will allow us to create a transformative experience for our stars and reach many more promising students, ensuring a large, active, and effective network of future Bedouin leaders."
– Dr. Mohammed Alnabari and Matan Yaffe, co-founders of Desert Stars and 2023 IIE Goldberg Prize Winners
For more information visit https://www.desertstars.org.il/village-english
About the Institute of International Education
IIE has been a world leader in international education since 1919. IIE works to build more peaceful and equitable societies by advancing scholarship, building economies and promoting access to opportunity. As a not-for-profit with 18 offices and affiliates worldwide, IIE collaborates with a range of corporate, government and foundation partners across the globe to design and manage scholarship, study abroad, workforce training and leadership development programs. Follow us and learn more at: www.iie.org, and on Twitter or Facebook.
About Victor J. Goldberg
Victor J. Goldberg retired from IBM in 1993 as a corporate vice president after a 34-year career at the company. Mr. Goldberg received both his undergraduate and his M.B.A. degrees from Northwestern University. He joined the Board of Trustees of the Institute of International Education in 1979, is a member of its Executive Committee and served for 13 years as vice chairman of the Board. He has served as a trustee of the International Fellowship Program, a Ford Foundation initiative for underserved populations around the world and is on the Westchester County Fair Campaign Practices Committee.
About the IIE Goldberg Prize
IIE awards the Victor J. Goldberg Prize for Peace in the Middle East annually to recognize outstanding collaborative work being conducted jointly by two individuals, one Muslim Arab and one Jewish Israeli, working together to advance the cause of peace in the Middle East. The two individuals whose work is judged to be most successful in bringing people together and breaking down the barriers of hatred toward "the other" share a $20,000 prize. The winners are chosen by a selection committee that includes leaders from business, academia, the not-for-profit sector, and government. Learn more about the IIE Goldberg Prize at www.iie.org/GoldbergPrize.