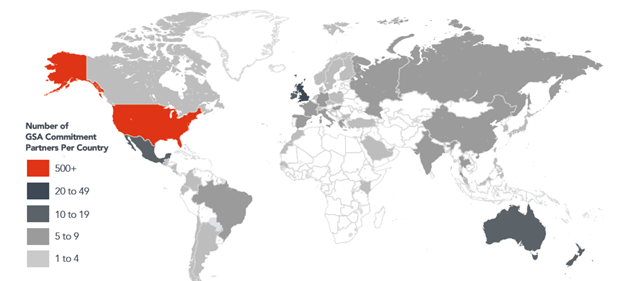 Generation Study Abroad Impact
Generation Study Abroad has generated momentum showing that through collective action we can achieve results. The Generation Study Abroad Commitment Partner network includes 800+ higher education institutions, study abroad organizations, education associations and country partners who pledged to boost and broaden participation in study abroad.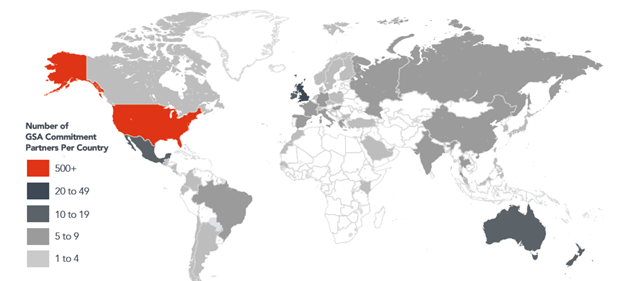 GSA COMMITMENT PARTNER NETWORK
444
U.S. Higher Education Institutions
194
Associations or Organizations in 35 countries
151
International Higher Education Institutions in 37 countries
22
Governmental Organizations representing their respective countries
Impact Reports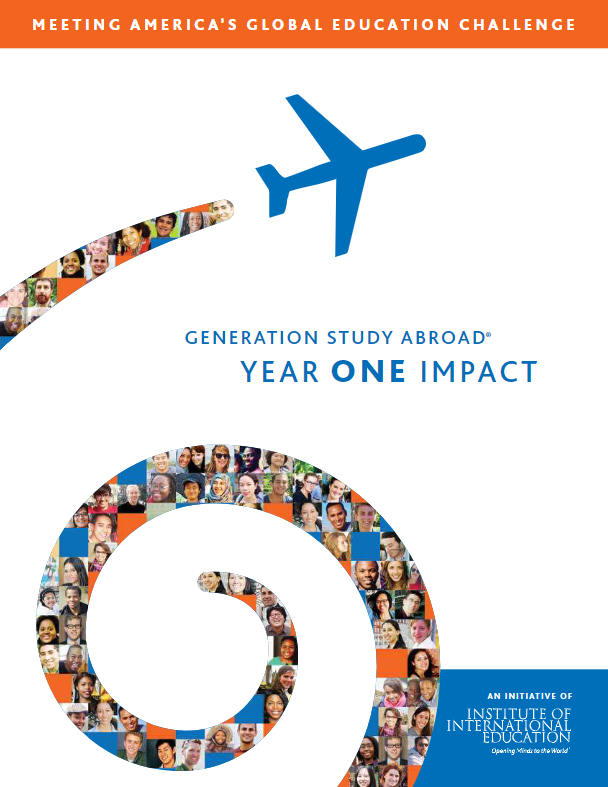 Generation Study Abroad Year One Impact illustrates the initial and compelling outcomes of the first year of the initiative, including:
114 U.S. campuses pledged to double the number of students who study abroad and others planned to increase three-, four-, five-fold, or more.
$185 million pledged by GSA Commitment Partners in study abroad scholarships and related support by the end of the decade.
84% of all Generation Study Abroad Commitment Partners pledged bold actions to reduce financial barriers.
In 2020, IIE took stock of Generation Study Abroad with the final annual progress survey for GSA Commitment Partners. The survey tracked progress toward goals, best practices, and the implementation of effective activities and resources for the network.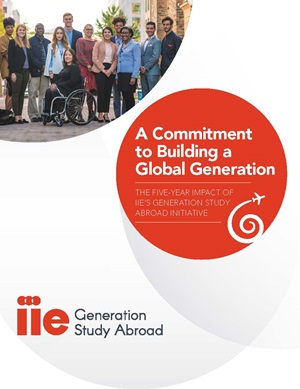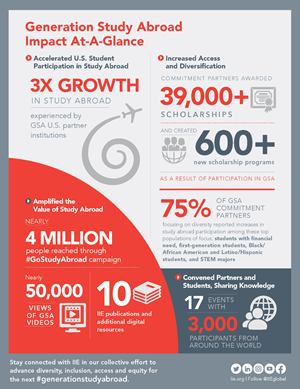 GSA Impact-At-A-Glance is a one-page overview highlighting key programmatic and partner achievements during the course of the five-year initiative, including:
Accelerated U.S. student participation in study abroad
Increased access and diversification 
Amplified the value of study abroad
Convened partners & students, sharing knowledge 
During the five-year initiative,
100+
GSA Commitment Partners meet their pledged goals and received the IIE Seal of Excellence
$1 Million
in IIE-administered scholarships and grants were given to students and teachers with the support of our partners and donors
Generation Study Abroad Scholarships
IIE Passport Awards for Study Abroad
French Embassy – Generation Study Abroad Scholarships
GSA Travel Grants
IIE AIFS Foundation Generation Study Abroad Enrichment Grants
---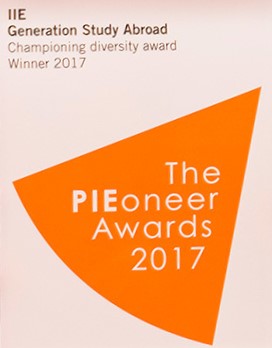 PIEoneer Award for Championing Diversity
IIE's Generation Study Abroad initiative received the honor of the inaugural PIEoneer Award for Championing Diversity in 2017. PIEoneer awards celebrate the most innovative work that is being done across the international education sector.