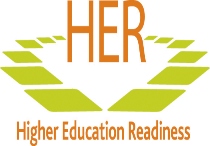 Program Results
Higher Education Readiness Program: Evaluation and Results
Launched in 2013, the Higher Education Readiness (HER) program evaluation followed a longitudinal, difference-in-differences design using mixed methods approach. Monitoring, Evaluation, and Learning team measured the outcomes and impacts of the HER students against a comparison group of girls from the same schools who applied but were not selected to participate in HER.
The findings of the HER program indicate that the program provided successful pathways for young women from marginalized communities in Ethiopia. The reports highlight highly contextualized, quantitative and qualitative findings of comparative and impact studies, the stories of several students and their families, as well as the potential multiplier impact of the program on the communities and schools of HER students. Additionally, all reports include best practices and lessons learned at each stage on the program implementation, program sustainability, and impacts.
---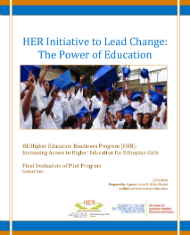 The HER Initiative to Lead Change evaluation report provides evidence of how a comprehensive pathway program like HER can increase high school graduation rates and matriculation to university, enhance female self-confidence and leadership abilities, and equip young women with skills necessary to succeed in life. The report also outlines how the HER program's comprehensive approach to girls' education ensured sustainability and change that went beyond the immediate student impacts, demonstrating the multiplier effect of the program on the girls' schools and communities.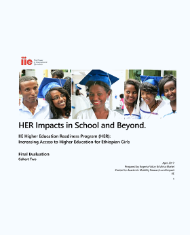 Report "HER Impacts in School and Beyond" presents the findings from a two-year evaluation of the second cohort of the HER students. This report demonstrates our shifted focus from evaluating HER students' GPA and matriculation to university as the primary outcome to recognizing the stand-alone value of developing life skills for young women. The HER students developed learning mindsets, strengthened their self-awareness and belief in themselves and changed how they interpret their place in the society and their opportunities to succeed, preparing them for a lifetime inspired by education and commitment. HER students graduated from the program with vision, hope, determination, and practical, highly transferable skills to change their communities and realize their dreams.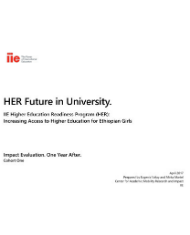 Report "HER Future in University" focuses on identifying program impact on its alumnae one year after program completion. This report is part of the five-year impact study of the HER Future initiative participants, which was created to support HER alumnae who were accepted into government universities. The report shows how the program changed students' attitudes to learning and their perception of self-value and their own potential, and provided them with life skills to successfully manage their lives. Both groups of HER alumnae applied the skills gained during the program to reach where they are now, exceeding the program expectations.