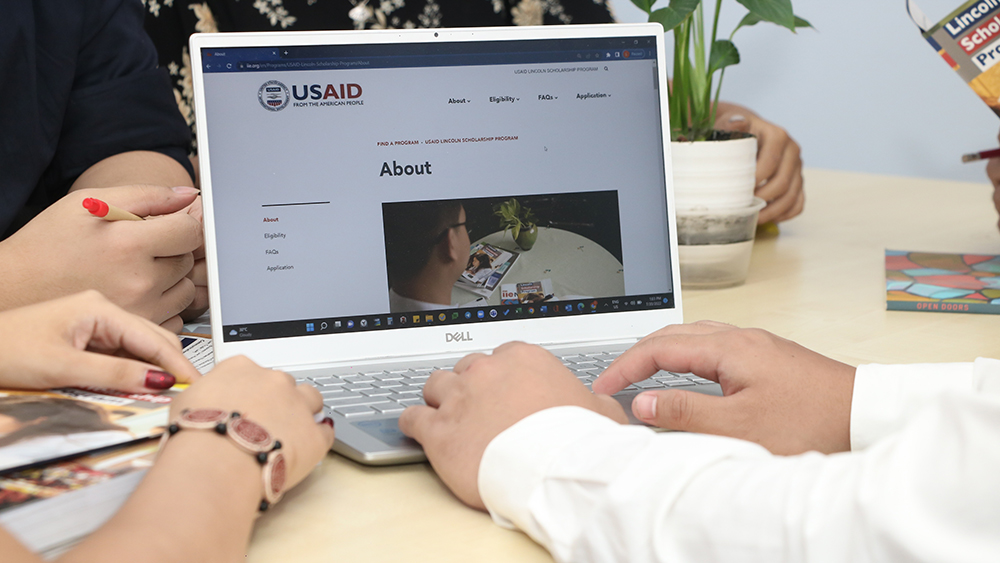 About
The Lincoln Scholarship Program will achieve USAID's goal of improving the technical competencies and enhancing the leadership potential of the next generation of leaders to guide Myanmar along a path of inclusive socio-economic development. Sixty percent of the population of Myanmar is under the age of 35. To date, few have had access to graduate education opportunities. The Lincoln Scholarship Program will help to close this gap and provide opportunities for scholars to study for Master's degrees in the U.S.
Project Duration
August 2019 – August 2026
Type of Training
Master's degrees at U.S. universities
Goals
Help develop a more stable, pluralistic and prosperous Myanmar by equipping young professionals and academics with technical and leadership skills.
Help scholars achieve Master's level learning in diverse fields of study.
Provide comprehensive conflict resolution and leadership training to scholars.
Lincoln Scholarship Award Benefits and Privileges
Pre-academic training in Yangon
IIE will work with Lincoln Scholars to apply for university admission
Airfare to and from the U.S.
Fully covered tuition
A monthly stipend and other academic-related financial allowances
Support system while studying in the U.S.
Alumni support activities and alumni grants
Leadership, Inclusivity, and Conflict Resolution Skills Development
Pre-Academic Training
The pre-academic training is designed to provide the Lincoln Scholars with knowledge of U.S. higher education, standardized test preparation (TOEFL, GRE), study skills and computer skills for graduate studies. Through this pre-academic training, the scholars will refine their English skills, standardized test taking skills, increase their understanding of American culture and be prepared for life in the U.S. The scholars will also learn from peer mentors who will share their personal experiences and answer any questions scholars may have about studying in the U.S.
There are two parts, Period 1 and 2, to the pre-academic training program and scholars are expected to participate fully in both.
Period-1: Standardized Tests Preparation
The first part of pre-academic training will be delivered online with the understanding that the scholars would keep their professional jobs while preparing for TOEFL-iBT and the Graduate Record Examination (GRE).
Period-2: Graduate Studies Preparation
The second part of pre-academic training will be full time, in-person, and scholars are expected to be in Yangon to participate. This period of pre-academic training includes visa application procedure, medical checkup, and vaccinations for university registration. In addition, the Lincoln Scholarship will provide pre-departure orientation for the scholars during this period.
English Language Test (TOEFL-iBT/PBT/ITP, IELTS)
It is not a requirement to have an official test score to apply for the Lincoln Scholarship. However, if you are selected for the scholarship, you will have to take at-home TOEFL-iBT in the third week of October 2023 and the GRE in the first week January 2024.
Leadership, Inclusivity, and Conflict Resolution Skills Development
As an additional component of the Lincoln Scholarship Program George Mason University, School of Conflict Analysis and Resolution (S-CAR) will be leading a multi-phase training program to develop Lincoln Scholarship Program (LSP) scholars' conflict resolution skills and prepare them for leadership roles in Burma. LSP scholars will be exposed to theoretical underpinnings of conflict resolution while learning practical techniques for resolving disputes and building consensus. S-CAR will provide dorm housing and training space for scholars at their Point of View International Retreat and Research Center in Lorton, Virginia during their mid-term program workshop creating a conducive atmosphere for scholars to have honest conversations about issues on which they may disagree.
Fields of Study
Individuals interested in the following fields of study and related studies are encouraged to apply.
Agriculture
Agricultural Business/Management
Agricultural Economics
Agricultural Education
Agronomy/Crop Science
Animal Science
Botany/Horticulture
Entomology
Fisheries Management
Food Science
Natural Resources Economics
Plant Pathology
Business & Economics
Accounting
Agricultural Economics
Applied Economics
Banking and Finance
Business
Business Analytics
Economic Development
Economics
Entrepreneurship
Environmental/Natural Resource Economics
Finance
Information Technology Management (IT)
International Business
International Economics
Marketing, Operations Management
Organizational Behavior
Policy/Public Economics
Strategic Management
Supply Chain Management
Trade and Finance
Communications
Journalism
Media Studies
Public Relations
Advertising
Communication Management
Health Communications
Integrated Marketing Communications
Intercultural Communication
Mass Communication, Political Communications
Environmental Science
Education
Administration/Leadership
Adult Education
College And University Administration
Counseling & Guidance
Curriculum and Instruction
Education Policy
Educational Administration
Educational Psychology
Educational Technology
Elementary/Secondary
Higher Education Administration
International and Comparative Education
School Counseling/Counseling Psychology
School Psychology
Special Education
Subject Education
Teaching English
Teaching Methodology
Engineering
Bioengineering/Biomedical engineering
Chemical Engineering
Civil Engineering
Cybersecurity
Electrical Engineering
Environmental Engineering
Mechanical Engineering
Government, Administration, and Management
International Relations
Political Science
Public Administration
Public Finance
Public Policy Analysis
Southeast Asian Studies
Urban Development & Planning
Health
Health Care Administration
Health Economic
International Health
Medical Informatics
Public Health Administration
Law
Admiralty Law
American Legal Studies
Banking
Business Law
Commercial Law
Comparative Law/Legal System
Constitutional Law
Corporate and Financial Services Law
Criminal Law
Dispute Resolution
Energy/Environment/Natural Resources Law
Health Law
Human Rights Law
Intellectual Property
International and Comparative Law
Judicial Process
Labor/Employment Law
Real Estate
Real Property and Land Development Law
Space and Telecommunications Law
Taxation
Trade Regulations
Natural Resources
Environmental Science
Fisheries, Forestry
Natural Resource Management and Policy
Range Science
Water/Watershed Management
Wildlife Management
Technology
Data Science
Governance
Information Technology
Computer Programming & Languages
Computer Software Engineering
For more information about the Lincoln Scholarship Program, please