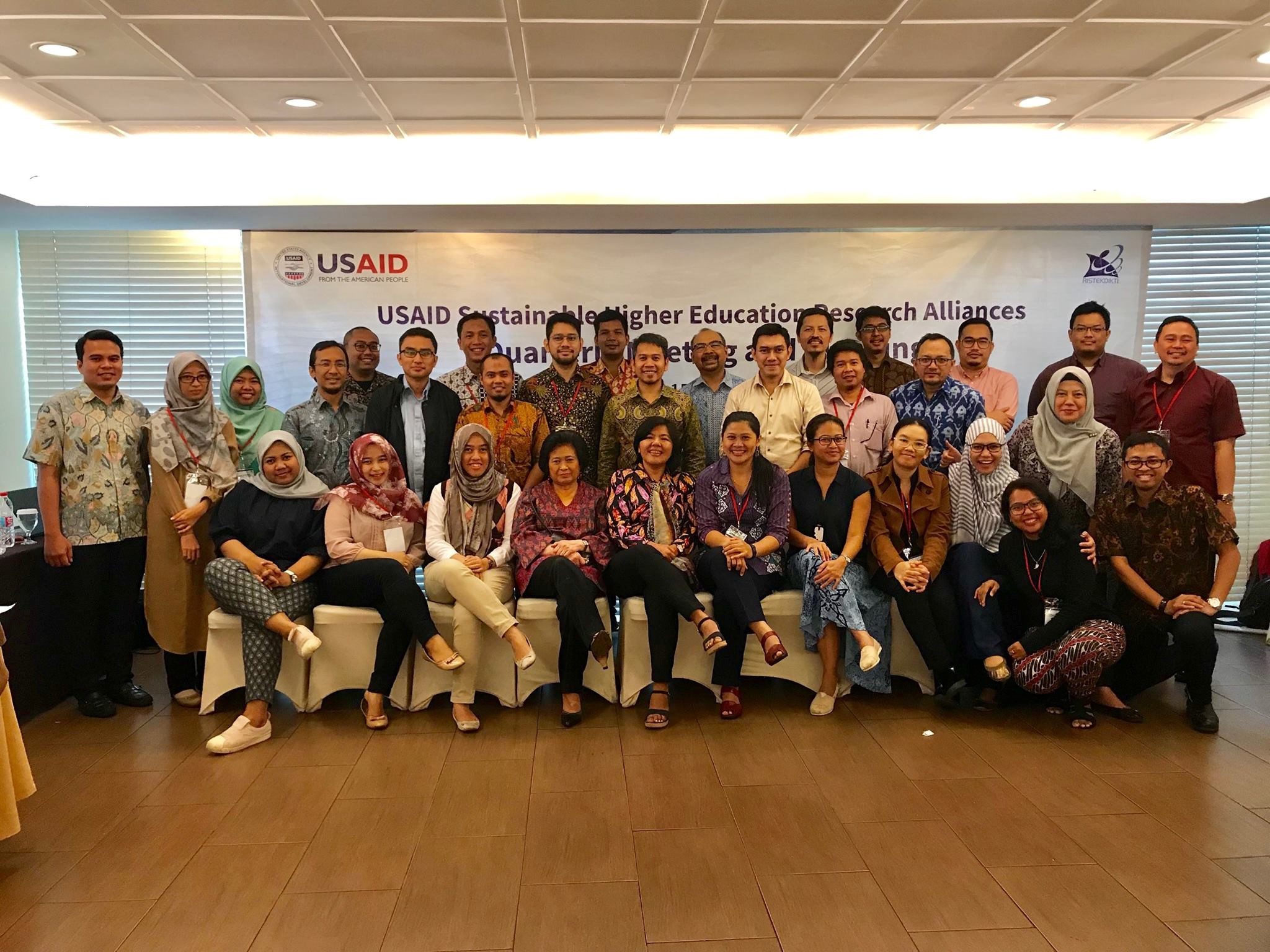 Overview
Indonesia's contributions to international scientific research have been growing but remain small relative to its population. The archipelago has the world's fourth largest population but placed 52nd globally for articles published in Scopus-indexed journals in 2014. To enhance the global standing of Indonesia's HEIs, the Government of Indonesia's (GOI) National Development Plan called for an increase in the number of Indonesia's international scientific publications. In line with that goal, the Ministry of Research and Technology/National Research and Innovation Agency (Kemenristek/BRIN) sought to strengthen the capacity of its HEIs to produce world-class scientific research and to increase the number on Indonesian universities ranked among the world's top 500 by 2020.
The USAID SHERA program greatly contributed to those goals by providing technical assistance and innovative tools. All stakeholders (IIE, CCRs, USAID, GOI) spent significant time and resources understanding the existing challenges, assessing barriers, and finding solutions to improve the program and its impact on the HEI landscape and local communities in Indonesia. SHERA was based on three central themes: Local ownership, collaboration and engagement, and learning and oversight. Each of these themes supported SHERA achieving the following results:
534 international publications were produced by CCR scholars, 507 of which were published in the Scopus Index.
21% of the 534 publications produced by CCR Indonesian researchers were cited in international publications.
250 CCR scholars, 97 of which were women, presented their research papers at international conferences.
83 partnerships between institutions in Indonesia and abroad were established under SHERA.
531 knowledge products were created by CCRs.
To achieve SHERA's goal of improving the quality of science and technology research, IIE employed a holistic and multi-stakeholder approach that focused on local, Indonesian ownership. Indonesian HEIs were the primary recipients of funds and were tasked with leading activities. In many higher education projects, U.S. universities serve as the prime recipient of funding while the local, in-country universities or partners serve as subrecipients. This program flipped the model and placed an emphasis on local ownership where Indonesian higher education institutions were the prime recipients of funds and managed several subawards with Indonesian and U.S. HEIs. As the direct recipients of funding, the CCRs were tasked with creating partnerships with U.S. universities and scholars to conduct world-class research in critical country development fields; share knowledge between CCR universities and affiliate institutions with limited research capacity; and strengthen institutional capacity to undertake and support research.
Through a competitive process, five top-tier Indonesian higher education institutions were selected to house Centers for Collaborative Research (CCRs). The CCRs ultimately developed partnerships with 30 Indonesian HEIs and 12 U.S. HEIs serving to broaden the scope and reach of SHERA.
Another key, local partner was the Government of Indonesia, in particular, the Ministry of Research and Technology/National Research and Innovation Agency. Kemenristek was involved in the launch of the program, selecting the CCRs, supporting SHERA events, resolving challenges, and received periodic reports about the status of the program. When SHERA activities ended in the fall of 2020, Kemenristek was well-positioned to take ownership of the program and continue its support of the CCRs and their affiliates.
Indonesian public-private partnerships (PPPs) were woven into the design of SHERA. Science and technology research generated by the CCRs was applied to the development of products in PPPs that were then utilized to tackle Indonesia's development challenges. The CCRs generated 41 partnerships with governmental agencies, private companies, and local communities. Establishing PPPs was vital to ensuring the sustainability of the CCRs after the conclusion of SHERA.
By the end of SHERA, each CCR had several PPPs in place, university support, and Kemenristek assistance to further develop research initiatives initially undertaken during SHERA.
Collaboration and engagement comprised another central tenant of SHERA that was woven into the design and practiced throughout the program.
Partnerships were established not only between U.S. and Indonesian universities, but research and learning took place between CCRs and their affiliates. In addition, government institutions, communities, and private sector organizations engaged with the CCR's and affiliated Indonesian HEIs to serve as a conduit to apply research to development challenges. Though it was unclear at the start of the program the degree to which Indonesian HEIs would collaborate, it is clear from SHERA events and activities that significant knowledge sharing took place among the Indonesian HEIs.
Events and activities were designed to allow CCRs to provide overviews of their progress, discuss challenges, and reflect on lessons learned. Knowledge sharing was not only about the research being conducted, but also about the ongoing capacity building being undertaken by the CCRs in areas such as financial management, procurement, communications, and monitoring and evaluating indicators and results. USAID and Kemenristek support and attendance at these activities and events underscored their importance to the CCRs and facilitated further knowledge sharing.
While collaboration and engagement contributed to learning, SHERA's learning and oversight approach built the capacity of the CCRs and their affiliates to comply to the terms and conditions of their subawards. Over the life of the program, IIE conducted 146 trainings and meetings that covered topics such as grant management, research protocols, reporting, monitoring and evaluation, knowledge products, connecting to national goals/needs, publicizing successes, financial management, and invoicing and paying subawardees. The program worked closely with the Indonesian HEIs, Kemenristek, and USAID to address any challenges and provided targeted training, tailored templates, and new procedures to assist with the distribution and management of funds. This was coupled with a comprehensive monitoring, evaluation, and learning plan and platform that led to a continuous assessment of activities and program adjustments as necessary.
The CCRs themselves conducted 45 trainings and workshops that primarily focused on improving scholars writing skills which in turn, contributed to Indonesian scholars' papers being accepted by international conferences and journals, many for the first time. One of the underlying goals of SHERA was to also increase the number of women involved in research activities. Out of 1,200 training participants, over 50% of the participants were women.
SHERA was an innovative program that served as a learning laboratory, simultaneously building the capacity of the CCRs while the CCRs conducted research, submitted peer-reviewed publications, and built partnerships. While ambitious, the indicator targets illustrate the success and impact SHERA had on the CCRs. As the CCRs continue to evolve with the committed support of the GOI, the initial support they are receiving from local stakeholders at the end of SHERA is a good indicator that the CCRs will continue to be a driving force in addressing Indonesia's development challenges.