Despite fears of a potential large drop in new international students' willingness to enter U.S. higher education institutions in Fall 2017, the findings of the survey, based on responses received from 165 colleges and universities, suggest that interest among international students remains steady overall, with no single trend evident across the broad range of U.S. colleges and universities.
---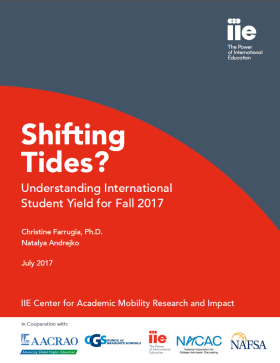 Uncertainty plays a large role in the admission cycle as the start of the 2017/18 academic year draws near. Recent debates over visa and immigration policy have raised concerns among U.S. higher education institutions regarding the desire and ability of international students to travel to the United States for their education. This report presents findings from a national survey of U.S. higher education institutions to gauge whether shifts have occurred in the admissions yield of international students who have been accepted to academic programs starting in Fall 2017. In the admissions field, yield refers to the enrollment rates of admitted students. Calculations of yield serve as a useful tool for higher education institutions to track the progress of their admissions recruitment and enrollment processes.
The survey findings described in this report build upon a similar joint international applications survey conducted in March 2017 to gauge shifts in applications received from international students at U.S. higher education institutions. That study – led by the American Association of Collegiate Registrars and Admission Officers (AACRAO) in partnership with four U.S. higher education associations – found a mixed picture, with 38 percent of surveyed institutions indicating a decrease in international student applications, 36 percent seeing an increase, and 26 percent seeing no change compared to the prior year (AACRAO, 2017).
As a follow up to the previous joint survey, in May 2017 IIE again partnered with AACRAO, the Council of Graduate Schools, the National Association for College Admission Counseling (NACAC), and NAFSA: Association of International Educators to conduct a survey of U.S. higher education institution that focused on the next steps in the admissions process – offers of admission and yield rates. Information was also collected on the concerns of institutions regarding international student enrollment for Fall 2017 and their strategies for maximizing international enrollments. The findings of this survey provide information for U.S. higher education institutions to benchmark their own international student admissions patterns and to inform their ongoing outreach and recruitment strategies.
Learn more