Institute of International Education Presents Corporate Leadership award to Santander US, Celebrates Vartan Gregorian, and Names Two IIE Global Changemakers
NEW YORK, October 16, 2017—At the Institute of International Education's Gala on October 16 at The Pierre in New York City, more than 300 business, education, government, foundation and policy leaders joined IIE to recognize Santander US for its role in providing educational opportunities to students with financial need, and to pay tribute to Vartan Gregorian, president of Carnegie Corporation of New York, for his lifelong commitment to philanthropy and education. The guests also heard a moving testimony from two IIE Global Changemakers who are working to help countries in crisis through education and cultural preservation.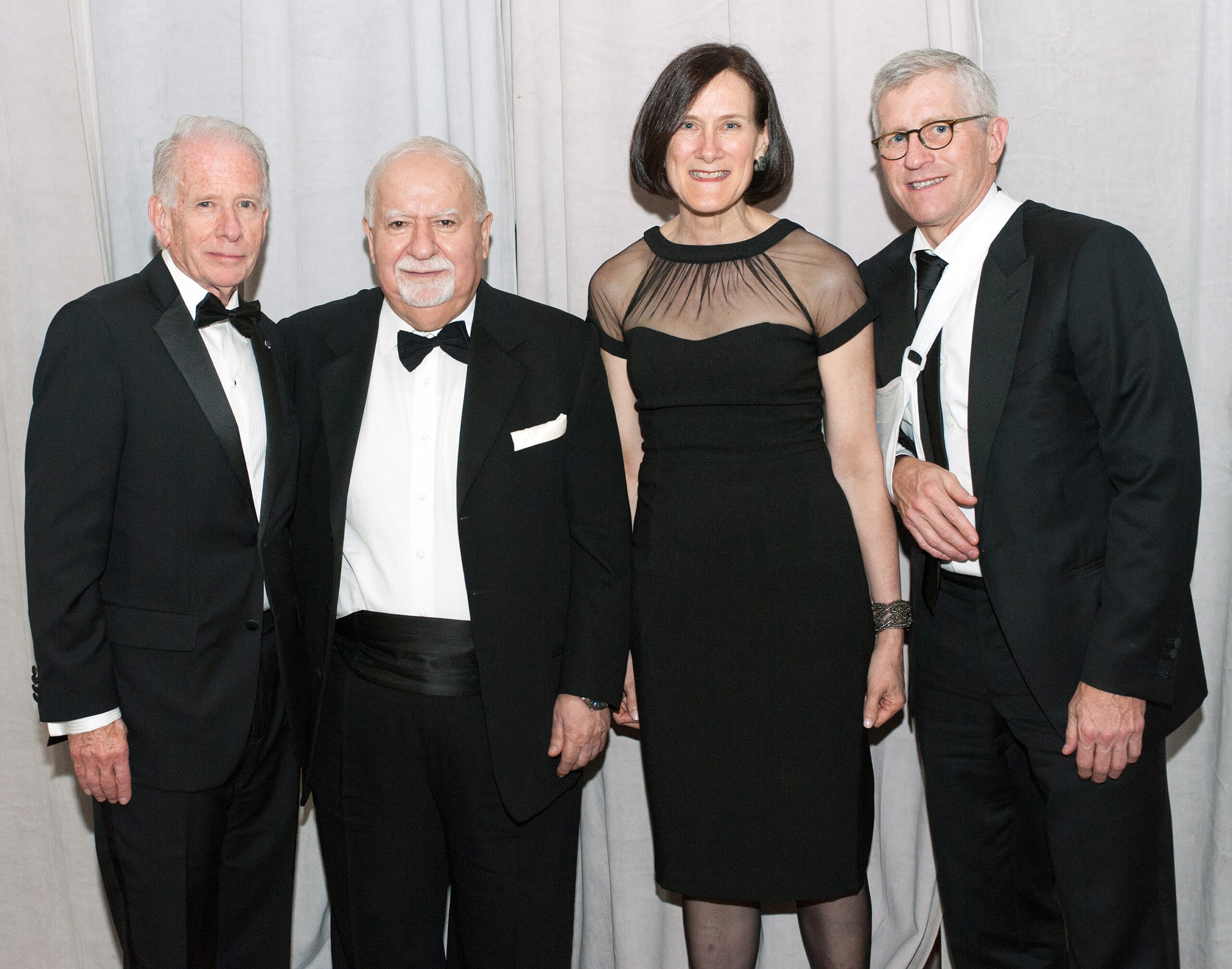 Pictured L-R: IIE president Allan Goodman; Carnegie Corporation of New York president, Vartan Gregorian; Senior Bureau Official at the State Department's Bureau of Educational and Cultural Affairs, Alyson Grunder; Santander US CEO Scott Powell. Photo credit: Ann Billingsley.
Santander US Chief Executive Officer Scott Powell accepted IIE's Opening Minds Corporate Leadership Award on behalf of his company in recognition of its outstanding commitment to higher education. Since 1996, the Santander Universities program has invested more than $1.3 billion around the world, contributing more to higher education than any other Fortune 500 corporation. IIE is grateful to Santander US for its support of IIE's Generation Study Abroad Travel Grants, which will benefit high-achieving low-income and minority college students.

"Santander's partnership with IIE in providing lead funding for Generation Study Abroad makes it possible for students to go abroad who would otherwise not be able to participate in an international experience as part of their college education. This is an important part of preparing today's students to work across borders to address some of the pressing problems in our interconnected world," said IIE Chairman Thomas S. Johnson. "Through Santander's investment, disadvantaged U.S. students will have the opportunity to study abroad, better positioning them to advance their academic and professional goals—an opportunity that otherwise may not have been available to them."

"At Santander, we believe in the transformational power of education as a way for individuals, families, and communities to build brighter futures. For more than twenty years, the Santander Group has invested in the higher education sector and embraced the important responsibility we have to enrich our communities," said Powell. "Giving students an opportunity to study abroad will not only have a positive effect on their lives, but also in the lives of their communities and workplaces for years to come. We are honored to receive this distinguished award that recognizes our long-term commitment to driving change and making meaningful contributions where we live and work."
IIE presented
Vartan Gregorian
with the Stephen P. Duggan Award for Mutual Understanding. Vartan Gregorian has been a trusted advisor, keen advocate, and good friend to IIE for many years. He formerly served on IIE's Board of Trustees and, during South Africa's apartheid years, was head of the advisory board for IIE's South African Education Program. During his tenure at the philanthropic foundation, Carnegie Corporation of New York, the Corporation's support has enabled IIE to provide emergency aid to Syrian and Nepalese students through the
Emergency Student Fund,
to safeguard endangered scholars through the
Scholar Rescue Fund
, and to build capacity at universities in Africa through the
Carnegie African Diaspora Fellowship Program
.
"Vartan Gregorian is world renowned not only as a visionary philanthropist, but also as a gifted scholar and educator with a profound commitment to human rights and interest in foreign affairs and a special passion for intellectual freedom," said Allan E. Goodman, IIE president and CEO. "We are honored to present this award to Vartan to express our deep gratitude for the support and guidance that he has provided over the years to me personally and to our board members and colleagues at IIE. He embodies not only Andrew Carnegie's mandate to promote the advancement and diffusion of knowledge and understanding, but also our shared mission to advance education and international peace."
IIE named two inspiring individuals,
Dr. Salam Al Kuntar
and
George Batah
, as IIE Global Changemakers. Dr. Al Kuntar worked with colleagues at the Penn Cultural Heritage Center to establish Safeguarding the Heritage of Syria and Iraq (SHOSI) to salvage collections and sites that were damaged during the conflict, and train Syrians and Iraqis to preserve their own heritage. Dr. Al Kuntar and her colleagues have built a network of Syrian scholars in Europe and a dedicated group of heritage professionals inside Syria, providing much- needed emergency preservation work, conservation materials, and training.
Mr. Batah, who came to the United States as a college student from Syria, is the co-founder of "Syrian Youth Empowerment" an initiative to empower and help Syrian high school students in Syria and neighboring countries. He has recently been named a Schwarzman Scholar, a Global Shaper and representative to 2017 UN Social and Economic Council Youth Forum. He actively advocates and fundraises for causes like education, humanitarian relief and youth empowerment in the Middle East.
Contributions to the gala will be used to support IIE and its initiatives to support students and scholars from countries in crisis. The IIE Gala was underwritten by the Angelson family. Co-Chairs include Maryam Ansary, Colleen A. Goggins, Peter M. Gottsegen, Jack M. Greenberg, Ruth Hinerfeld, Henry G. Jarecki, Thomas S. Johnson, Mark N. Kaplan, Helene L. Kaplan, Henry Kaufman, Laya Khadjavi, Laurence C. Morse, Karlheinz Muhr, and Thomas A. Russo.
Please see more images from the Gala below:


About IIE
For nearly a century, IIE has been a world leader in international education. We work to build more peaceful and equitable societies by advancing scholarship, building economies and promoting access to opportunity. As a not-for-profit with 19 offices and affiliates worldwide, IIE collaborates with a range of corporate, government and foundation partners across the globe to design and manage scholarship, study abroad, workforce training and leadership development programs. For more information see iie.org.