Community-building projects that produce sustainable honey and protect the olive harvest are bringing Israelis and Palestinians together to empower women, create economic stability, and advance non-violent solutions
JERUSALEM, June 30, 2022 — The Institute of International Education (IIE) awarded the 18th annual IIE Victor J. Goldberg Prize for Peace in the Middle East to two pairs of winners, each comprised of one Palestinian and one Israeli, who have joined together to address urgent issues, using different approaches. The co-founders of Sinsila Center for Urban Sustainability and the Faz3a Campaign of non-violent joint action will each share a US$20,000 prize for their work together to try to make life better in their communities and the region.
Tariq Nassar and Liel Maghen built a partnership based on their mutual desire to address problems in Jerusalem's contested urban environment. Coming from very different backgrounds, they built a foundation of trust through their journey together as they tried different projects across the city to advance their vision of promoting more inclusive, more sustainable and fairer living in the city. Their pursuit of practical solutions led Tariq and Liel to partner with Matan Israeli from Muslala Organization in founding the Sinsila Center for Urban Sustainability.
Sinsila – which refers to the traditional agricultural terraces — has launched a pilot project teaching beekeeping to local women, creating a cooperative to sell honey as a tool of economic empowerment and a way to bring communities together. Sinsila has become a thriving community center dedicated to healing relationships in Jerusalem's shared urban environment. Focusing on empowering women, developing employment opportunities, and promoting environmental education, Sinsila serves as an inspiration for a more sustainable future. It is proving to be a model for others in cities throughout the region seeking to improve their urban settings through sustainable community-led development.
SPOTLIGHT: HONEY AND HOPE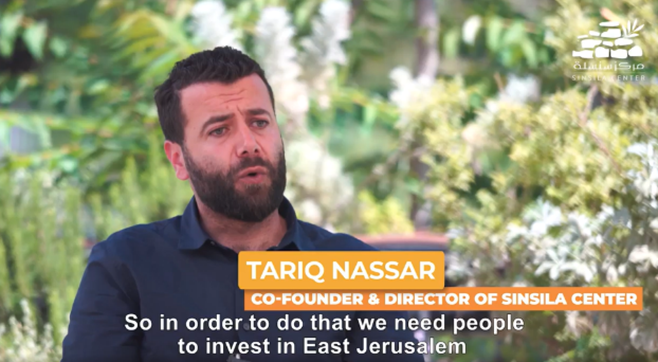 "In Sinsila, we empower women who live in an area with 80% unemployment and crowded living conditions. Our project helps them make a living through green roofs and bio-dynamic beekeeping, and hopefully in the long run will encourage other women in East Jerusalem to join."
– 2022 Goldberg Prize Winner Tariq Nassar, architect, urban planner, & Sinsila Center director.
Learn more about Sinsila & how supporters can invest in the beekeeping project. Video.
Sami Huraini and Sharona Weiss joined together to create the Faz3a Campaign of non-violent joint action, mobilizing Palestinians from all over as well as local Jewish volunteers to help protect a Palestinian olive harvest from violence by armed Jewish settlers who occupy expanded land nearby. Faz3a (Arabic for "reinforcement") began in 2020 as a response to a lack of international volunteers to accompany harvesters due to the COVID-19 pandemic. Sami and Sharona work together to equip and mobilize locals to meet this need, training participants to deescalate violent situations and seek a peaceful outcome. It is the first widescale movement bringing together Palestinians from all over the West Bank and those holding Israeli citizenship together with Jewish Israelis to organize around sustainable defense of communities affected by violence and property damage during the harvest. Sharona Weiss is an activist, as well as a photographer with Activestills and a human rights practitioner living in Haifa. Sami Huraini is the founder and director of Youth of Sumud and is from the West Bank.
Victor J. Goldberg, a retired IBM executive and longtime IIE trustee who created and endowed the prize in 2005, presented the award in a virtual award ceremony that brought the winners together with colleagues, friends, and supporters of interfaith initiatives across Israel and the Palestinian Territories.
"In this time of violent conflict, we believe it is more important than ever to share stories of grassroots success so that they may encourage and inspire others. This year's winners are great examples of the brave individuals and groups who are working together to try to make life better in their communities and the region," said Mr. Goldberg. "While there is no magic solution, one positive force is to encourage people to live and work together toward mutual goals, learning to trust and depend on one another for their common good."
IIE CEO Allan E. Goodman joined Mr. Goldberg in presenting the award, commenting, "The IIE Goldberg Prize is a testament to the vision of what courageous individuals working together can actually achieve. Today's winners join a roster of laureates who are making the world a less dangerous place for us all."
Learn more about the 22 pairs of winners from the previous 17 years on the IIE Goldberg Prize website, and download a report on the Prize's first 15 years here: "IIE Victor J. Goldberg Prize: 15 Years of Encouraging Grassroots Partnerships in Peacebuilding."
About the Institute of International Education IIE has been a world leader in international education since 1919. IIE works to build more peaceful and equitable societies by advancing scholarship, building economies and promoting access to opportunity. As a not-for-profit with 18 offices and affiliates worldwide, IIE collaborates with a range of corporate, government and foundation partners across the globe to design and manage scholarship, study abroad, workforce training and leadership development programs. Follow us and learn more at: IIE: www.iie.org, Twitter @IIEGlobal, Facebook IIEGlobal.
About Victor J. Goldberg Victor J. Goldberg retired from IBM in 1993 as a corporate vice president after a 34-year career at the company. Mr. Goldberg received both his undergraduate and his M.B.A. degrees from Northwestern University. He joined the Board of Trustees of the Institute of International Education in 1979, is a member of its Executive Committee and served for 13 years as vice chairman of the Board. He has served as a trustee of the International Fellowship Program, a Ford Foundation initiative for underserved populations around the world and is on the Westchester County Fair Campaign Practices Committee.
About the IIE Goldberg Prize IIE awards the Victor J. Goldberg Prize for Peace in the Middle East annually to recognize outstanding collaborative work being conducted jointly by two individuals, one Muslim Arab and one Jewish Israeli, working together to advance the cause of peace in the Middle East. The two individuals whose work is judged to be most successful in bringing people together and breaking down the barriers of hatred toward "the other" share a $20,000 prize. The winners are chosen by a selection committee that includes leaders from business, academia, the not-for-profit sector, and government. Learn more about the IIE Goldberg Prize at www.iie.org/GoldbergPrize.