Prominent attorneys Mohammed Khatib and Emily Schaeffer Omer-Man work together across borders to challenge human rights violations with "Letters from Bil'in"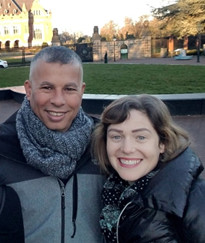 Mohammed Khatib (left) and Emily Schaeffer Omer-Man received the 2020 IIE Goldberg Prize for their work creating and leading the first Palestinian-Israeli joint legal project dedicated to challenging violations of Palestinian human rights in courts worldwide.

JERUSALEM, June 18, 2020 — The Institute of International Education (IIE) awarded the 16th annual $10,000 IIE Victor J. Goldberg Prize for Peace in the Middle East to Mohammed Khatib and Emily Schaeffer Omer-Man, two Palestinian and Israeli lawyer-activists who have joined together to create and lead the first Palestinian-Israeli joint legal project dedicated to challenging systematic violations of human rights in courts worldwide.
The award is a symbol of the power of international education to bring people together across cultures to solve shared problems. Victor J. Goldberg, a retired IBM executive and longtime IIE trustee, created and endowed the prize. This year, after holding in-person award ceremonies in Israel since 2005, IIE and Vic Goldberg presented the prize in a virtual award ceremony that brought the winners together with colleagues, friends, and supporters of interfaith peace initiatives across Israel and the Palestinian Territories. In 2019, the IIE Goldberg Prize marked 15 years of honoring courageous individuals working together to foster mutual understanding and peace in the Middle East with a ceremony in Jerusalem and a report celebrating the previous winners, titled "15 Years of Encouraging Grassroots Partnerships in Peacebuilding."
The 16th annual IIE Goldberg Prize recognizes Khatib and Omer-Man for their work through the courts to increase access to effective remedies for Palestinians related to the expansion of settlements and restrictions on land use and water access. Their work includes addressing existing violations as well as deterring future violations through strategic litigation in Israel, Palestine, foreign and international legal systems.
The two prominent attorneys have a long track record of joining together to advocate for holding government and corporate actors accountable for their complicity in Palestinian rights abuses. In making the presentation, Vic Goldberg said "We commend their commitment to use legal means and advocacy to produce the fundamental fairness that is necessary for a sustainable peace between Israelis and Palestinians, and is a precondition for peace throughout the Middle East."
Khatib and Omer-Man began their work together in 2005, when Omer-Man came to Bil'in, the small West Bank village that Khatib calls home, to discuss legal strategies for the village's challenge to the settlement expanding on its land and the route of the separation wall, both of which cut the village in half and barred access to most of its agricultural land. Khatib, a dedicated leader of the local nonviolent movement against the separation wall, was the village's legal liaison for the case; Omer-Man, an experienced litigator, was a member of the legal team led by Attorney Michael Sfard.
During the six years that two High Court of Justice petitions filed on behalf of Bil'in were in court, the two joined their talents on appeals and public campaigns aiming to move the fence more than a kilometer to the west and cease the settlement's expansion. Their work together from 2005-2011 made the village a local and international symbol for the Palestinian nonviolent movement to end the occupation and bring peace.
During the Bil'in campaign, Khatib and Omer-Man helped develop a strategy to bring legal action against Canadian corporations that were building condominiums in the settlement neighborhoods for aiding in violations of international law. Their speaking tour across Canada fostered a deterrent climate for corporate support of settlement expansion. Their advocacy led to a visit to Bil'in by The Elders, an independent group of global leaders working together for peace, justice and human rights, and the opportunity to brief a delegation composed of President Jimmy Carter, Former President of Ireland Mary Robinson, Archbishop Desmond Tutu, and several other world leaders. The endorsement of the village's struggle by The Elders was instrumental in elevating the story onto international stages. Several foreign diplomats, UN officials, EU Parliament Members and others joined in and advocated to free political arrestees, stop nighttime army raids, and eventually move the separation wall.
Over the following decade, Khatib and Omer-Man continued to apply this model of legal advocacy to cases regarding land use policy, zoning, and water access in the village and other parts of the West Bank. In 2018, they formalized their partnership, forming a joint not-for-profit project to mount innovative legal challenges to corporate and other actors who are furthering expansion of settlements, pillage of natural resources, destruction of homes, and other human rights abuses in the occupied Palestinian territories. They recently launched a legal study with the help of several Palestinian colleagues, and they have collaborated over the years with organizations such as Peace Now, Bimkom, Yesh Din, Adalah, and the Association for Civil Rights in Israel.
In 2019, both Khatib and Omer-Man were invited to address the United Nations Security Council, arguing that creeping annexation disrupts negotiations and denies diplomatic opportunities to engender peace.
Their casework and campaigns are founded on coalition-building, ensuring Palestinian, Israeli, and international voices and experiences are present, to model what a cooperative future can entail. According to Omer-Man and Khatib, "That we are Israeli and Palestinian, working shoulder to shoulder, is a core element of our project and organizational philosophy. We know from experience that these aggregated ingredients enable the innovation and empathy necessary for a successful project to end occupation, forestall annexation, and pave the way to peace in this region. Thus, together, we contribute to the essential efforts across this region to ensure justice and equality and catalyze conditions for peace for our two peoples."
IIE president and CEO Allan Goodman joined Mr. Goldberg in presenting the award, commenting, "The IIE Goldberg Prize is a testament to the vision of what courageous individuals working together can actually achieve. Today's winners join a roster of laureates who are making the world a less dangerous place for us all."
Caption: Mohammed Khatib (left) and Emily Schaeffer Omer-Man received the 2020 IIE Goldberg Prize for their work creating and leading the first Palestinian-Israeli joint legal project dedicated to challenging violations of Palestinian human rights in courts worldwide.
EDITORS NOTE: Media may request to interview Vic Goldberg, Allan Goodman, Mohammed Khatib and Emily Schaeffer Omer-Man. Contact press@iie.org with requests.
The virtual award ceremony can be viewed after the event.
Follow us and learn more at:
IIE: www.iie.org, Twitter @IIEGlobal, Facebook IIEGlobal.
About the Institute of International Education (IIE)
IIE has been a world leader in international education since 1919. IIE works to build more peaceful and equitable societies by advancing scholarship, building economies and promoting access to opportunity. As a not-for-profit with 18 offices and affiliates worldwide, IIE collaborates with a range of corporate, government and foundation partners across the globe to design and manage scholarship, study abroad, workforce training and leadership development programs.
About Victor J. Goldberg
Victor J. Goldberg retired from IBM in 1993 as a corporate vice president after a 34-year career at the company. Mr. Goldberg received both his undergraduate and his M.B.A. degrees from Northwestern University. He joined the Board of Trustees of the Institute of International Education in 1979, is a member of its Executive Committee and served for 13 years as vice chairman of the Board. He is a member of the Advisory Committee of J Street and of the Westchester County Fair Campaign Practices Committee. He previously served as a trustee of the International Fellowship Program, a Ford Foundation initiative for underserved populations around the globe; president of the Scarsdale Foundation; a director of Education Through Music, which puts music programs in inner city schools; chairman of the Scarsdale Planning Board; member of the Board of Governors of the American Jewish Committee; and trustee of New Alternatives for Children, Westchester Reform Temple, the Mental Health Association of Westchester, and the Westchester Non-Profit Loan Fund.
About the IIE Goldberg Prize
IIE awards the Victor J. Goldberg Prize for Peace in the Middle East annually to recognize outstanding work being conducted jointly by two individuals, one Muslim Arab and one Jewish Israeli, working together to advance the cause of peace in the Middle East. The two individuals whose work is judged to be most successful in bringing people together and breaking down the barriers of hatred toward "the other" share a $10,000 prize. The Selection Committee for the Prize includes leaders from business, academia, the not-for-profit sector, and government. Learn more about the IIE Goldberg Prize at www.iie.org/GoldbergPrize